Corporate Members and Contributors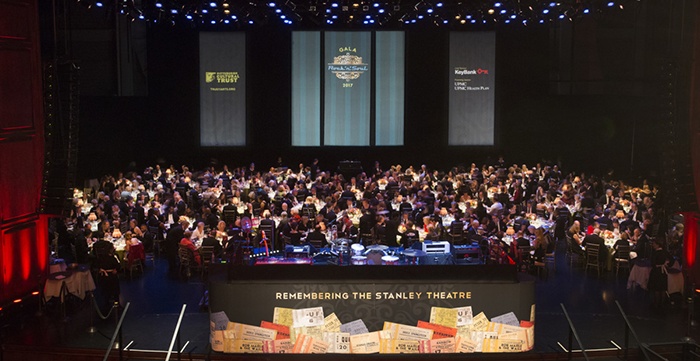 The Pittsburgh Cultural Trust would like to extend its gratitude to its corporate contributors. The companies listed below have made generous investments in the Trust and we are grateful not only for their corporate citizenship, but for their support of our mission of enhancing Pittsburgh's quality of life.
Also see the list of Corporate Circle Members and our Corporate Spotlight.
# Also donates to JazzLive
* Also donates to Pittsburgh Dance Council
^ Also donates to Children's Theater Series or EQT Bridge Theater Series
~ Also donates to Dollar Bank Three Rivers Arts Festival
Allegheny Health Network
Allegheny Regional Asset District
AlphaGraphics in the Cultural District
Anonymous
African American Chamber of Commerce
Arconic
ATI
American Eagle Outfitters
AMPCO-Pittsburgh Corporation
Bessie F. Anathan Charitable Trust ~
Ayers Foundation
Babst Calland
Claude Worthington Benedum Foundation * ~
The Benter Foundation
big Burrito Restaurant Group
BilkeyKatz Investment Consultants, Inc.
Blank Rome LLP
BNY Mellon #
Bordas and Bordas Attorneys, PLLC
Boston Consulting Group- BCG Platinion- Pittsburgh
Broadway Across America
Buchanan Ingersoll & Rooney PC
The Buhl Foundation ^ ~
The Buncher Company
The Jack Buncher Foundation
Carlson Lynch LLP
Carnegie Mellon University
The Children's Institute of Pittsburgh
Citizens Bank
The Anne & George Clapp Charitable Trust
Clark Hill PLC
Clearview Federal Credit Union
Colcom Foundation ~
Dentons Cohen & Grigsby
Dickie, McCamey & Chilcote PC
Disney Theatrical Productions Ltd.
Dollar Bank ~
Eat'n Park Hospitality Group
Eaton Corporation
Eckert Seamans Cherin & Mellott LLC
Eden Hall Foundation
Emerson Process Management
EQT Foundation ^
Equitrans Midstream
Fair Oaks Foundation, Inc.
Fairmont Pittsburgh
Federated Hermes, Inc.
FedEx Ground
The Fine Foundation ^ ~
First Commonwealth Bank
Flaherty & O' Hara, P.C.
Frank B. Fuhrer Wholesale Company
The Frank E. Rath - Spang & Company Charitable Trust
Fox Rothschild LLP
Gateway Health ^
Giant Eagle, Inc. ^ ~
The Gladys Krieble Delmas Foundation
Goehring, Rutter & Boehm
The Grable Foundation ~ ^
Green Mountain Energy
Guardian Construction Management Services, Inc.
Hefren-Tillotson, Inc.
The Heinz Endowments ^
Highmark Blue Cross Blue Shield #
Henry L. Hillman Foundation ~
Howard Hanna Real Estate Services
Milton G. Hulme Charitable Foundation
Roy A. Hunt Foundation
Huntington National Bank
Integra Realty Resources - Pittsburgh, LLC
Jackson Lewis LLP
K & I Sheet Metal, Inc.
KeyBank
Koppers Industries, Inc.
KPMG LLP
The Kraft Heinz Company Foundation
Laurel Foundation ~
Leech Tishman Fuscaldo & Lampl LLC
Littler Mendelson, P.C.
Maher Duessel CPA
Management Science Associates, Inc. (MSA)
Mascaro Construction Company, L.P.
McKamish Inc.
William V. & Catherine A. McKinney Charitable Foundation
Richard King Mellon Foundation
Meyer, Unkovic & Scott LLP
Mid Atlantic Arts Foundation ~
MSA - The Safety Company
W.I. Patterson Charitable Fund
Pennsylvania Council on the Arts ~
Pennsylvania Department of Community & Economic Development ^ ~
Peoples Natural Gas
Perkins Eastman ~
Philadelphia Indemnity Insurance Company
Phoenix II LLC
The Pittsburgh Foundation ~
Pittsburgh Pirates
Pittsburgh Steelers
PNC Foundation
Point Park University
PPG Industries Foundation
Professional Graphic Communications
Riverstone Bookstore
Reed Smith LLP ~
The Reschini Group
Robert Peirce and Associates
Rossin Foundation
Rugby Realty Co., Inc.
Ryan Memorial Foundation
Schneider Downs & Co., Inc.
James M. and Lucy Schoonmaker Foundation
Saul Ewing Arnstein & Lehr, LLP
Securitas
Steptoe & Johnson PLLC
Strassburger McKenna Gutnick & Gefsky PC
Strategic Investment Fund, Inc.
TREK Development Group
Trigate Incorporated
TriState Capital Bank ~
Troutman Pepper
Trust-Franklin Press Co.
United States Steel Legal Department
UPMC and UPMC Health Plan
Urban Design Associates, Ltd.
Vecenie's Distributing Company
Vincent Lighting Systems
W. J. Beitler Company
WESCO International
West Penn Laco, Inc.
The Williams Companies
Willis Towers Watson PLC
WPXI - TV
WTW Architects