Membership Levels and Benefits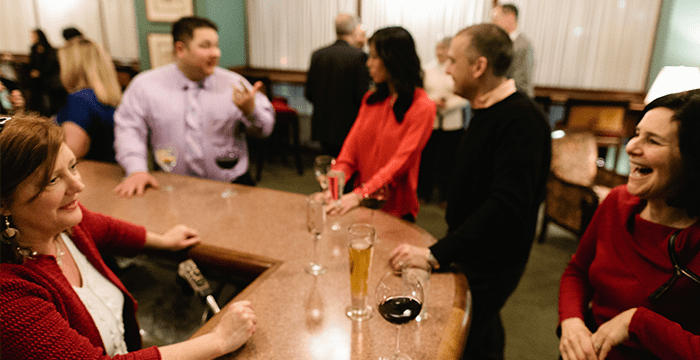 Corporate Membership with the Pittsburgh Cultural Trust provides businesses of all sizes with an opportunity to demonstrate their citizenship and reinvest in the community by supporting the area's premier arts organization. Memberships at the $10,000 level and up are included in the Corporate Circle, with additional recognition opportunities.
To discuss a Membership package, contact Timothy Kim at 412-471-8711 or kim@trustarts.org. Packages can be customized to meet your needs.
$2,500+
Membership & VIP Tickets
2 membership cards
2 Cabaret Tickets*
Employee Benefits & Hospitality
Invitations to special events and parties
E-Mail List (Special offers and ticket pre-sales)
Recognition & Visibility
Exposure to 2.5 million visitors annually
Inclusion in Annual Report and Production Programs
*Some restrictions apply, includes one drink voucher per ticket and one parking pass per couple
** Subject to availability based on production location
$5,000+
Membership & VIP Tickets
4 membership cards
2 Complimentary House Seats*
VIP Concierge Service (Ticketing and restaurants)
Employee Benefits & Hospitality
Invitations to special events and parties
E-Mail List (Special offers and ticket pre-sales)
VIP Circles Lounge & Liberty Lounge access**
Invitations to pre-performance dinners (Opening night with Trust President & CEO)
50% of Rental Fees for 2 private events
Discounted Advertisement Rates
Preferred parking
1 Parking pass to Theater Square Garage
Recognition & Visibility
Exposure to 2.5 million visitors annually
Inclusion in Annual Report and Production Programs
*Some restrictions apply, includes one drink voucher per ticket and one parking pass per couple
** Subject to availability based on production location
$10,000+
Membership & VIP Tickets
6 membership cards
4 Complimentary House Seats*
VIP Concierge Service (Ticketing and restaurants)
Dinner with Cultural President & CEO Kevin McMahon
Employee Benefits & Hospitality
Invitations to special events and parties
E-Mail List (Special offers and ticket pre-sales)
VIP Circles Lounge & Liberty Lounge access**
Invitations to pre-performance dinners (Opening night with Trust President & CEO)
50% of Rental Fees for 4 private events
Discounted Advertisement Rates
Preferred parking
6 Parking passes to Theater Square Garage
Recognition & Visibility
Exposure to 2.5 million visitors annually
Inclusion in Annual Report and Production Programs
Corporate Spotlight program
Logo and hyperlink listed on Trust Corporate Member website
*Some restrictions apply, includes one drink voucher per ticket and one parking pass per couple
** Subject to availability based on production location
$15,000+
Membership & VIP Tickets
10 membership cards
6 Complimentary House Seats*
VIP Concierge Service (Ticketing and restaurants)
Dinner with Cultural President & CEO Kevin McMahon
Employee Benefits & Hospitality
Invitations to special events and parties
E-Mail List (Special offers and ticket pre-sales)
VIP Circles Lounge & Liberty Lounge access**
Invitations to pre-performance dinners (Opening night with Trust President & CEO)
50% of Rental Fees for 4 private events
Discounted Advertisement Rates
Preferred parking
11 Parking passes to Theater Square Garage
Recognition & Visibility
Exposure to 2.5 million visitors annually
Inclusion in Annual Report and Production Programs
Corporate Spotlight program
Logo and hyperlink listed on Trust Corporate Member website
*Some restrictions apply, includes one drink voucher per ticket and one parking pass per couple
** Subject to availability based on production location
$25,000+
Membership & VIP Tickets
12 membership cards
8 Complimentary House Seats*
VIP Concierge Service (Ticketing and restaurants)
Dinner with Cultural President & CEO Kevin McMahon
Employee Benefits & Hospitality
Invitations to special events and parties
E-Mail List (Special offers and ticket pre-sales)
VIP Circles Lounge & Liberty Lounge access**
Invitations to pre-performance dinners (Opening night with Trust President & CEO)
50% of Rental Fees for 4 private events
Discounted Advertisement Rates
Preferred parking
16 Parking passes to Theater Square Garage
Recognition & Visibility
Exposure to 2.5 million visitors annually
Inclusion in Annual Report and Production Programs
Corporate Spotlight program
Logo and hyperlink listed on Trust Corporate Member website
*Some restrictions apply, includes one drink voucher per ticket and one parking pass per couple
** Subject to availability based on production location