Despite the occasional snow outside, we are well on our way to the summer months. That can only mean one thing: the 2018 Dollar Bank Three Rivers Arts Festival is just around the corner! Yesterday was our big music reveal, with a number of the headlining acts officially named. As always, the focus is on quality and diversity — we've got a concert for everyone. To help with the planning process, we put together a quick recap of the acts hitting the stage this June. Grab your blankets, sunglasses and water bottles, and let's dive in!
Hot on the heels of their latest album, A Fever Dream, British indie rock band Everything Everything will take to the stage with synths, guitars and plenty of falsetto. If you're looking for a rich soundscape with a beat to dance to, make sure to head down to Point State Park for this one.
Pittsburgh's Symphony should need no introduction — especially after their two Grammy wins earlier this year. Consistently held as one of the finest symphonies in the country, the PSO is a Pittsburgh staple with more than 120 years of history. The chance to enjoy their talents under the setting summer sun is one of those opportunities that makes TRAF such a special festival.
Magda Giannikou — Greek-born composer, orchestrator, singer and accordionist — leads the powerhouse group Banda Magda, a jazz-infused tour of the world's musical styles. Banda Magda lives under the groundUP Music umbrella, the label started by Snarky Puppy leader Michael League. If that's somehow not reason enough to come, just know that this will be a concert where dancing along is all but mandatory.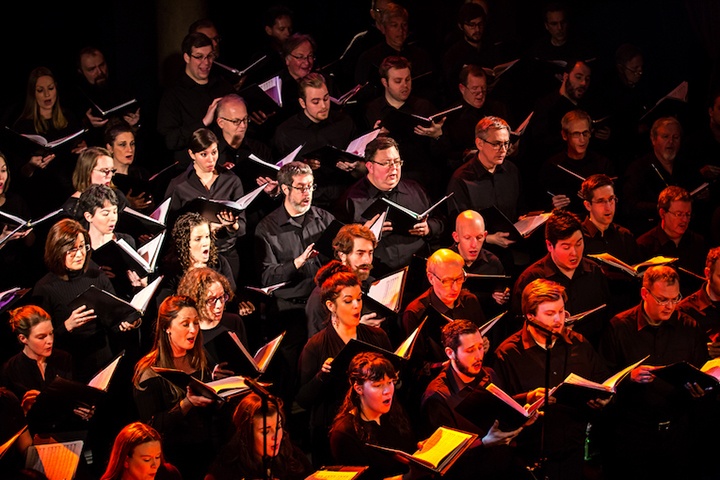 The works of Bob Dylan like you've never heard them before — sung by a classically-trained choir in full form. The Mendelssohn Choir is another critically-acclaimed Pittsburgh gem. Instead of their traditional choral pieces, however, this time it's about good old Americana, all arranged by the great Steve Hackman. For Dylan fans, classical music fans and the uninitiated alike, this is a must-hear performance.
With powerful vocals and screaming guitar licks, Lukas Nelson is doing southern rock and country soul right. It'll be the perfect concert for those in search of a driving, foot-stomping, raucous performance in the vein of rockin' greats like Neil Young, J.J. Cale and The Band. And, lest we not forget, Lukas is indeed the son of the great Willie Nelson. Who knows — maybe Lukas will give the crowd a taste of his dad's music as well. You'll just have to be there to find out.
Sidewalk Chalk represents a collision of musical styles — jazz vocals melding with a rapping MC, all layered over funky bass and a tight horns section. The Chicago-based group has received praise from critics for its ability to create a timeless, wholly-unique sound. It's hip-hop, it's jazz, it's R&B, it's funk and it's free for all to see on June 7.
Valerie June's smooth — yet distinctive — southern drawl has a way of captivating audiences. Her songs meander through the worlds of soul and blues to those of country and folk. At the heart of June's music, though, is a solid foundation of impeccable songwriting. If none of that means anything to you, just know this: NPR Music called June "an elemental talent born with the ability to rearrange the clouds themselves." Need we say more?
Ricky Skaggs is bluegrass and country royalty, which makes him a great fit for Bluegrass Day supported by the Colcom Foundation. Over the years he's found himself dabbling in all manner of musical genres. The only thing longer than his discography is his list of awards and honors, one that includes an incredible 15 Grammys. The music is solidly traditional bluegrass with Kentucky Thunder, a group comprised of too many master musicians to count. It's a roots masterclass and a show you can't miss.
"Genre-defying" is the label most often given to The Mavericks. Over the course of an illustrious career, the four-piece band has created their own unique, Latin-infused Americana sound. Standing above perhaps all else are lead singer Raul Malo's soaring, polished vocals. The Maverick's upbeat, focused, innovative sound is the perfect way to close out the 2018 Dollar Bank Three Rivers Arts Festival.
That rounds out the first batch of announcement for the 2018 Dollar Bank Three Rivers Arts Festival. The excitement isn't over, however, as there are many reveals for music, art, creative activities and more to come in mid-April. We can't wait to see you this summer!