Think Pittsburgh and oftentimes pierogies, the Steelers, and the notion of the old Steel City comes to mind. But here's a local secret: the alleyways are also a quintessential part of the 'Burgh. They're quirky yet unassuming, they've bridged waves of communities together through art activations, and well, they're just pretty cool. Five alleyways in particular made the list. Check it out.
While many of these alleys have something happening year-round, summer is the perfect time to get out and explore the streets. Grab your shades, skip the major streets and take a trek into the alleyways!
Tito Way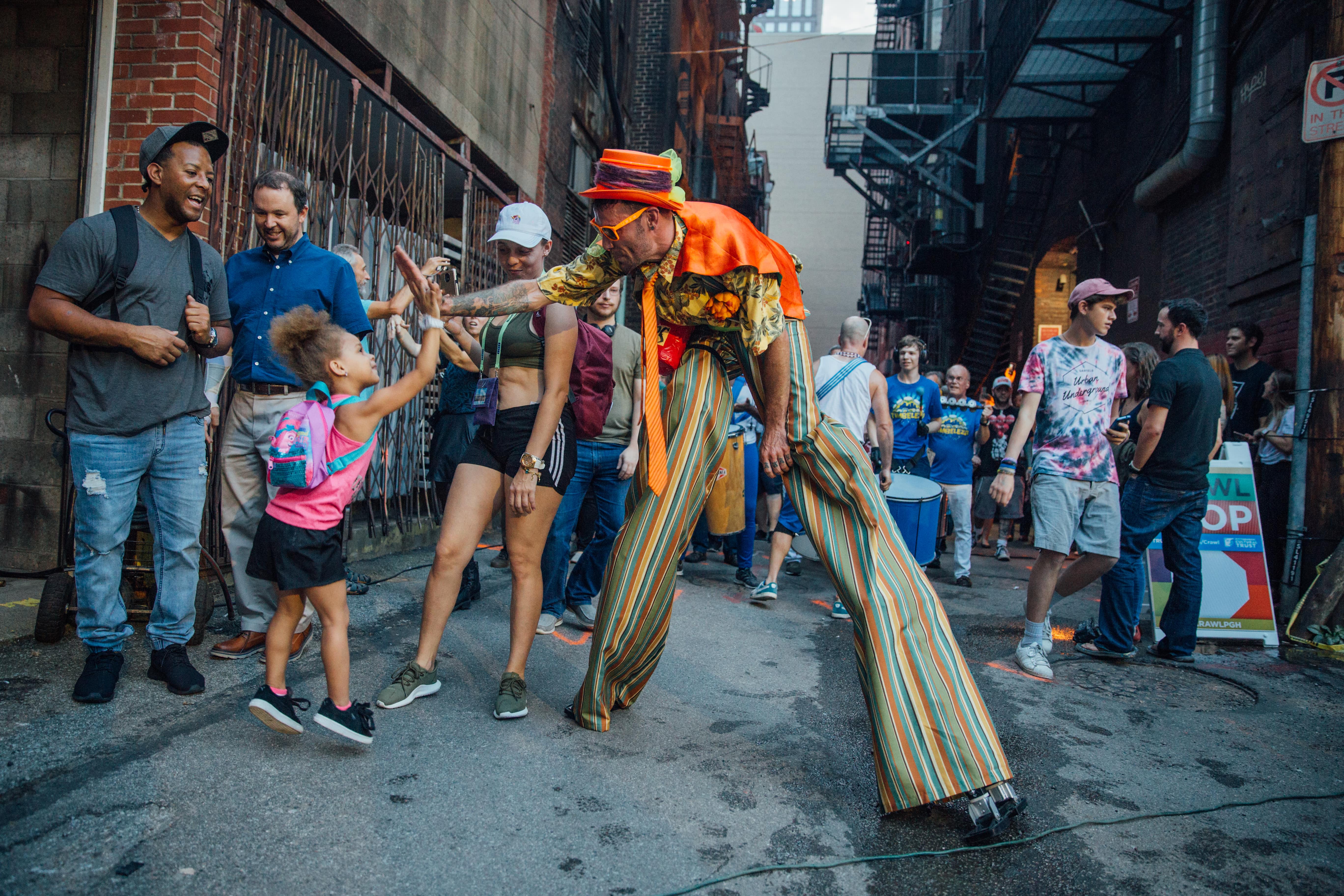 Art in the Alley, Tito Way
Thanks to the Cultural Trust's rotating selection of temporary and permanent art installations, Crawl pop-ups and Broadway truck load-ins, there's a lot of experience in Tito Way.
Planted at the intersection of Tito Way and Exchange Way is InformationLab's Cell Phone Disco, a larger-than-life installation that captures pedestrian mobile phone activity to light up its LED-powered canvas. The more people congregate in the alleyway, the brighter the installation becomes. Walk along the rest of Tito Way and you'll also spot selected works from the former Marx@200 show at SPACE Gallery.
Stop by during one of our quarterly Gallery Crawl in the Cultural District presented by UPMC and UPMC Health Plan events and you might see anything from tasty evening food truck grub to local artists creating chalk art. During the September 2018 Crawl, the Trust partnered with Red Fish Bowl to create Art in the Alley, turning Tito Way and neighboring alleyways into spaces for crowdsourced painting, live music, a real-life mermaid appearance, and even a surprise marching band performance. Missed last year's Art in the Alley pop-up? Fret not, it's coming back for the September 27 Gallery Crawl in the Cultural District presented by UPMC and UPMC Health Plan. Mark your calendars!
Oh, and for a limited time Tiny Doors PGH has a sweet little surprise in the alley way, open until July 31. Can you spot the secret door?
Sampsonia Way
A hip enclave in Pittsburgh's North Side, Sampsonia Way is home to a museum dedicated solely to installation-art (one of the only few in the world), muraled houses decorated by refugees and artists, and even a Google Street View prank back in 2008.
Take an hour or two to explore Mattress Factory, one of the only few all-installation contemporary art museums in America. Or, stay on the path and peep into the noticeable concave viewfinder lining the Factory's outer brick wall and you'll see Winifred Lutz's 1993 Garden Installation, which pays homage to the museum site's former life as a paper factory.
Walk down Sampsonia Way a little further and you'll run into a collection of colorful houses. These are City of Asylum's House Publications. The idea got started when writer-in-exile Huang Xiang painted a poem around his house to profess his freedom to write. Since then, the idea blossomed and more houses were adorned with art by living legends, including sculptor Thaddeus Mosley and jazz saxophonist Oliver Lake. A couple of writers-in-exile are also living in the area and you'll probably see them heading to and from Alphabet City (City of Asylum headquarters) nearby.
Just a few steps farther, you'll pass by the original site of Sampsonia Way Magazine, an online publication run by the City of Asylum dedicated to translating works by writers in exile. Although not open to the public, it's cool to walk along the street with that fun historical fact in mind.
Strawberry Way
Walking along this alleyway is shall we say...pretty sweet.
Look down and you'll see Julie Mallis's interactive mural piece Who Gets to Eat the Most Fruit? Part-game and part-social equity statement, Mallis invites pedestrians to play a classic game of "the floor is lava" with seven of Pittsburgh's local fruits (can you reach all the fruits without touching the purple lines?) while prompting pedestrians to think about questions of food justice:
Who's missing from your table? Who gets to eat the most fruit?
Reach a corner of Smithfield and Strawberry Way and above a neon-lit hot dog shop, you might see a familiar face or two. Tom Mosser and Sarah Zeffiro's The Two Andy's is a playful reimagining of two of Pittsburgh's most notable natives, pop-artist Andy Warhol and steel magnate Andrew Carnegie, hanging out at a beauty salon.
Explore this enclave a little longer, and you might notice violin sounds playing in the distance. V/7/23/365, created by Jeremy B. Boyle and Gerard Damiani, is a solar-powered sound installation that plays Vivaldi's Four Seasons, performed by the Pittsburgh Symphony Orchestra. If you're looking to check out this sound installation, stop by during the quieter evening hours to get the full audio experience.
Garrison Place
Stop by in the evening hours and you might notice a strong glow emanating from this certain alleyway. That's because it's home to Andrea Polli's Garrison Canal. Commissioned by Pittsburgh Downtown Partnership, the immersive art installation is eye-catching, contemplative, and completely powered by wind. Andrea Polli shows passersby a glimpse into an underwater future surrounded by big data. Garrison Place also makes frequent guest appearances at the Trust's quarterly Gallery Crawl in the Cultural District presented by UPMC and UPMC Health Plan, and you might spot a firebreather or two really light up the alleyway at night.
Wagner Way
Although not quite an alleyway anymore, Wagner Way tells the success story of a once blighted Pittsburgh neighborhood which has revitalized itself through community transformation. The once run-down path is now home to the Hamnett Place Community Garden, lush with berries and herbs for residents in the Hamnett Place neighborhood to enjoy. It's a great little green space for neighbors to convene, and just a few houses down from James Shipman's studio and sculpture garden as well as the Landmarks Preservation Resource Center, both of which were transformed from a former auto-repair shop. The redevelopment was so inspiring that it even won Pittsburgh the 2017 Richard H. Driehaus Foundation National Preservation Award, alongside two other winning projects in D.C. and L.A. Way to go, Pittsburgh!
Want more? Join our email list!
Want to hear more about what's going on in the Cultural District? Sign up for the Pittsburgh Cultural Trust's mailing list.