Bundle up in your sweaters and grab a hot cup of cocoa, because we're taking you out on a tour of some of the best places in Downtown Pittsburgh to stock up on wares this holiday season. We've narrowed down the list to five places to shop local. All independently-run, all in support of local artisans, and all fully-stocked with beautiful creations. Only in Pittsburgh.
love, Pittsburgh
805 Liberty Ave
View Website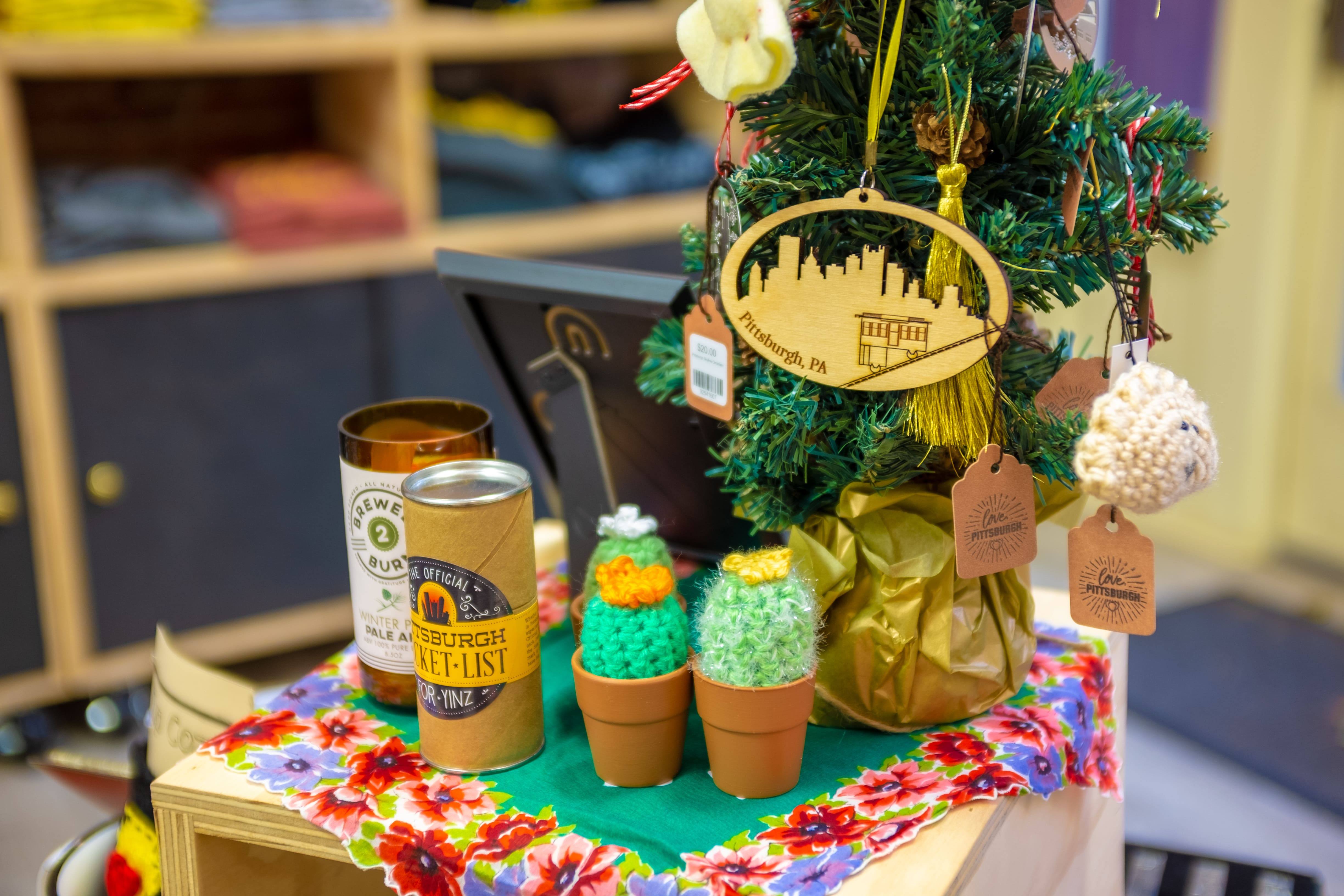 Founded by two passionate Pittsburgh-ers, love, Pittsburgh is a unique boutique shop that seeks to support local artists and makers in the 'Burgh by creating an outlet for them to showcase and sell their wares. Originally stationed in Mount Washington, this adorable artisan shop recently found a second home in Downtown, right next to the Pittsburgh Cultural Trust office, in fact. (We sip our morning coffee with their mugs!) There's a whole variety of adorable goods, including posters of those terribly handsome bridges, candles themed around Pittsburgh neighborhoods (do yinz live in Lawrenceville or the Strip District?), and even pierogi-themed goodies because, well, what's Pittsburgh without pierogies?
love, Pittsburgh is open daily from 11 a.m. - 6 p.m.
Peoples Gas Holiday Market
2 Market Square
View Website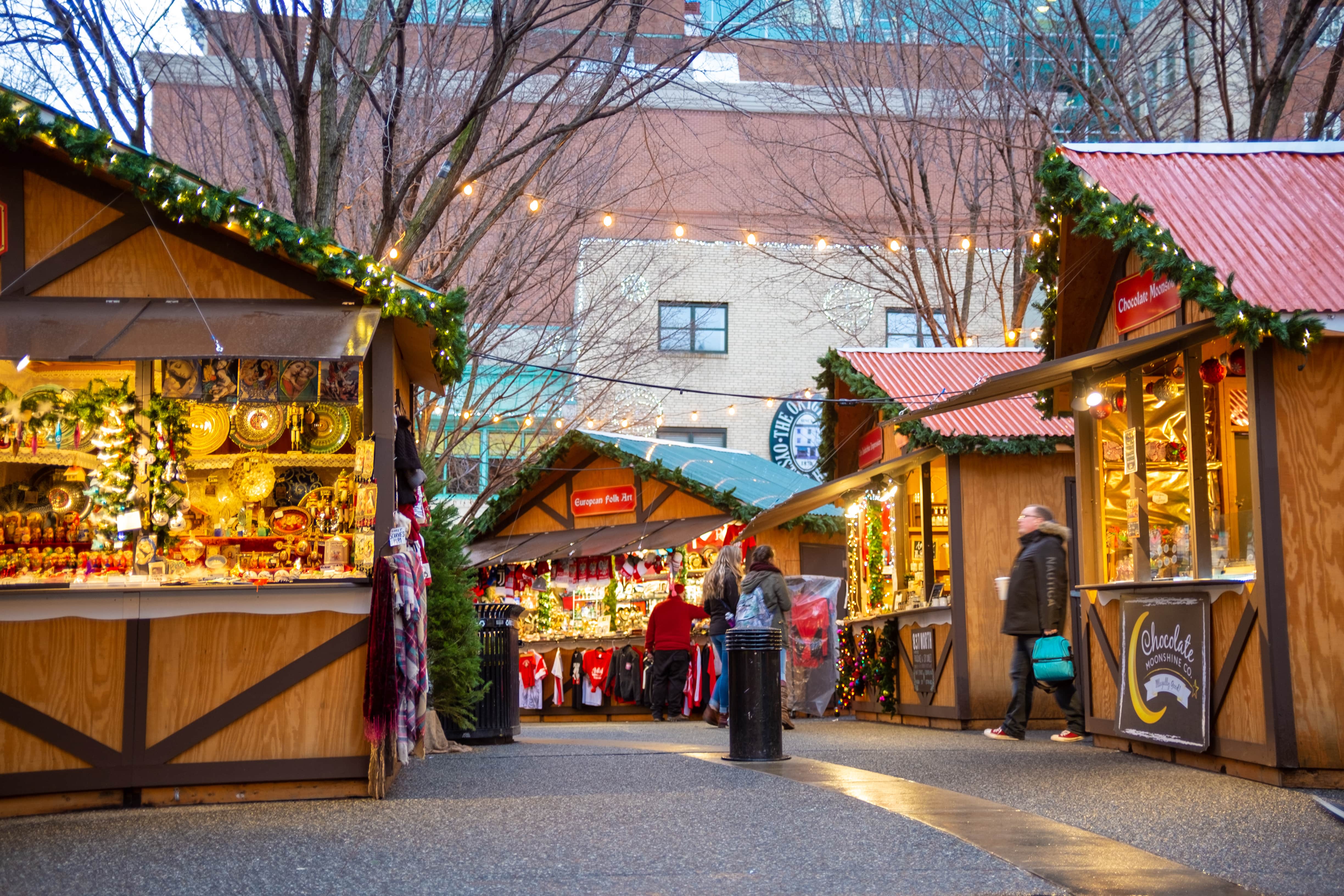 Every year, the Peoples Gas Holiday Market lights up Downtown with their shopping village right in the middle of Market Square. Alongside live music performances, Santa's House, and a gorgeous Christmas tree, you can shop for your wares in full-on holiday cheer. Even the booths look like adorable cottages!
Peoples Gas Holiday Market is open daily from November 22 - December 23 (view all hours)
PG&H
536 Smithfield St
View Website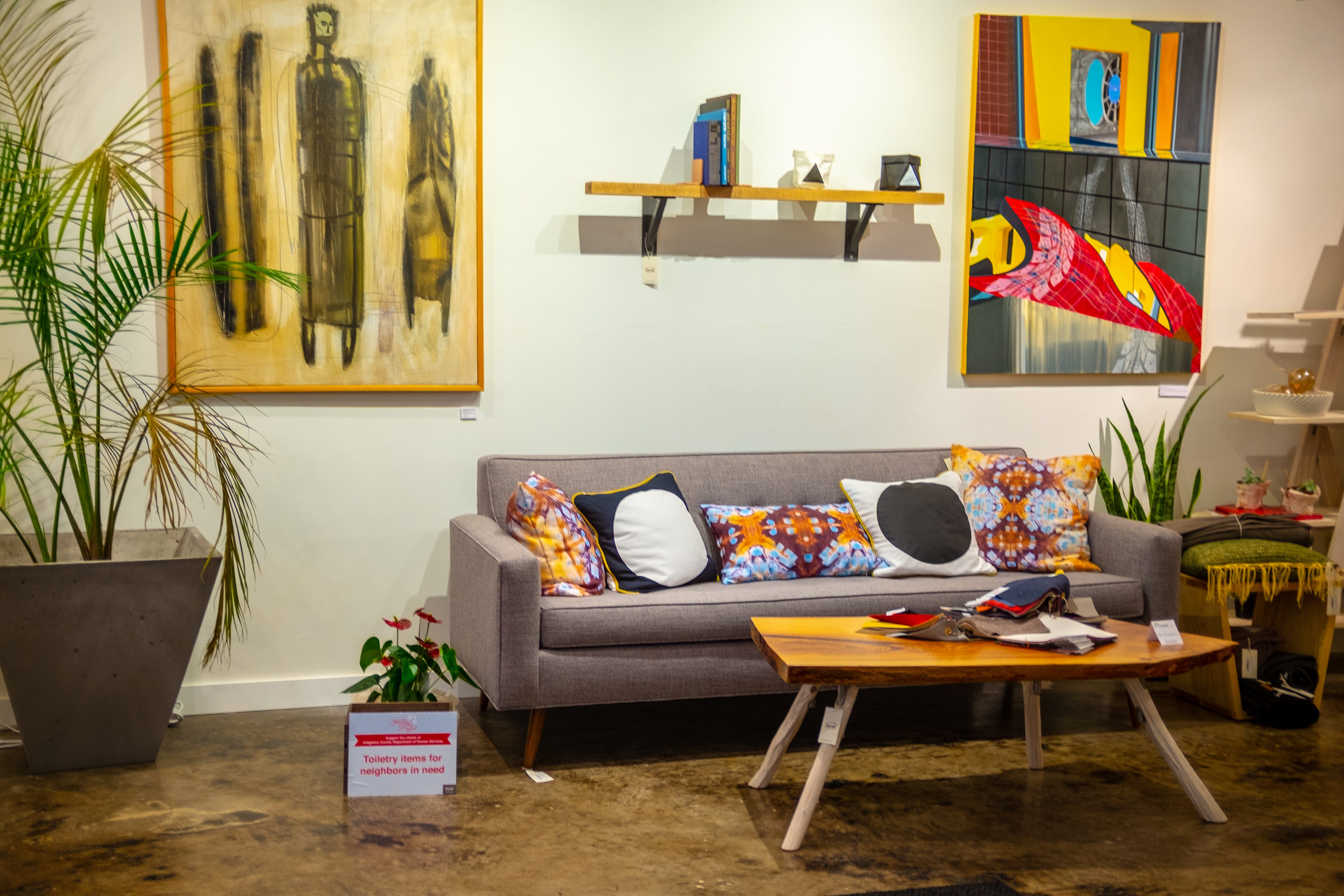 There's a new shop around town and we're obsessed. Meet PG&H: a collection of masterful handmade products from Pittsburgh's finest craftsmen, all under one roof. Embodying the strength and resilience of this city by "creating goods with authenticity that bleeds steel" is how PG&H defines itself. From woodworkers to cloth stitchers and silversmiths, PG&H aspires to highlight creations from Pittsburgh's finest master craftsmen because, for them, steel grit runs deep.
PG&H is open Monday through Saturday from 11 a.m. -7 p.m. and Sunday from 10 a.m. - 4 p.m.
Steel City Clothing
625 Smithfield St
View Website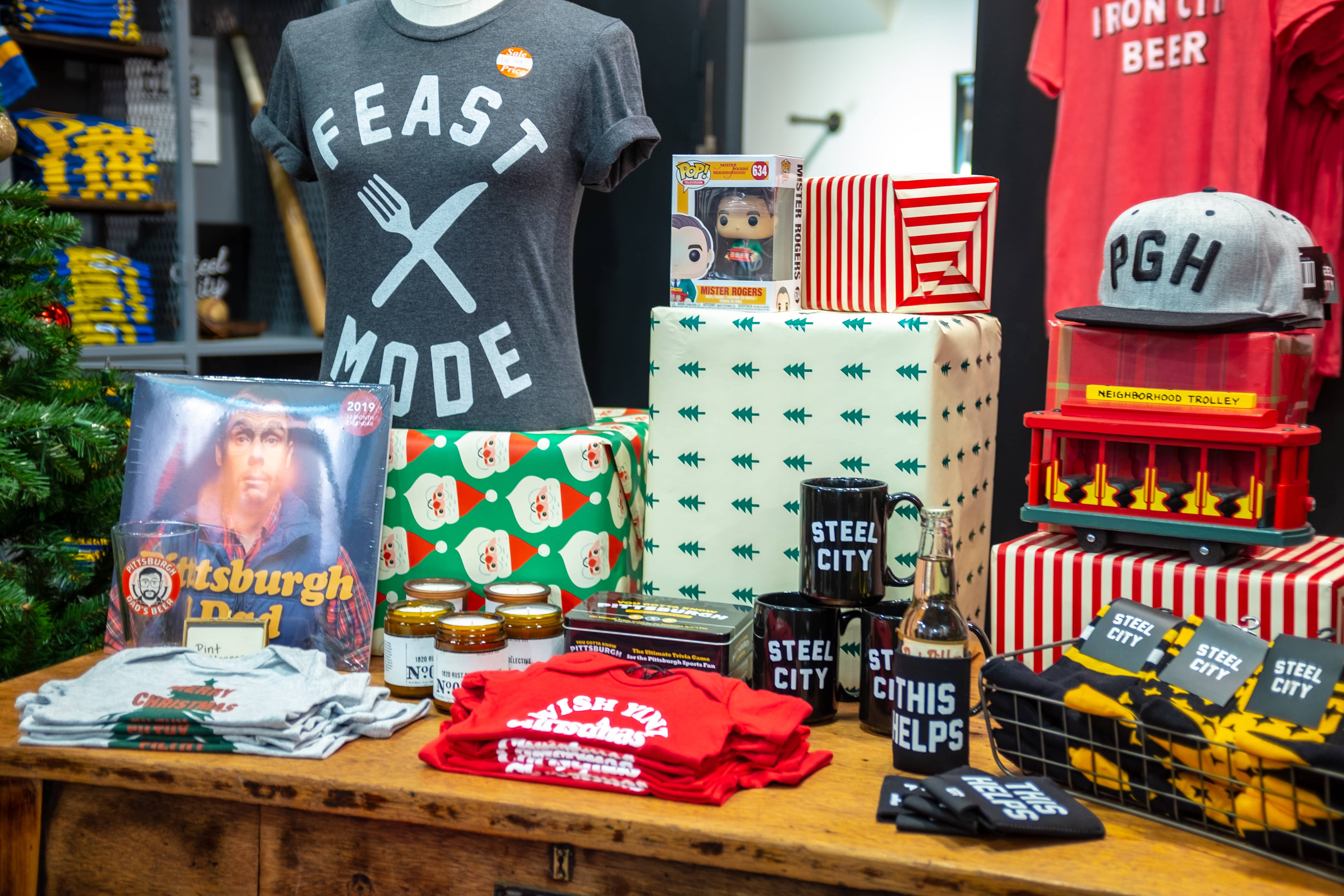 Fred Rogers tees? Check. Black and yellow beanies? Check. Gear repping your favorite sports team in the 'Burgh? Check.
If there's one shop that is full of Pittsburgh pride, it's probably Steel City Clothing. Nestled in historic Downtown Pittsburgh, this clothing shop stocks some of Pittsburgh's most-loved staples, perfect for both the long-time resident and the visiting tourist.
Steel City Clothing is open daily, from 10 a.m. - 8 p.m. (closes Sunday at 6 p.m.)
Handmade Arcade
David L. Lawrence Convention Center
View Website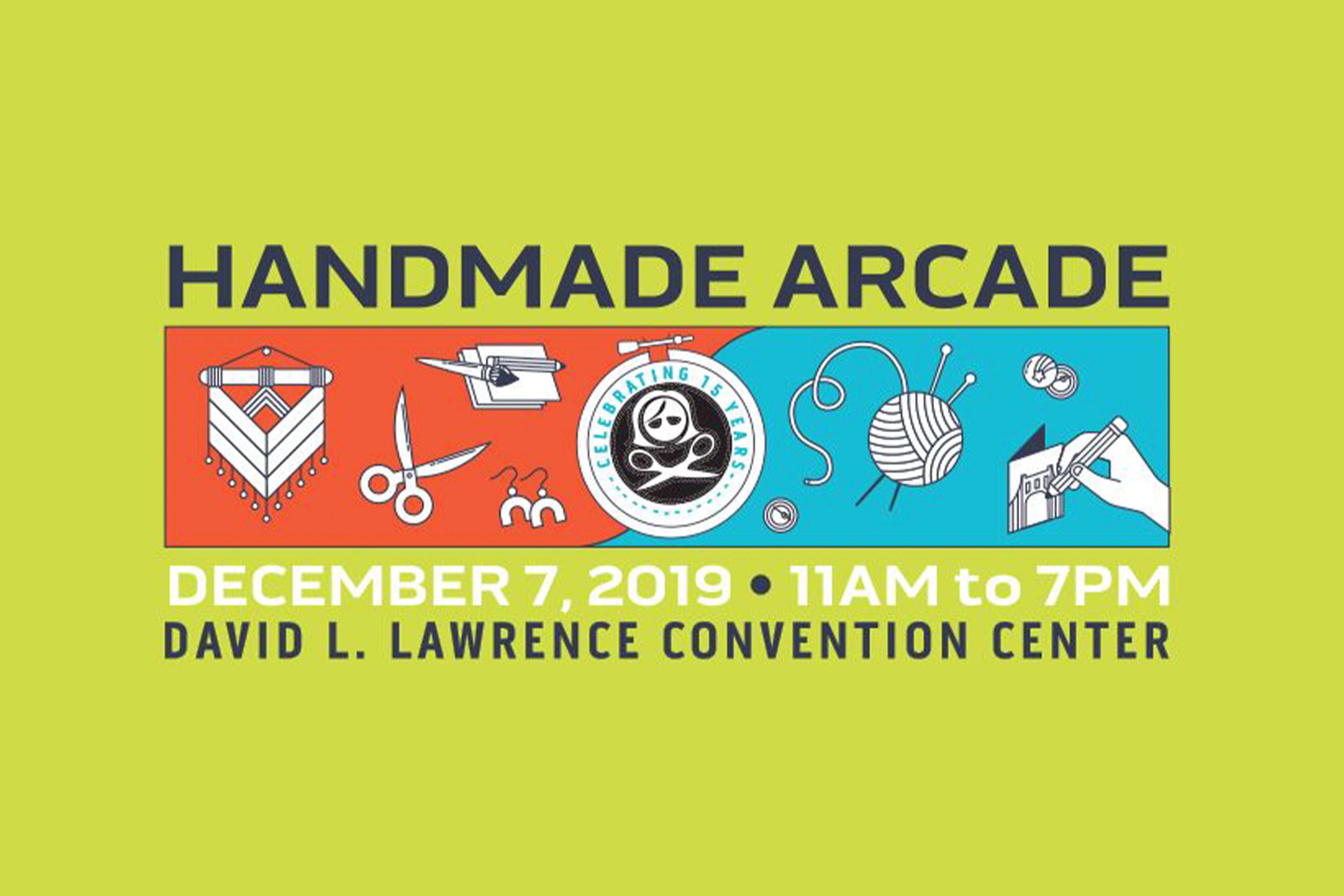 Mark your calendars for December 6th and 7th to check out Handmade Arcade, Pittsburgh's premiere indie craft fair featuring 250 innovative artists, designers and makers from around the region and country. Every year, the two day event garners over 20,000 attendees, many of whom bring back local creations for the holiday season. Wanna get all your Christmas shopping done in one go? This is the place!
Handmade Arcade is open on Friday, December 6 & Saturday, December 7 (Early Bird Tickets available for Friday, 5:30 p.m. - 8 p.m. and Saturday 10 a.m. - 11 a.m., FREE to the public on Saturday, 11 a.m. - 7 p.m.)
Want more? Join our email list!
Want to hear more about what's going on in the Cultural District? Sign up for the Pittsburgh Cultural Trust's mailing list.