Last week, we announced the lineup for our 2017-2018 PNC Broadway in Pittsburgh season, plus our season specials and one highly-anticipated show for the 2018-2019 season. (Wait for it, wait for it...) Thinking about joining us for our upcoming season of Broadway? Here are 5 reasons to subscribe:
1. A Whole New Season of Pittsburgh Premieres (Plus Some Old Favorites)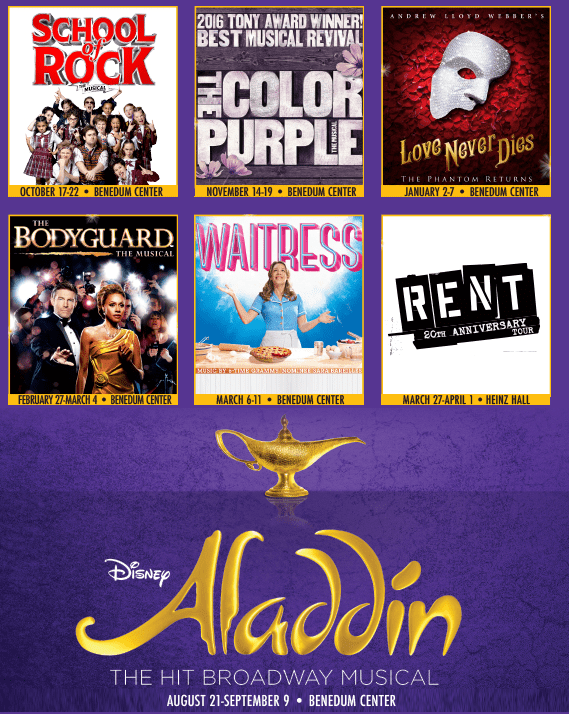 Don't miss your chance to see the newest musical sensations as they make their Pittsburgh debuts. The 2017-2018 season proudly features premieres of Disney's ALADDIN, THE BODYGUARD, WAITRESS, SCHOOL OF ROCK, and Andrew Lloyd Webber's LOVE NEVER DIES The Phantom Returns, the spellbinding sequel to PHANTOM OF THE OPERA. Plus, we'll present the 2016 Tony Award Winner for Best Revival of a Musical, THE COLOR PURPLE, as part of our PNC Broadway in Pittsburgh series for the first time.

Of course, we have an old favorite returning as well: the 20th anniversary tour of RENT.
2. Swap a Show Feature


Looking for a little flexibility in your season package? Your wish is granted. As a subscriber to the 2017-2018 season, you can swap one of the shows listed above for one of our specials: MOTOWN THE MUSICAL, DR. SEUSS' HOW THE GRINCH STOLE CHRISTMAS! THE MUSICAL, WICKED, and Rodgers + Hammerstein's CINDERELLA. Or, swap your tickets out of one season show and into another.
3. Seats and Service
You've never had a friend like the Pittsburgh Cultural Trust when it comes to subscriber benefits. Season ticket holders are seated before the general public, meaning you get the best seats at any price level and can keep them year-to-year. You're also first in line to upgrade your seats.

Need ticket exchanges? Payment plans? Lost ticket replacements? We're at your service.
4. Dynamite Savings
Our seven-show packages start at $25 per ticket. Plus, secure special pricing for most shows on additional tickets and dining discounts throughout the Cultural District.
5. Guaranteed Priority Access to HAMILTON in the 2018-2019 Season

Don't throw away your shot to see HAMILTON, which is coming to town as part of our 2018-2019 PNC Broadway in Pittsburgh season! Subscribers from the 2017-2018 season who renew their subscription for the 2018-2019 season will be able to guarantee their tickets for the premiere Pittsburgh engagement of HAMILTON as part of their 18-19 season package. Ticket restrictions may apply. Learn more at https://trustarts.org/hamilton/.
Renew Your Subscription Purchase a New Subscription Groups 10+ Tickets