In BNY Mellon Presents JazzLive's illustrious 15 year history, Roger Humphries has been a constant. On May 28th, the legendary drummer and his band RH Factor perform at Backstage Bar at Theater Square as part of the free Tuesday night JazzLive series.
Of the night, Humphries promises a blend of brand new music and some familiar tunes.
Humphries and his band have been a fixture in JazzLive programming. They even led the festivities earlier this year in celebration of JazzLive's 15th Anniversary, welcoming a variety of celebrated musicians in an all-star jam session.
"What JazzLive has is something that's been needed," said Humphries. "When you think about [the anniversary] program, look how much joy that brought to people. Everybody was happy. They participated, and they supported it."
In 2018, Humphries was also awarded the first ever JazzLive Legacy Award for his numerous contributions to jazz in the region and beyond.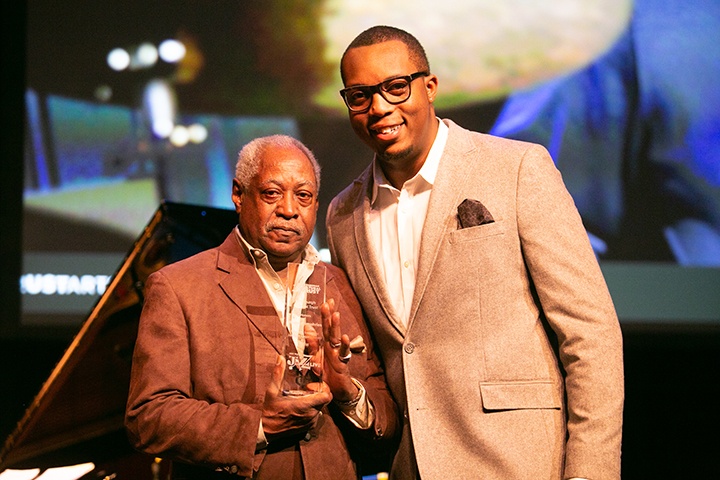 Humphries (left) and Jevon Rushton (right) pose after Rushton presented Humphries with the inaugural JazzLive Legacy Award last year.
Most recently, Humphries was awarded an honorary Doctorate of Humane Letters from West Virginia Wesleyan College as recognition for his decades of dedication to the genre of jazz music.
Between his Uncle Frank who played with Tab Smith, his Uncle Hildred who played the saxophone, and musically inclined older brothers Lawrence Jr. and Norman, Humphries was surrounded by music growing up. He began playing the drums at the age of three when Norman introduced him to the instrument.
"I guess to be honest with you, the drums chose me," he said. "I got in love with it and I've been playing ever since that early age."
As a teenager, Humphries frequented the Hurricane Club and the Crawford Grill, two former Jazz hotspots in the Hill District. It was at the Crawford Grill that, among others, he met Art Blakey and Max Roach, two prolific drummers that he considers his mentors. "The Crawford Grill was so much of a learning place for me because they took me when I was a kid," he said.
At 14, Humphries began his professional jazz career and went on to work with musicians such as Stanley Turrentine and Shirley Scott, Ray Charles, Horace Silver, James Moody, Benny Green, and many more.
Humphries says he was inspired by the musicians that came to Pittsburgh, and that the most important lesson he learned was to pass on the jazz tradition.
Thanks to the early influence of Blakey, Roach, and other jazz greats he had been exposed to, Humphries decided to start RH Factor in 1972. From the start, his vision was to have a quintet like his idols. The band received its name at the suggestion of bassist friend Mike Taylor, whose nickname for Humphries was "Mr. Factor."
Throughout the years, several musicians have stepped through the band. Today it is comprised of Lou Stellute, James Moore, Max Leake, and Dwayne Dolphin.
A night with Roger Humphries & RH Factor is always a night to remember. Following his performance, the JazzLive series moves outdoors to Katz Plaza with a performance by Paul Thompson on June 4.