Artists to Watch shines the spotlight on emerging local artists.
A Note From the Trust Arts Education Team
The Trust Arts Education Department is grateful to connect students and young learners to the skillful artist, musician, and producer that is Dennis Garner. Dennis is always willing to learn and adapt his artistry for the classroom. His easy-going attitude combined with his incredible talent makes him an unstoppable force in Pittsburgh arts and culture.
Cultural District Connections
Dennis Garner describes himself as being "connected to and with" the Trust for over a decade, both in teaching and performing capacities. A resident artist in the Trust Arts Education department, Dennis has taught a variety of classes with a range of musical focuses. While he has taught DJ classes and dance classes, his specialty is in percussion and drumming, bringing styles of drumming such as West African, Middle Eastern, and Caribbean percussion to the classroom.
Outside of the classroom, Dennis has performed in different programming through the Trust for several years. He's also performed with other artists from the Trust, both in the city and nationally.
"It's exciting to experience the Cultural Trust and how they help to shape and polish these personalities in the arts, in the Pittsburgh area and beyond," Dennis says. "Part of me as an artist has found purpose and new skills because of my association with the Cultural Trust."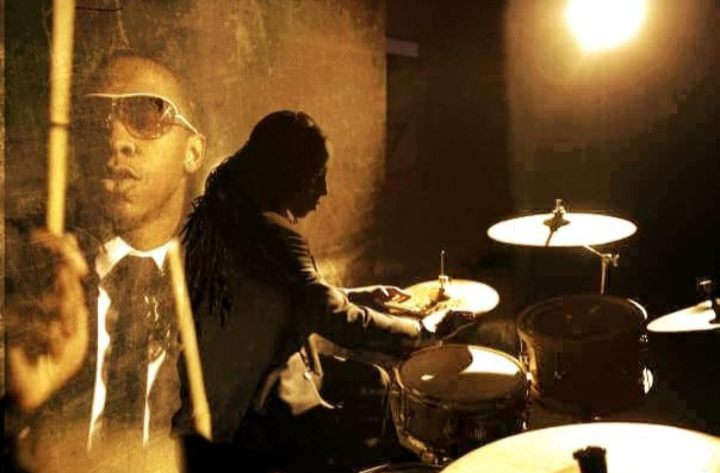 Meet Dennis
A native of Pittsburgh, Dennis's musical background is grounded in gospel music and drumming. As he grew up, he continued to expand his musical interests to different genres, saying he wanted to learn every musical genre he possibly could.
While his love of music only grew as he got older, a lot of his passion for music came from his experiences as a touring performer; he hadn't had any formal training. When he enrolled in West Virginia University as a biology major, he auditioned for private drum instruction with Al Wrublesky. Dennis credits Wrublesky, who taught in the music department and also performed with the Pittsburgh Symphony Orchestra at the time, with teaching Dennis about the language of drumming and the academia behind it.
After college, Dennis continued touring and recording music across the country. He also owned his own production company, where he taught private drum instruction for 10 years.
In 2015, while working for the Greater Pittsburgh YMCA, Dennis was referred to the Cultural Trust through the Gateway to the Arts program. From there, he was offered a temporary workshop position to teach drums. This workshop position allowed Dennis a new opportunity to teach in the classroom — something he hadn't had the chance to do before.
Since joining the Trust as a teaching artist and as a performer, Dennis said he has found a community within the Trust. He says that his experience, particularly in being surrounded by fellow artists, has allowed him to expand his skillset and challenge himself as well.
You can see Dennis performing every Tuesday in December at the Genuine Pub in Verona from 8-11 p.m.
---
Photos by Michael Cannon (top) and Jeff Swensen (bottom)
Want more? Join our email list!
Want to hear more about what's going on in the Cultural District? Sign up for the Pittsburgh Cultural Trust's mailing list.