Artists to Watch shines the spotlight on emerging local artists.
A Note From Randal Miller, Director of Dance Programming and Special Projects
My first professional connection working with Jasmine was on the Multiple Choice Events series. We worked together several times on these events over the years and that partnership fit very well with the mission of that series to bring young and diverse audiences to the Cultural District. It has been amazing to see her continue to develop and to see the recognition for her work skyrocket of the last few years. I think the intersectionality of her work as a food artist and activist makes her an ideal addition to the Pittsburgh Humanities Festival lineup.
Cultural District Connections
Jasmine's connection to the Cultural District has been delectable to say the least. She has created portrait cookies for the 2016 Pittsburgh International Jazz Festival, as well as the Trust's Multiple Choice Hip Hop and Multiple Choice KPOP events. Now, she's excited to be one of the Core Conversation speakers at the 2020 Pittsburgh Humanities Festival.
Meet Jasmine
At the beginning of her career, Jasmine did not expect to find her calling in a creative profession. Instead, she pursued an undergraduate degree in education at Duquesne University. Through her love for pastries and her interest in civic and community development, she stumbled into a career of cookie activism.
After shuffling in between various cities after graduating, Jasmine found herself back in Pittsburgh in 2009, this time to pursue a Public Allies Americorps program. While being immersed in different sectors of the city, she became aware of what it meant to have a seat at the table and the importance of representation.
In 2012, Jasmine began Yummyholics, a clothing company geared towards foodies that eventually expanded into pastry making. And when Jasmine began to make cookie portraits, her business exploded. Following media opportunities in Food Network, TEDxPittsburgh, NPR, and CBS, she became a national sensation.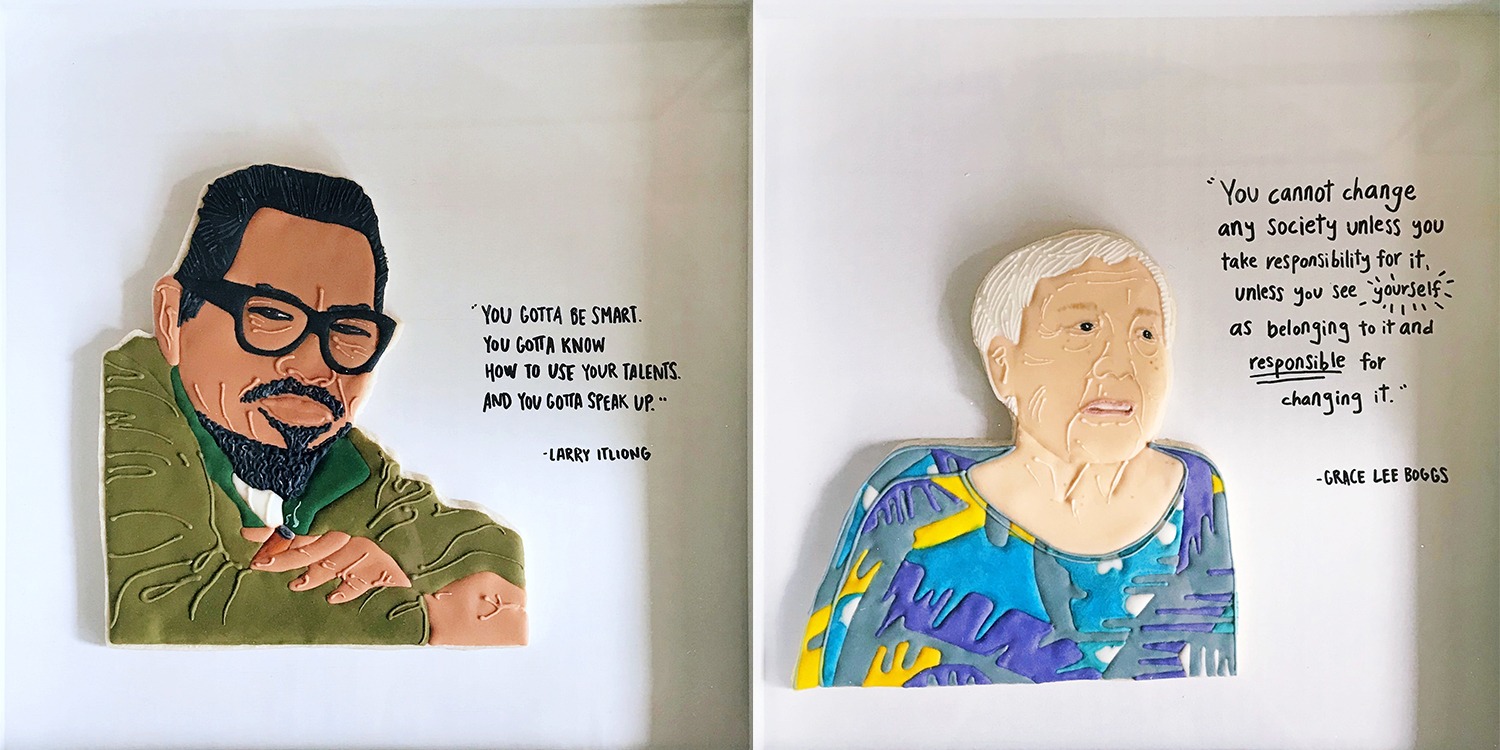 Pictured: Cookie portraits of labor organizer Larry Itliong and human rights advocate Grace Lee Boggs
Since then, she has made cookies for comedian Ali Wong as part of a benefit for the Center for Asian American Media, partnered with the City of Pittsburgh to educate kids about the 2020 census, and created a portrait cookie gallery at one of Pittsburgh's Night Markets, featuring local underrepresented AAPI celebrities who hail from Pittsburgh.
Jasmine prefaces her creations with a simple question: What's their appetite to learn more? The cookies, Jasmine states, act as a channel to advocate for her Asian American community in a way that is accessible, palatable, and delicious.
To all her followers, she believes that everybody has a platform to speak out and to do so, it's important to look inward to find one's passion. "Creativity is about combining things you didn't know go together," she states. As for Jasmine, she found her creativity in cookie portraits.
You can see Jasmine Cho at the Pittsburgh Humanities Festival on March 22, 2020 at 3 p.m. in the Trust Arts Education Center.
---
Photos provided by Jasmine Cho
Want more? Join our email list!
Want to hear more about what's going on in the Cultural District? Sign up for the Pittsburgh Cultural Trust's mailing list.