A Note from the Trust Arts Education Department
The Trust Arts Education Department is very lucky to have Joanna as a part of our Teaching Artist roster. She is an extremely talented interdisciplinary artist who has worked across all of our programs, in early childhood and K-12 classrooms. She brings such a positive energy into a classroom setting, and her passion for teaching through expression is refreshing.
Cultural District Connections
As a teaching artist, Joanna Abel spreads the joy of art to Cultural District visitors of all ages through innovative programming and hands-on workshops. Through her work with the PNC Grow Up Great Early Childhood Arts program and Gateway to the Arts' Western Pennsylvania Wolf Trap, Joanna helps students express themselves creatively and master basic academic and life skills through the arts. She also leads professional development workshops for educators to deepen understanding. Recently, she began developing STEAM programs for educators working with young children that combine science, technology and math concepts with movements and art activities to engage learners on all levels.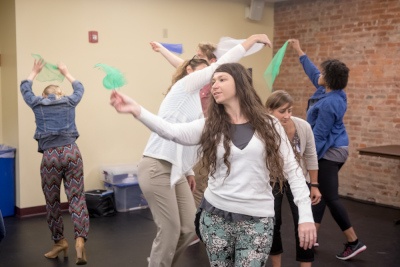 Joanna leads an open house for educators at the Trust Arts Education Center
"I love being a teaching artist at the Pittsburgh Cultural Trust because I get to use my creativity to make custom lessons and workshops that fit the needs of each individual classroom and project," shares Joanna. Her focus on creative movement, dramatic play, performing arts, drumming, puppetry, storytelling and visual arts gives her a variety of tools with which to tailor the student experience.
In addition to teaching, she has performed with her troupe, 3rd Street Belly Dance, at the Dollar Bank Three Rivers Arts Festival.
Meet Joanna
Art has always played a role in Joanna's life. Growing up, she loved drawing. In school, art class was her favorite part of the day. Outside of art class, you could catch her doodling. When it came time for college, she originally pursued elementary education courses, but found something missing. "I thought back to high school and elementary school, and what I loved the most, and it was art," she reflects. "I decided to keep the teaching aspect and add art." She chose to study Studio Arts with an emphasis on painting at La Roche University, and obtained her art education certificate from Carlow University.
It was, indirectly, through her Studio Arts program that Joanna fell in love with belly dancing. Her senior year she took a class on art history of the Middle East and the Mediterranean, and was struck by the beautiful paintings. "The vibes and the color palettes, they just drew me in," she describes of the experience.
Joanna, who had "maybe tap danced once when [she] was five," started taking classes in Carnegie (at the yoga studio that would one day be her very own dance studio). "I loved classes so much that I dove in head first!" she shares. What began with basic movement classes was fueled by the beauty of live performances, leading Joanna to join a troop and study at festivals across the country, "as time went on I just immersed myself more and more in the culture and the atmosphere and the community." Fourteen years later, she has traveled internationally to perform and currently travels nationally teaching and performing.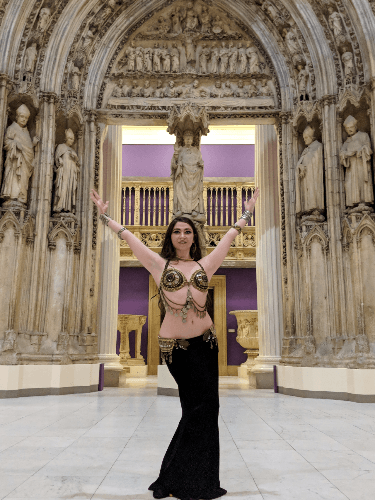 She now has her own studio in Carnegie where she teaches lessons. "It's a Pittsburgh bellydancers' story," she laughs as she tells the seemingly fated chain of events, which also sparked during her senior year of college. While interning at 3rd Street Gallery, Joanna would attend their Wednesday Jazz Nights. "That's the first live music I ever belly danced to, improving to Jazz music. The ladies at the Jazz Night would ask me to teach them. 3rd Street Belly Dance was born during those Jazz Nights." Joanna's classes soon graduated to a studio above the gallery. Then to an annex gallery next door. As her classes got bigger, she took over more and more space. "Now I have my own studio space. It's grown from the gallery to the downstairs of a beautiful victorian house with my mirrors on the walls and my cubby holes for my students and my sign that says 3rd Street Belly Dance," Joanna says fondly.
Her love of movement and of teaching is apparent in both her studio and her work as a teaching artist, where her creativity inspires, delights and engages students of all ages. "My favorite part of being a teacher is seeing the impact the arts has on students," Joanna remarks. "I love seeing the 'a-ha' moments when students are working on a piece of art or dance and are in 'the zone.' Those moments are when they can release stress and worry. And when they are in that flow their eyes light up with life! It's beautiful to see!"
Join Joanna tomorrow, April 20, at the Indian Community Center in Carnegie, for Enchanted Creature Ball: Light vs. Dark, a whimsical show with live music, dance, food, and drinks! The show will feature performances by Ancien, a Middle Eastern music ensemble from Athens, Ohio, and The Bay Chamber Players, a chamber orchestra from Pittsburgh, in tandem with belly dance artists from North Carolina, New York, Ohio, and Pittsburgh. Be enchanted!
Photos with Pittsburgh skyline and CMOA taken by Foo Conner.