Artists to Watch shines the spotlight on emerging local artists.
A Note From the Trust Arts Education Team
We met Randall Coleman when he was a volunteer at Picklesburgh, assigned to assist with the family arts activity. He had such a great energy about him. After learning he was a photographer we asked if he might want to explore becoming a teaching artist. He jumped at the opportunity and has quickly developed into an amazing teaching artist. Whether he is working in a summer program with elementary students or an in-school residency with high school students, Randall has a great gift for being able to translate photography/videography concepts into meaningful, deep learning experiences for all of his students.
Cultural District Connections
Randall Coleman has been involved in the Cultural District in more ways than we can count. He participated as a vendor in Showcase Noir and the Dollar Bank Three Rivers Arts Festival, captured the rhythm and groove of JazzLive performances and the awe and inspiration of Gallery Crawls, and traveled to Israel with the Trust Arts Education Department and the Teachers Without Borders program. His largest undertaking has been with the Trust Arts Education program as a teaching artist. Randall focuses on photography and videography, tailoring his program so that students can walk away with a finished project.


Trust Arts Education and Teachers Without Borders in Israel
Both a teaching artist and a college professor, Randall can take his students all the way from grade school to college. "Whatever class I'm in is my favorite at that time. That's why I enjoy it. You don't get used to one age group for too long," Randall said when pressed on what he preferred teaching. "Keeping the class at attention, application of the work, adapting to different age levels, what I can help them accomplish, that's what I love.
Meet Randall
Talking to Randall, it seems inevitable he would become a photographer, but it truly was a family endeavor. In high school, Randall's older brother brought home an analogue SLR camera. Entranced, he followed his brother around as he took pictures of their cat. His brother advised him to take a photography class when he started college, which Randall dutifully followed, taking a photography elective his second semester. He immediately fell in love with photography. He talked about it incessantly, so much so that his mother declared, "we're going to find a major that includes photography because that is all you talk about." A mother's intuition can't be matched, but it was his father who came to him a week later with the multi-platform journalist program at Duquesne. "From then on I made it a point to pursue it in my career and not look back," Randall shares.
After graduating, Randall founded Redd Vision, a brand centered on the values of "create, serve and influence" and the functionality pillars of "creating content for self, for clients and live experiences for everyone." Through Redd Vision, Randall captures everything from weddings and graduations to sports and concerts, with an incredibly consistent ability to capture emotion. "What I love to capture is presence," the photographer says. "Whenever I see someone present, that's what I'm looking to catch."
It's no wonder this born and raised Pittsburgher devotes himself to capturing the beauty and spirit of his city. Through WEEKNDRS and doc the cult, Randall documents what happens in Pittsburgh, highlighting events and individuals in the city. "There are a lot of amazing concepts and ideas floating around the city. It's important to highlight that because we're doing a good job as a city, and we want people to stay here because there's this culture they fall in love with. I'm trying to contribute to the hometown pride."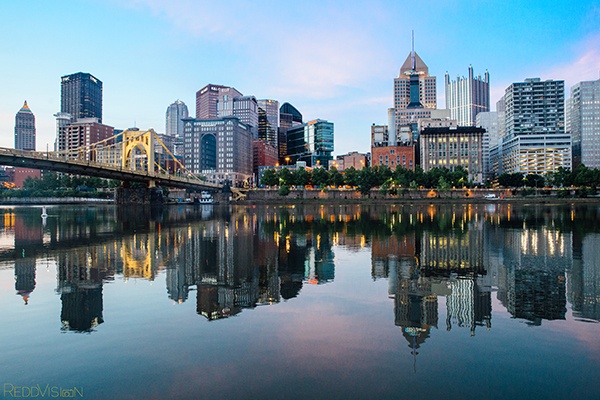 One of Randall's photos, capturing the Pittsburgh skyline at sunrise.
Randall's hometown pride is in part due to Pittsburgh's incredible arts scene and the creative mentality of the city. This mentality is seen from the North to the South Hills and everywhere in between, showcased at the heart of the Golden Triangle by the Cultural District. Here you can see all forms of expression ranging from improv comedy and weekly live music to locally produced musicals and ballet.
"At the core of Pittsburgh people have this mentality of wanting to be present and around others, but still wanting to be true to themselves. If you go to a dance party in Pittsburgh, people will dance like nobody's watching, and you don't get that in many other places," Randall explains. "The goal is not to win some competition, but to express something honest and pure and no matter how it comes across, we're cheering you on. That's one of the greatest things to have because now in your foundation you know what to tap into to just be, to express yourself." In addition to this mindset, Randall is equally appreciative of the logistical benefits of living in Pittsburgh. "You have resources, but you don't have to spend that much money to be here, so you have the time to develop yourself without having to stretch yourself too thin."
Randall is sure to make Pittsburghers proud, creating compelling and moving art for and with his community. Even more so he is bound to enjoy every moment of it, "everything I do I enjoy. I want to go on a journey. A large part of life is work. I heard once 'you should make work your prayer.' I want to be present, this is a meditation, this is a prayer."
Keep an eye on Pittsburgh happenings with WEEKNDRS and doc the cult, and look out for the third installation of C M Y K, a Redd Vision dance party blending House Music, Baile Funk & Hip Hop, at Brillobox on May 31, 2019.