The first time I went to BroadwayCon, it was Year One, and I wanted to check out this newfangled mashup of pop culture conventions and the stars of the Great White Way.
That first year at the Hilton in midtown Manhattan included the casts of Hamilton and Fun Home, Jonathan Groff playing trivia games and a Rent reunion – BroadwayCon is the brainchild of original cast member Anthony Rapp, and Melissa Anelli of Mischief Management – and last but not least, the Blizzard of 2016.
Snowfall totals in NYC approached three feet, the most since record-keeping began in 1869. As the first BroadwayCon ended, all of the city's public transportation and theaters were shut down.
Talk about your dramatic opening act.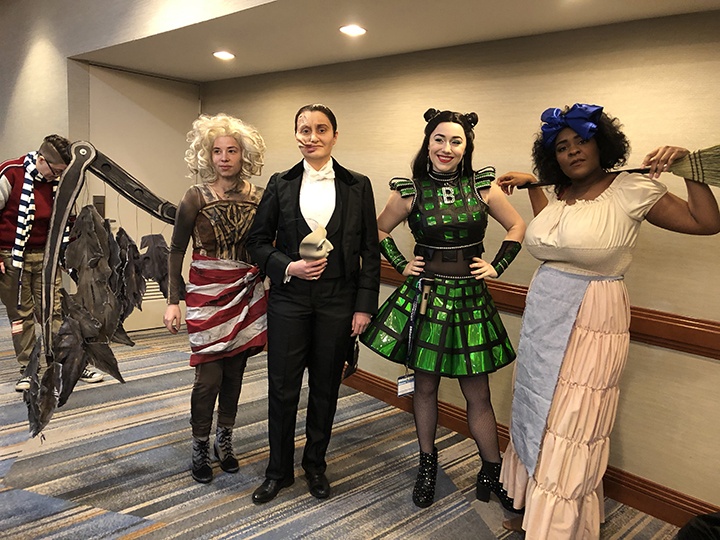 Emilee Hough, far left, of Morgantown, W.Va., was at her third BroadwayCon this year. Why come as the Angel from Angels in America? "Because it is the best play ever written," she said.
BroadwayCon turned five last weekend, in relatively balmy weather, and I was back – this time as a guest.
No, I don't sing and dance. BroadwayCon isn't just a fan experience of hobnobbing with the stars of current and upcoming shows, or an opportunity to display some pretty amazing cosplay. It's also an industry event, where singers can try out new products to protect their voices, or panels of award-winning playwrights discuss the state of diversity and inclusion in theater, or podcasters and critics compare notes.
It also is very like a comic-con (though not quite as big as the biggest one in San Diego, or even Pittsburgh's Steel City Con) in that it includes a Marketplace full of merch, theater-camp and industry-related booths, along with karaoke and autograph/photo op stations.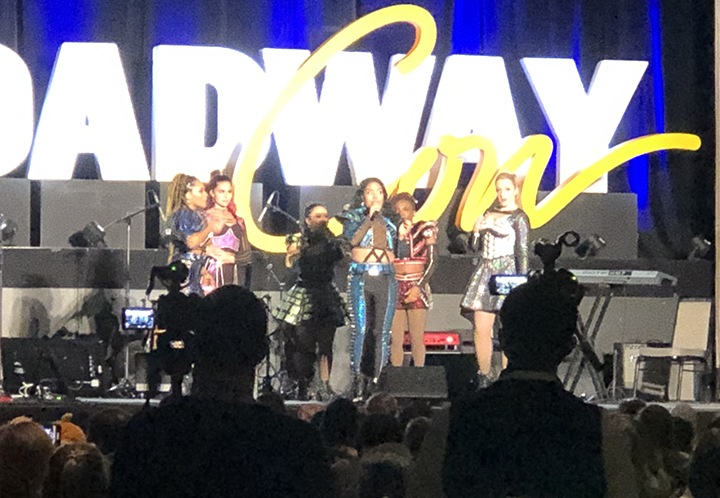 The cast of Six rocks the Hilton.
You never know who you might run into there – one year it could be Annaleigh Ashford (Kinky Boots) or, this year, Telly Leung (CMU grad and Broadway's Aladdin) selling and signing new CDs.
I was there to lead one of the many industry panels that are also a big part of BroadwayCon 2020, to talk about the state of arts journalism: where it's headed, and how can the critics who are still standing support a new, diverse generation of arts journalists as our legacy.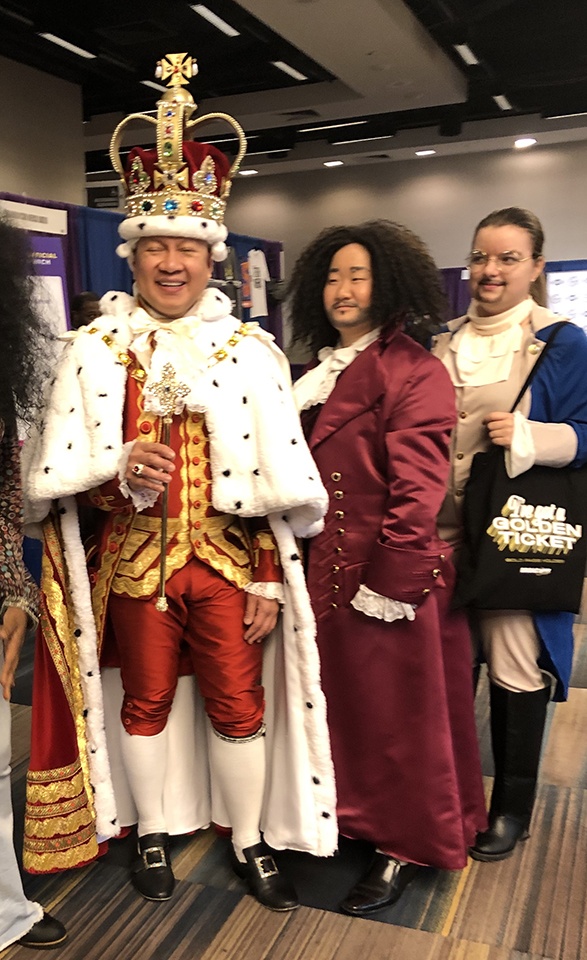 Hamilton's King George won best cosplayer at BroadwayCon.
That's a lot to cover in an hour. Luckily, I was with two people who are in the trenches:
Mark Lowry, a former newspaper critic and founder of TheaterJones.com, which covers the performing arts for all of northern Texas. The website just celebrated its 11th year, the past two and a half as a nonprofit, and is in an expansion mode. Allison Considine is senior editor for American Theatre magazine and a mentor for Girls Write Now, working with underserved young women and gender nonconforming youth to find their voices through writing and community.
I was a bit worried, because we were among the first panels on the first day, booked opposite "Shakespeare Lover's Meetup," "So You Want to Be a Cosplayer?," and "Matilda Beginner Dance Workshop." The competition seemed fierce.
What a relief that 42 like-minded journalists – editors, critics, bloggers and podcasters – came for an hour of lively discussion.
One thing about being first up: When the work was done, the rest of the weekend was mine to explore.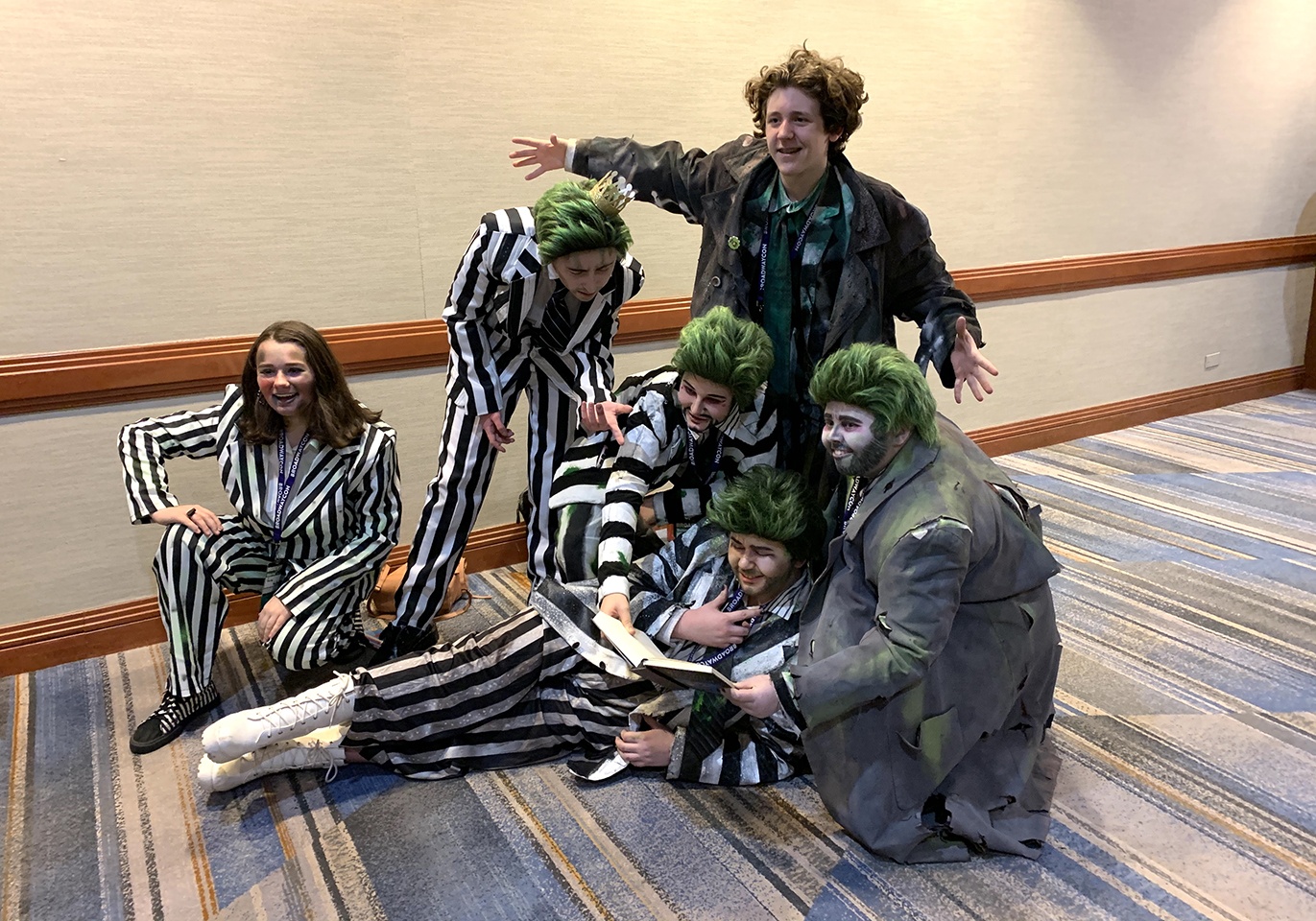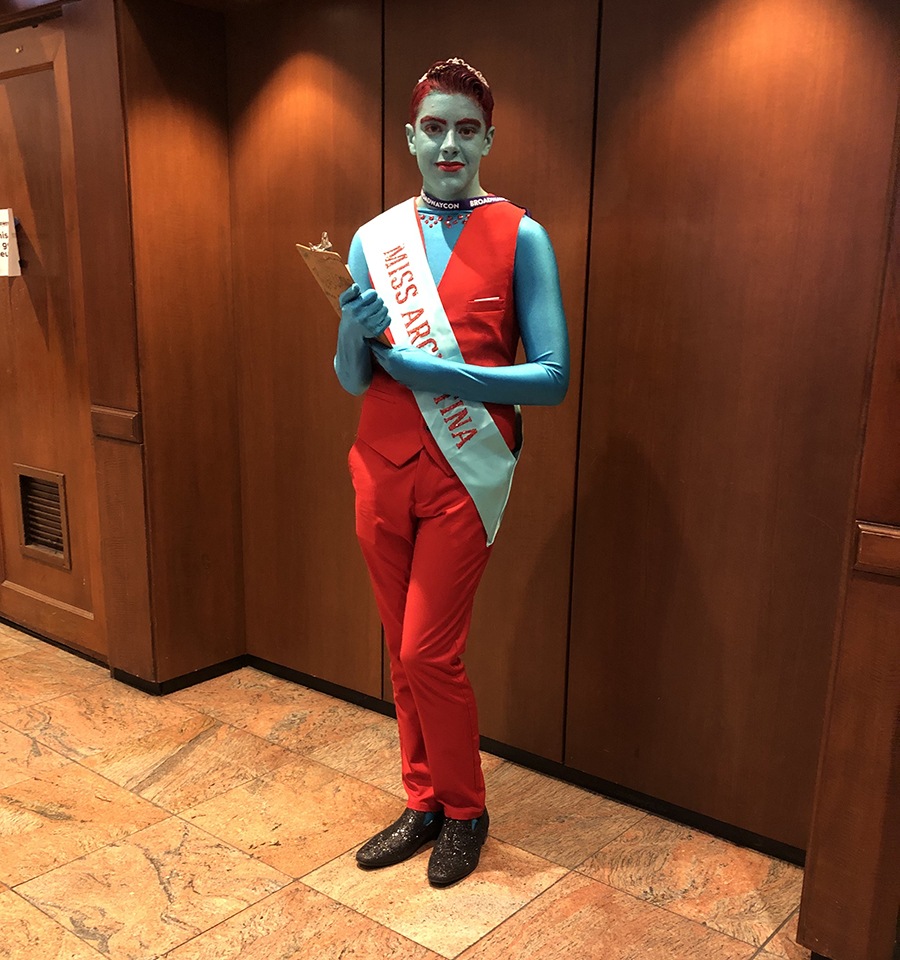 Beetlejuice and characters from the show were everywhere at BroadwayCon 2020.
I opted for the Mainstage Kickoff Event, which I had a hint would include Jelani Remy (a former Simba in The Lion King on Broadway, now in the ensemble of Ain't Too Proud) because we were on the same elevator, not sure which way was up – literally. There were some problems getting between the fan floors and the guest floor, but, laughing all the way, we both wound up where we needed to be.
Ben Cameron – performer, writer, choreographer and man about Broadway, welcomed the masses into the big Mainstage room with the greeting, "My outfit today is retro Mister Rogers."
I knew I was home.
Three performers then followed: perennial BroadwayCon fave Lesli Margherita, singing "Ring Them Bells," Remy performing all the parts (Link, Tracy, Penny and Seaweed) in a sing-along "Without Love" from Hairspray, and the great belter of Broadway, Beth Leavel.
Leavel, BTW, who was in Pittsburgh workshopping Double Threat Trio for CLO not long ago, is going to play the Meryl Streep role in a new musical of The Devil Wears Prada, while Streep will play Leavel's role in the Netflix film of The Prom. So I guess it all works out.
Next up as host, promoting his role on the NBC show Zoey's Extraordinary Playlist, was Alex Newell, the Glee star who was a showstopper in Once on This Island.
Newell kept things light and hilarious, and although he kept saying, "I don't know why they asked me to do this," we all knew. When there was a sound-system failure, he obliged the crowd with "Mama Will Provide" to the back of the room.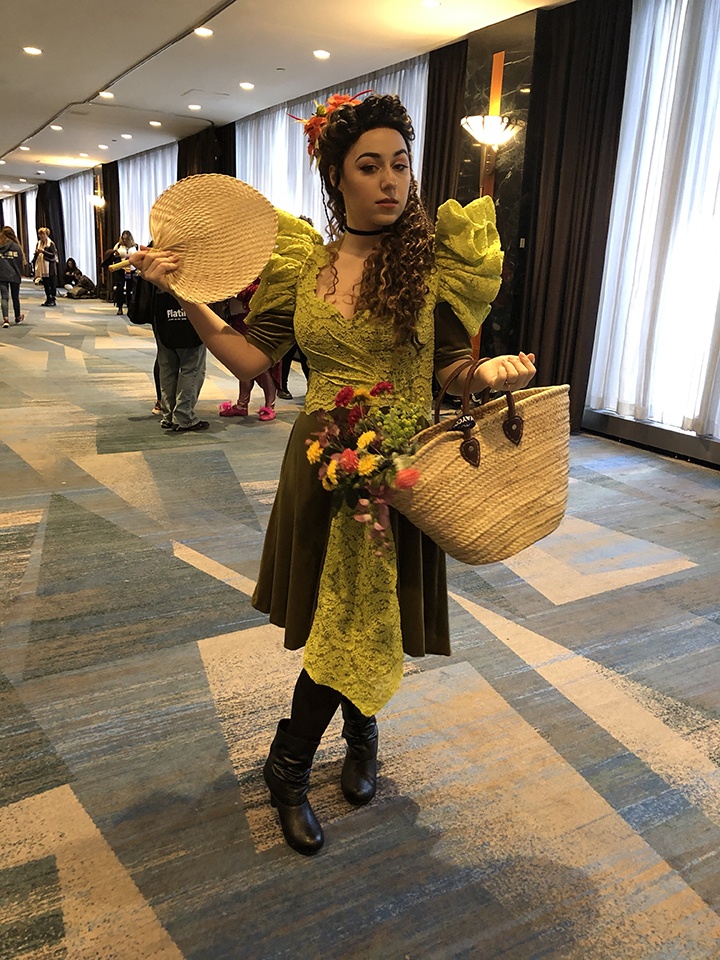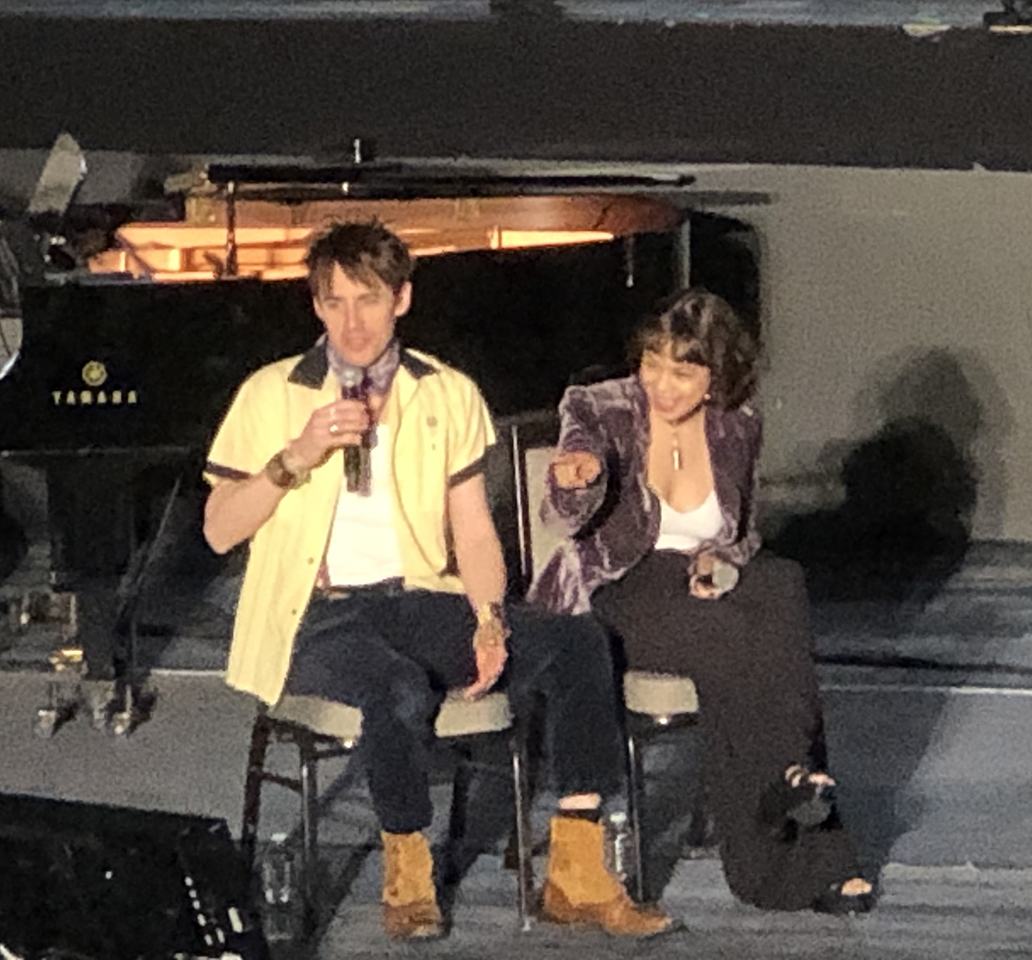 Left, my favorite cosplayer, a spot-on Persephone from Hadestown, and right, cast members Reeve Carney (Orpheus) and Eva Noblezada (Eurydice).
Newell was there to pave the way for song samplings from mostly upcoming Broadway and off-Broadway shows. Late January is a time of change in the big theaters, getting ready for openings in February and March.
One of the shows that had a big presence at BroadwayCon was Six – not just with the cast on hand, but with cosplayers anticipating its arrival.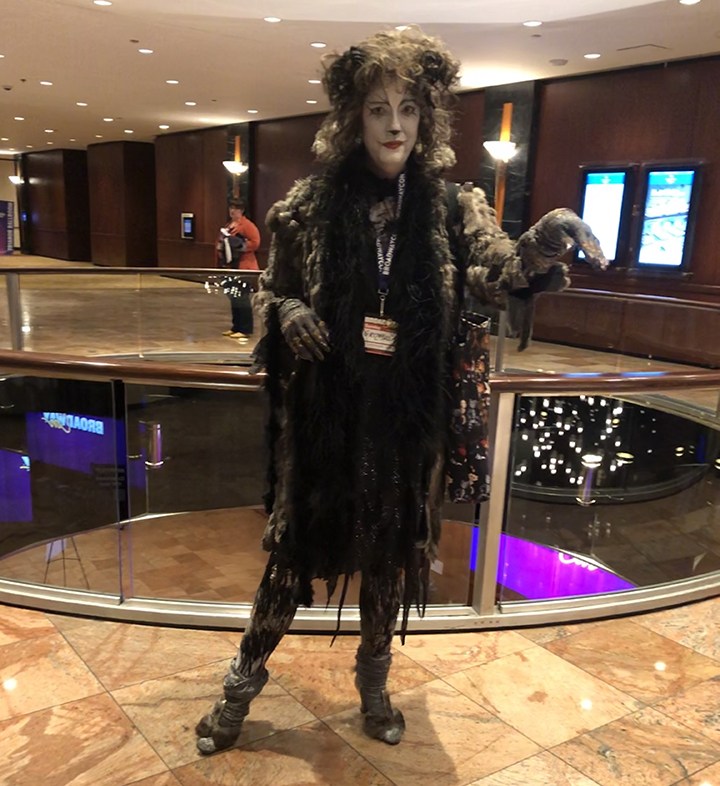 Grizabella clawed her way through BroadwayCon (Cats comes to Pittsburgh Feb. 25).
Six is the London hit pop musical about the wives of Henry VIII, who are reimagined as more Spice Girls than 13th-century British royalty. Judging by the fan reaction, the modern retelling already has a following.
Another upcoming musical that had a big showing is Mrs. Doubtfire, transferring from its debut in Seattle, and with Rob McClure (Chaplin, Beetlejuice, Something Rotten!) in the Robin Williams role. He did a cute ventriloquist song that was a crowd-pleaser and later in the weekend, at a panel, he explained that the musical will lean more heavily on the toll divorce can take on a family, adding some gravitas to the stage adaptation.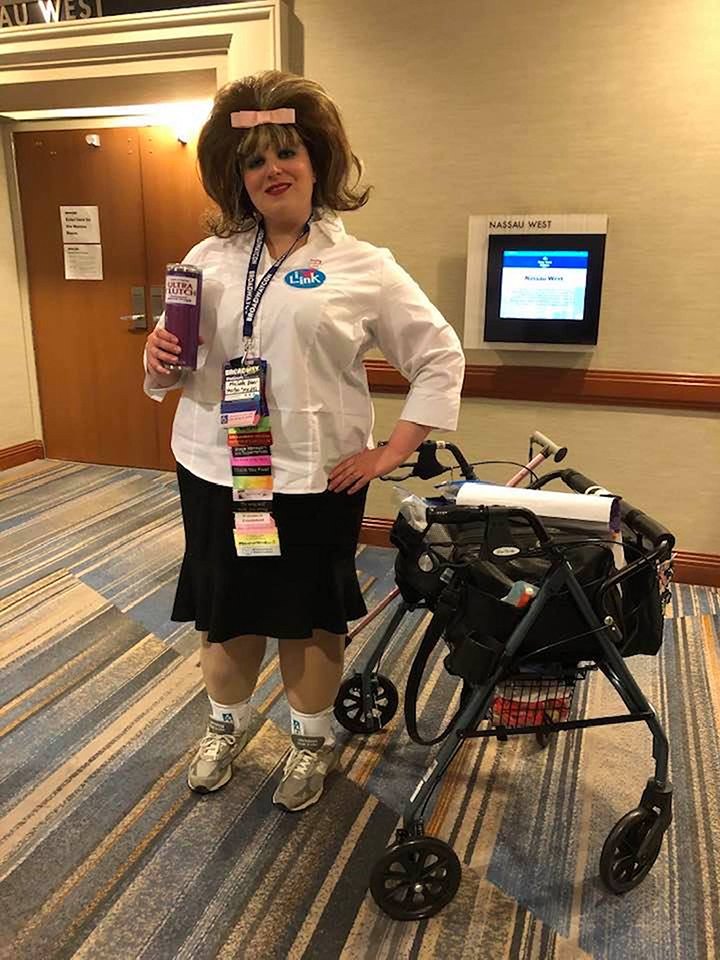 I was a big fan of this cosplayer's Tracy Turnblad – a Hairspray revival hits London in April.
Other new shows that came around with a song or two were Girl From the North Country, featuring the music of Bob Dylan, and three actors from the gender-swap Company (costar Patti LuPone sent a video message).
Cast panels in the big room over the weekend included Moulin Rouge!, Harry Potter and the Cursed Child, Beetlejuice, and the finale, Hadestown, with Reeve Carney, Eva Noblezada, and the actresses who play the Fates in that deliciously devilish Tony-winning musical.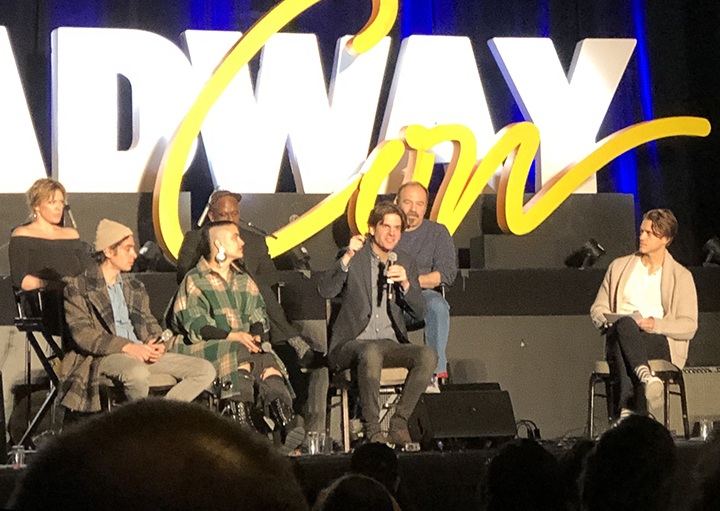 The cast of Moulin Rouge, with Aaron Tveit (far right) asking the questions to the likes of Danny Burstein (second from right) and Alex Timbers (front, third from right).
I loved communing with the Hadestown folks because I had just seen the show for a second time, but this time, with Tony-winner Andre De Shields, who had the night off the first time around.
Hadestown has announced a tour that opens this fall – how that set will travel is one of those marvels I can't begin to imagine. But I can't wait for it to come to Pittsburgh for all of you who can't make it to Broadway – or to BroadwayCon.
In my case, I don't think I'll wait another four years to return. The weather in late January might be unpredictable, but the stars come out every day for BroadwayCon.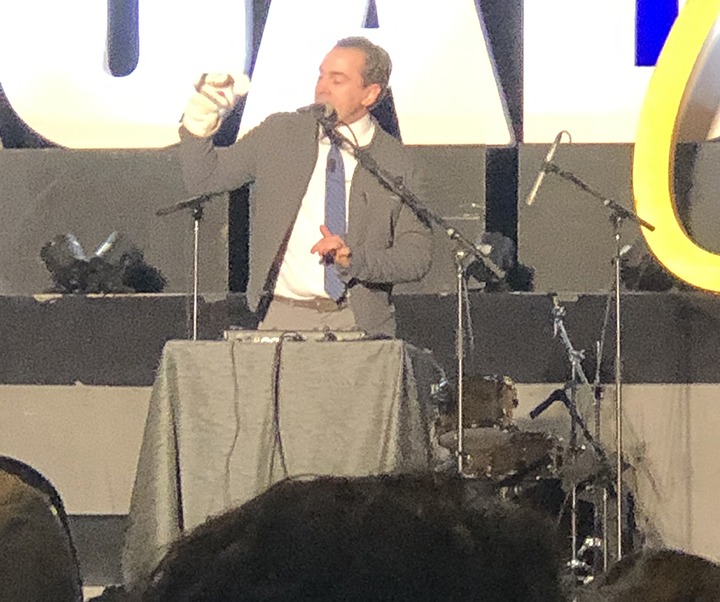 BroadwayCon fan favorite Rob McClure, a stalwart that first year during the blizzard, will play Mrs. Doubtfire, opening on Broadway March 8.
Header Image: Alex Newell hosts the Kickoff Event at BroadwayCon 2020.
Sharon Eberson is the Pittsburgh Post-Gazette theater critic. Follow her on the Post-Gazette website and on Twitter at @SEberson_pg.
Want more? Join our email list!
Want to hear more about what's going on in the Cultural District? Sign up for the Pittsburgh Cultural Trust's mailing list.