This week the Benedum Center transforms into a grand art deco hotel for the world premiere of Cirque Éloize Hotel! The exhilarating and engaging creation marks the 25th anniversary of the Montreal-based company.
Cirque Éloize has been a trailblazer in the reinvention of contemporary circus arts. The imaginative blend of acrobatics, dance, theater and music creates an engaging story that captures the imagination of audiences young and old. The first troupe in North America to bring the circus into theatre venues, Cirque Éloize has since toured the world, traveling to over 550 cities and giving over 5,500 performances.
The Inspiration
Hotel is the 15th unique performance of Cirque Éloize, created from the ground up, crafted with multidisciplinary artists to tell the story. After 25 years of touring, it seems logical that Cirque Éloize would be inspired by life on the road.
"Among the thousands of images that fill our memories of these last 25 years crisscrossing the globe, many involve all those looks exchanged in hundreds of hotels in hundreds of towns. How many stories do our minds create each time we imagine where the man in front of us in line in the lobby comes from?" writes Jeannot Painchaud, President and Chief Creative Officer of Cirque Éloize. "So many real or invented encounters can happen in the lobby of an extraordinary hotel that we imagine them peopled with characters from another era. We let ourselves fall deep into this reverie so that we can now invite you to discover the humorous relationships that unite this strange family that welcomes you each night into their hotel."
The Skills
Hotel features 12 acrobats and musicians, bringing to life colorful individuals ranging from the maitre d'hotel to a mischievous maid. In addition to traditional theatrical techniques, the eccentric characters are painted through a variety of different circus feats.
Chinese Poles: vertical poles on which performers climb and slide. Audiences can expect to see nine of the twelve Hotel acrobats on the chinese pole during the performance.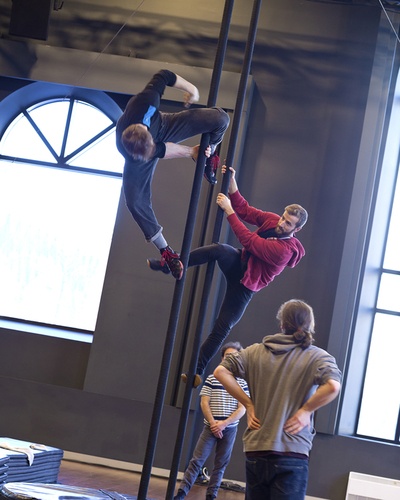 Rehearsal photo by Yannick Giguere
Contortion: a familiar circus feat to most audiences, contortion is a display of extreme flexibility.
Cyr Wheel: watching Cirque Éloize performers with the cyr wheel is a special treat, as this apparatus was designed by Cirque Éloize co-founder, Daniel Cyr. The simple shape of the apparatus allows performers to execute an infinite number of acrobatic shapes.
Hand-to-hand: in its most basic form, hand-to-hand is the act of one performer (the flyer) doing a handstand on another performer's hands (the base). In Hotel, audiences will see more intricate tricks from hand-to-hand partners, Emma and Andrei.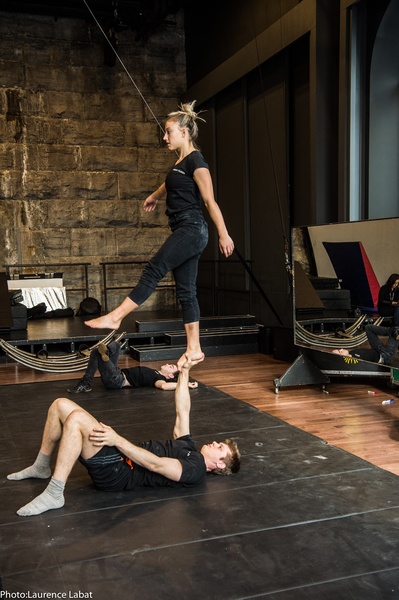 Emma and Anrei warm up for hand-to-hand stunts in rehearsal, photo by Laurence Labat
Hula Hoop: this is the apparatus that most audience members have tried, often at a young age. In contrast to the classic toy many people grew up with, circus hoops are larger and can seemingly be rotated around any part of the body. Audiences may be familiar with the hula hoop from artistic moving and dancing with hoop.
Slack Wire: often referred to as tight rope, a slack wire is a wire suspended in the air, on which performers balance and execute other disbelievable feats. In a particularly suspenseful moment, Jérémy Vitupier hangs from his ankles above unsuspecting hotel guests.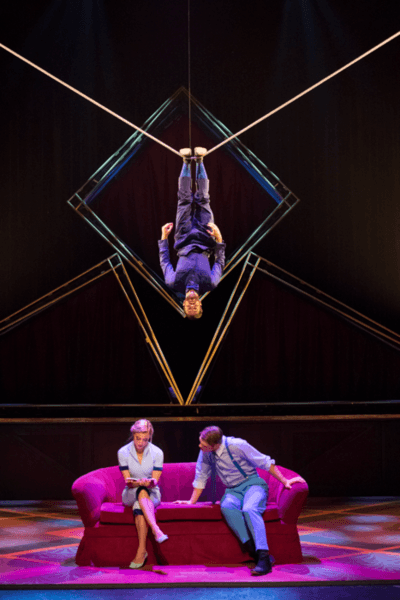 Photo by Pierre Manning
Straps and Rope: through varying wraps, aerialists are able to perform feats of strength and flexibility. Cirque Éloize previewed Hotel at our PNC Broadway in Pittsburgh Season Announcement with a rope performance.
In addition to whimsical and striking circus feats, Hotel features live music - also performed by the acrobats. Complimenting the art deco scenography, the company plays swinging and jazzy compositions, each performer picking up instruments ranging from the triangle to the sousaphone. In a rare occurrence for Cirque Éloize, the troupe is also joined by singer Sabrina Halde.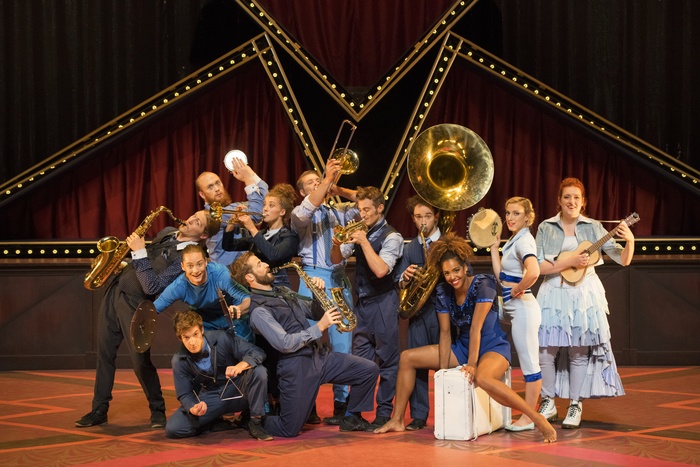 Photo by Pierre Manning
The World Premiere
Cirque Éloize is a cornerstone performance in the Pittsburgh International Festival of Firsts, bringing electrifying premieres to downtown Pittsburgh until November 11. The show recently previewed at Connecticut's Fox Theater at the Foxwoods Resort Casino, and will continue to tour globally after its premiere in Pittsburgh.
"The Pittsburgh Cultural Trust became a co-commissioner of this exciting new spectacle because Cirque Éloize has been creating award-winning contemporary productions that have amazed audiences worldwide," shared Pittsburgh Cultural Trust Vice President of Artistic Planning Scott Shiller. "Cirque Eloize is famous for telling wildly engaging stories that are easy to access and hard to resist. Hotel's debut is sure to shine particularly bright on the stage of Pittsburgh's largest theater, the Benedum Center."
Cirque Éloize Hotel will awe audiences at the Benedum now through Sunday, September 30. $25 Rush Tickets are available two hours prior to every performance at the Benedum Center Box Office.