The Dollar Bank Three Rivers Arts Festival is many things to many people. A chance to hear world-class music for free. The perfect shopping opportunity. A food-lover's paradise. An excuse to get outside and walk.
Take all those experiences in one, however, and you're left with one thing — the transformation of a city.
Or, perhaps more accurately, the construction of a town within a city. Regulars of the Arts Festival will be well aware of the tent village that appears in the plazas surrounding Gateway Center and in Point State Park. Artists, food vendors and performers all descend on the downtown area to create a thriving hub of creative expression and summer fun.
This fervor of the Arts Festival doesn't spring from nowhere. In reality, it's the result of the diligent planning and management by the team at Flyspace Productions. It's a herculean task to take on — planning for each festival takes upwards of a year, meaning that the next year's is in the works before the current festival even kicks off.
On-the-ground work is much shorter than that, though perhaps a good bit more frantic. Flyspace, contractors, vendors and artists have a matter of days to convert the downtown area into festival mode. Workers battle temperamental weather and the bustle of a working city to pull everything together.
It's not an overnight change, but blink and you'll miss quite a bit.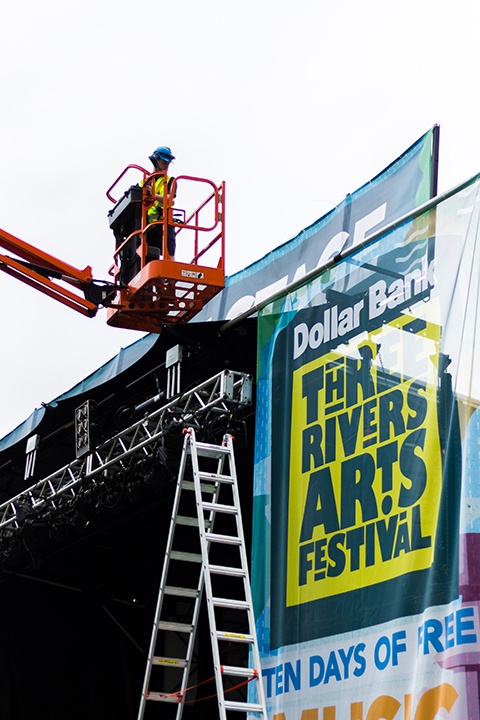 More than a dozen venues across Downtown are brought up to festival speed with signage, lighting and sound equipment, all to accommodate the artists and performers that will soon be wowing audiences. There are more subtle changes, too. Signs and information stations appear on sidewalks, windows are covered with festival banners and lanes of traffic are slowly closed and diverted.
Keep your eyes peeled and it will become clear that those working behind the scenes never stop moving. Over the course of the festival's 10 days, more than 350 artists will display their wares across the two locations. The 250 booths on site can't hold them all at once, though, so artists are rotating in and out nearly every other day. Think of it as the most elaborate game of musical chairs you've ever played.
Follow your ears and you'll end up at one of three stages scattered around the area, all playing host to local and national performers. In total, more than 60 acts will pass through the festival's stages. That means more than sixty acts loading their instruments and equipment in and breaking it all down again. Again, it's a complicated logistical balancing act.
In short, the process of bringing the Three Rivers Arts Festival to life is endlessly complicated. With that in mind, we wanted to bring a small piece of the extensive setup puzzle to those unable to witness it firsthand. Check out the gallery below for a glimpse into how Pittsburgh prepares for its ten days of summer fun.