We are two days away from the first Friday in June, which means we are just two short days away from the Dollar Bank Three Rivers Arts Festival! We're even more excited for Friday than usual. The full slate of 10 days of free programming make it easy to pop down to Point State Park, Gateway Plaza and the Cultural District during your lunch break, post happy-hour or for a weekend date out, and stumble upon an amazing performance, song, or piece of art. Here are our top picks for some of our favorite festival goers.
For The Pittsburgher
Top Pick: Faces of Pittsburgh
Gateway Lawn | Daily | 12-8pm
Why: Faces of Pittsburgh, one of our featured public art pieces, started with a student photo workshop let by artist Janette Beckman. Beckman taught students to take a great photograph and tell the story of their own communities before sending them out to make portraits of the folks who live there. The result is a beautiful photo collection taken of Pittsburghers, by Pittsburghers, showcasing the diversity of our community. Although Janette Beckman is British-born and lives and works in New York, we're sure after seeing this piece, yinz will declare her an honorary Pittsburgher.
More Picks: PSO on the Dollar Bank Main Stage June 3, The Mendelssohn Choir of Pittsburgh on the Dollar Bank Main Stage June 5, and taking in the sunset from the Allegheny Riverfront Park.
For The Family
Top Pick: Giant Eagle Creativity Zone
Point State Park and Gateway Center | Daily | 12-6pm
Why: The Giant Eagle Creativity Zone offers the perfect chance for kids (and kids at heart) to roll up their sleeves and get to creating. Thanks to our incredible community of partner organizations, festival goers of all ages can make postcards like Andy Warhol, create traditional cyanotype prints inspired by nature's aquatic ecosystem with Rivers of Steel, or help craft a LEGO mosaic with Carnegie Science Center.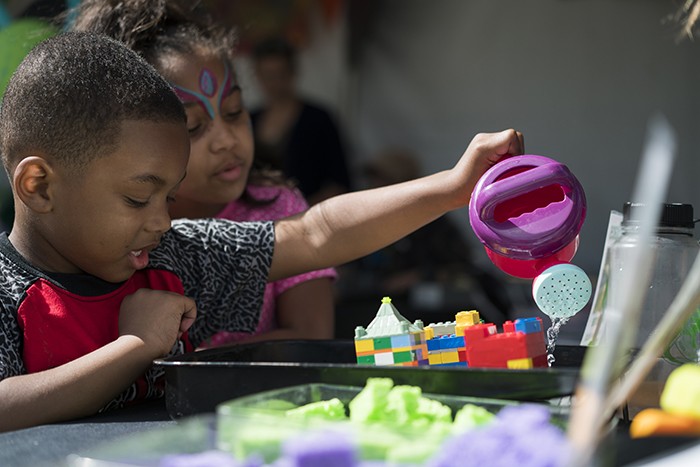 More Picks: Teen Showcase June 2 at the Trust Arts Education Center and StoryCorners at the Trust Arts Education Center on June 3.
For The Internationally-Inclined
Top Pick: Banda Magda
Dollar Bank Main Stage | June 4 | 7:30-9pm
Why: Hailing from Greece, Argentina, Japan, Colombia and the U.S., Banda Magda brings an international flavor all their own to the Dollar Bank Main Stage. Close your eyes, as you groove to their combination of South American rhythms and jazz improvisation, and Point State Park almost starts to feel like a beach south of the equator (almost). The band moves flawlessly from samba to French chanson, from Greek folk tunes to Colombia cumbia and Afro-Peruvian lando. Banda Magda will have you feeling like you've been on a whirlwind multi-country trip without leaving Downtown Pittsburgh (or dealing with all of the airport chaos).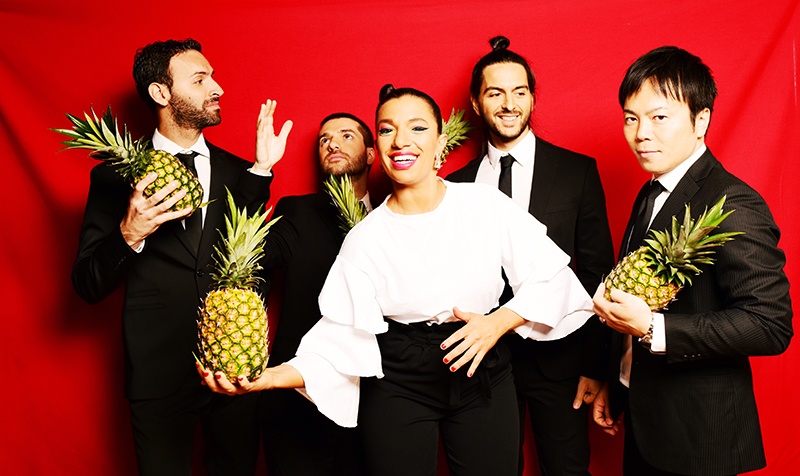 More Picks: Flor de Luna on the Acoustic State June 3 and Trust Arts Education Visual Arts Exhibit daily at the Trust Arts Education Center.
For The Techie
Top Pick: The International Creativity Summit
August Wilson Center | June 6 | 12-4pm
Why: Join the Pittsburgh Technology Council for the first ever International Creativity Summit. National and global leaders will talk community transformation, the information age, VR and the future of entertainment. Don't miss your chance to be a part of the conversation!
More Picks: 2018 CREATE Day! June 7 at the August Wilson Center, 2018 PHILLTER International Live Loop Music Showcase June 2 on the Stanwix Stage and Macular daily at Wood Street Galleries.
For The Inspired Artist
Top Pick: Plein Air Painting
Point State Park | June 9 | 12-2pm
Why: Does being around all of the incredible art and exhibitions get your hands itching to create? Luckily, there are a lot of hands-on activities throughout the festival. Our top pick is the Plein Air Painting workshop. Paint our city's beautiful landscape, bridges n'at, in this 2-hour painting session led by one of the Trust's teaching artists.
More Picks: Join a number of locals arts organizations at the Giant Eagle Creativity Zone throughout the festival, or head to the Twilight Sketch Crawl June 9 at Point State Park.
For The Dancer
Top Pick: Attack Theatre
Dollar Bank Main Stage | June 1 & 5 | various
Why: What do ladders, giant rings of steel and a blue monster made of tubes have in common? They are all props in Attack Theatre's dynamic and interactive performances! Dancers will demonstrate the principles of weight, balance and momentum in unique and creative ways that will have you leaping into action as well.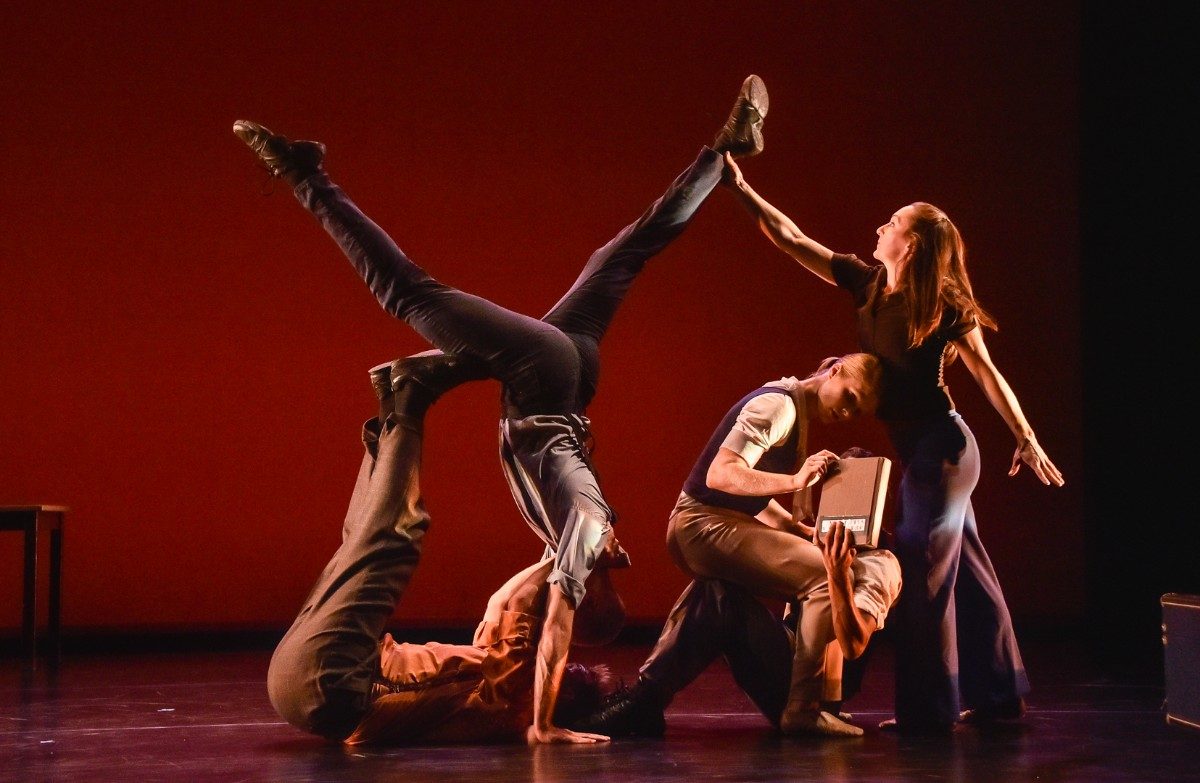 More Picks: The Forbidden ButterFlies Project June 2 & 9 at the Stanwix Stage and Nick Daniels/DANA Movement Ensemble June 5 at the Dollar Bank Main Stage. If you're in the dancing mood yourself, Footwork is a party not to be missed on June 2, or check out the Belly Dance Performance and Lessons at the Trust Arts Education Center June 9.
For The Community Activist
Top Pick: Marx@200
SPACE | Daily | 12-8pm
Why: Marx@200 features works by more than 25 artists from around the world, all representing a diverse range of perspectives on Marx and his critique of inequality. Works like Foreclosure Quilt and Minimum Wage Machine create a spirited effort to respond to some of the big social and economic issues that people in Pittsburgh - and across the globe - are facing. Regardless of political affiliation, his exhibit is sure to get your gears turning with pieces that reflect on themes like the rising tide of globalization, wealth inequality, job loss and automation. And although Marx himself was a controversial figure, who can pass up the opportunity to see a gigantic version of his beard made of steel wool?
More Picks: Mavis Staples June 1 at the Dollar Bank Main Stage and I'm Not With Him daily at Future Tenant.
For The Classical Festival Goer
Top Pick: Artist Market
Gateway Plaza and Point State Park | Daily | 12-8pm
Why: There's nothing quite like the endless expanse of white tents of the Artist Market, each holding their own unique pieces and surprises to discover. Spanning mediums from metal sculpture to paintings, woodwork to textiles, it's easy to get lost in the seemingly infinite amount of art. Did we mention that the artists changeover throughout the Festival? Yeah, you better plan on a few more trips Downtown to snag those perfect pieces.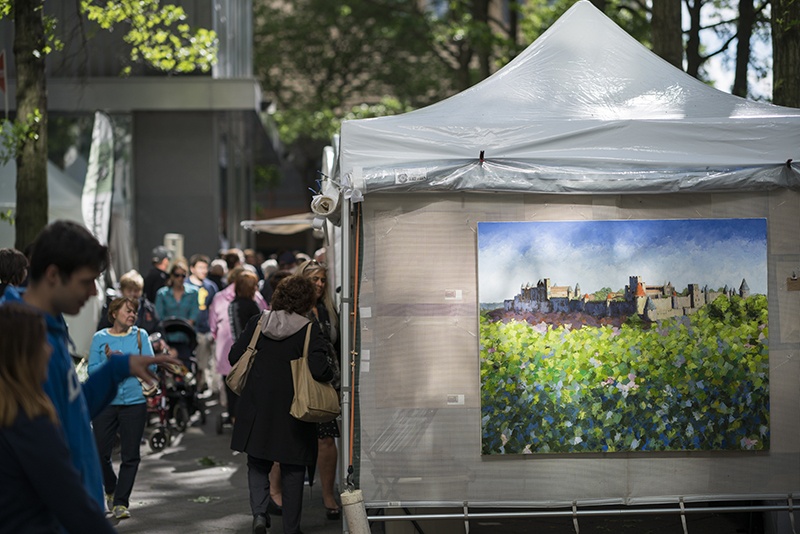 More Picks: As a classical festival goer, you know there's so much possibility in the festival and the best pick is the one you stumble upon unaware.