The Dollar Bank Three Rivers Arts Festival kicks off today, marking the unofficial start of summer, and we couldn't be more excited. There's so much to explore this year, from old favorites like the Artist Market and the Juried Visual Arts Exhibition to brand new additions (but soon to be favorites) like the Umbrella Sky Project, Tidal, and aerial dance company Blue Lapis Light. Here are our top picks for every festival-goer.
For The Weather Skeptic
Top Pick: Umbrella Sky Project, funded by Colcom and Laurel Foundations
Acoustic Stage at Gateway Center | Daily | 12pm - 9pm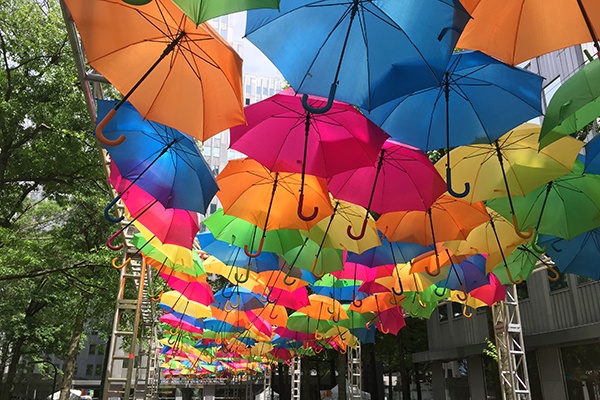 Why: If you walk around the Dollar Bank Three Rivers Arts Festival constantly checking the radar on your phone's weather app, then this public art installation is for you. No need to carry an umbrella this year—we'll have a whole ceiling of colorful parasols hanging overhead near the Acoustic Stage at Gateway Center. While Umbrella Sky Project was dreamt up far across the ocean in Portugal by Sextafeira Produções, we can't imagine a better place than Pittsburgh for this delightful Mary Poppins-inspired installation.
More picks: Head indoors in the Cultural District. Our art galleries on Penn Avenue and Liberty Avenue are free and open to the public.
For Dancers and Thrill Lovers
Top Pick: Blue Lapis Light
Gateway Center | Friday, June 2 and Saturday, June 3 at 9pm
Photo credit: Cory Morton
Why: Austin-based aerial dance company Blue Lapis Light promises to deliver a performance unlike Pittsburgh has ever seen before. The company will take to the skies—or rather, skyscraper—on Friday and Saturday nights to perform a new, site-specific work, "Stardust," on the facade of Fifth Avenue Place. In layman's terms, that means dancing on a skyscraper. Literally.
More picks: Tracks: Where will dance take you? on the Dollar Bank Main Stage June 7 and TRAF Dance Battles 1v1 All Styles and 1v1 Breaking on the Stanwix Stage June 11.
For The Techie
Top Pick: Tidal, supported by The Fine Foundation
Overlook at Point State Park | Daily | 12 - 9pm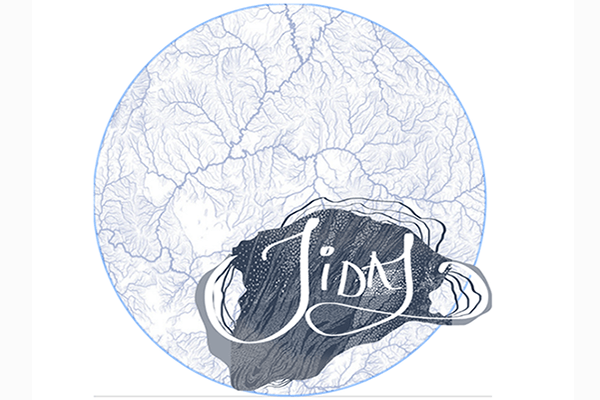 Why: There's a storm cloud gathering over Point State Park, and we're inviting you to become a part of it. Step inside lead artist Shilo Shiv Suleman's fantastical, interactive public art installation, Tidal. Under a giant dome filled with metal and fabric clouds and hundreds of LED lights, you'll find a bowl of clear water that, when touched, gathers data from our own bodies to set off a series of LED lights. Our mighty three rivers will provide data to trigger other LEDs in the installation, adding to the storm-like effect.
More picks: Industrial robots create large-scale drawings and scribe the bible in neat calligraphic lines on rolls of paper daily at Wood Street Galleries; CREATE Festival Highlights (June 2-4) and AWC Lab (June 2-5) at the August Wilson Center.
For The Family
Top Pick: Giant Eagle Creativity Zones
Point State Park and Gateway Center | Daily | 12pm - 6pm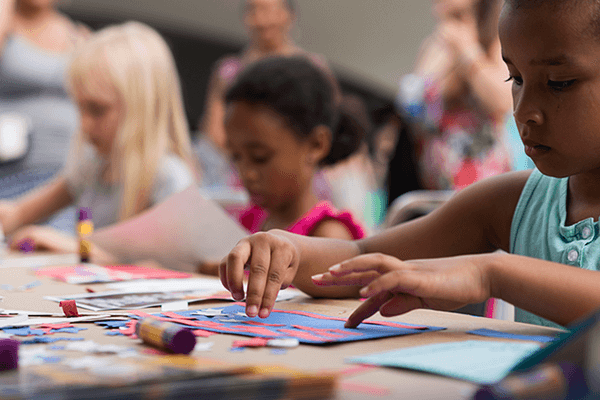 Why: Our Giant Eagle Creativity Zones, located in both Point State Park and Gateway Center, are the perfect places for the next generation of young artists to explore, create, make, and innovate. Laser engraving, button-making, 3D printing, painting, silkscreening, and interactive storytelling are just a few of the hands-on activities that await you. Check the schedule for the dates and times of your favorite activities.
More Picks: Check out live performances by father-and-sons The Chiodi Trio on Saturday, June 10 and 10-year-old YouTube sensation Avery Molek "Kid Drummer" on Sunday, June 11.
Traveling with an infant? Escape the noise and crowds in a calm, semi-private environment. The Anthropology of Motherhood: Feeding Room is a functional art installation curated by artist Flan Flaherty equipped with diaper changing tables, semi-private breast/bottle feeding areas, a sink, water cooler, and a play area for siblings. For your convenience, this installation is open daily from 12pm - 8pm.
For The Participant
Top Pick: Riverlife - 'to be determined': Take A Seat
Allegheny Riverfront | Daily | 12pm - 9pm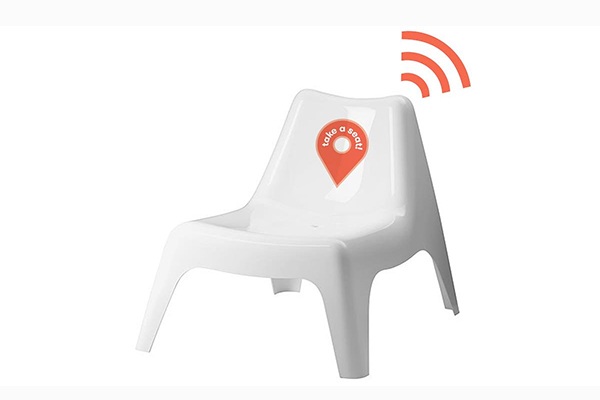 Why: Want to have a say in where seating will be positioned on our riverfronts? Riverlife invites you to "Take A Seat" as part of its 'to be determined' series. This interactive installation includes chairs equipped with GPS locators that will track your movements to your favorite spots along the riverfront.
More picks: Love without Labels, which includes photos and stories collected during the April Gallery Crawl, will be on display near Gateway Four Plaza. Don't worry: it's not too late to add your story to the exhibit! Plus, check out the Plein Air Painting Workshop and Twilight Sketch Crawl on Saturday, June 10.
For The Classic Festival-Goer
Top Picks: Artist Market & Headlining Acts on Dollar Bank Main Stage
Point State Park and Gateway Center | Daily
Why: Well, why mess with a good thing? Stroll through rows and rows of artist booths at Gateway Center and Point State Park, discovering ceramics, drawings, digital art, handmade clothing, glass items, jewelry, leather, metalwork, mixed media creations, painting, photography, printmaking, sculptures, woodwork, and so much more. Then head to the lawns of Point State Park, grab a lemonade, roll out your blanket, and enjoy a free concert on the Dollar Bank Main Stage. Headliners this year include everything from brass to bluegrass, rock to hip-hop. There are far too many talented artists and headliners to mention here, so check the artist market lineup to plan your visit.
More picks: The Juried Visual Arts Exhibition in the Trust Arts Education Center, showcasing work from artists within 150 miles of Pittsburgh.