Pass by the windows of Three Gateway Center at the Dollar Bank Three Rivers Arts Festival this weekend and you might see some familiar faces. That's because the 33 black and white portraits on display were taken right here in Pittsburgh by students from Manchester Craftsmen's Guild. They are part of a public art installation curated specifically for the festival called Faces of Pittsburgh.
Behind The Lens: A Master Class in Portraiture
Last month, photographer Janette Beckman made her very first visit to Pittsburgh to lead a two-day workshop with students from Manchester Craftsmen's Guild. While the students had prior experience with photography, this workshop was their opportunity to participate in a master class with a renowned portrait photographer.
A native of London, England, Beckman got her start photographing punk rock bands for U.K. publications Sound, Melody Maker, and The Face. Her first album cover photo shoot was for The Police's 1978 record, "Outlandos D'Amour." She relocated to New York City in the 1980s, where she built a portfolio as a hip-hop photographer, capturing photos of icons like Run DMC, Salt-N-Pepa, LL Cool J, and EPMD. Since then, she has worked on high profile marketing campaigns for Christian Dior and Levi's while continuing her own documentary projects.
During the workshop, Beckman showed examples of her work to students and identified the fundamentals of good portraiture. Then, the workshop moved out into the streets for some hands-on practice. Students traveled to the neighborhoods of Homewood, Downtown, the Strip District, and the North Side to find their subjects.
"Taking a good portrait is always a collaboration between you and the subject, so you have to figure out some way to engage a total stranger," Beckman explained. "That's the most difficult thing. And you have to be brave about it."
Beckman said that although students felt some hesitation about approaching strangers, they soon became naturals, spreading their infectious enthusiasm for the project as they went. "The people in these pictures really look happy," she noted. "I think that has something to do with the way students approach them. They're young kids with cameras and they're all excited about the project, and I think that translates to the subject."
Curating and Exhibiting The Work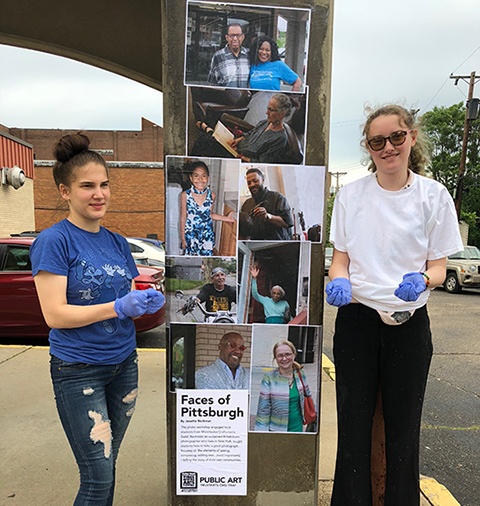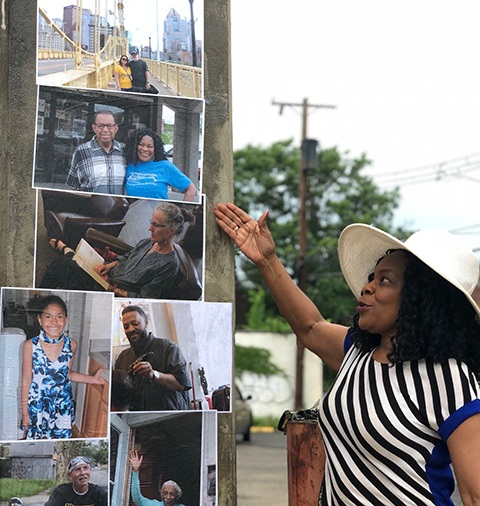 Photos of wheatpasting at the Afro American Music Institute in Homewood courtesy Janette Beckman.
After the workshop, Beckman and students only had a few weeks to finalize the exhibit for the kick-off of the Dollar Bank Three Rivers Arts Festival on June 1. While Beckman chose the black and white photos on display at Three Gateway Center in Downtown Pittsburgh, students played a much more active role in curating a sister exhibit currently on display at the Afro American Music Institute on Hamilton Avenue in Homewood. There, they spent a day wheatpasting their color portraits on the building's pillars. The technique will allow the photos to remain on display at the AAMI as long as they can withstand the elements.
"Wheatpasting is messy and the kids just really got into it," mused Beckman. "It's a really interesting process and they get to choose the order and what picture goes next to what picture — it's curating, so really it's a huge learning experience all around for the students."
Exploring Faces of Pittsburgh at Three Gateway Center
So what can you expect to see at Three Gateway Center as part of the exhibit? Beckman pointed out some of her favorites: A "fabulous" 90-year-old lady with her son, a jazz drummer; a young couple "clearly in love"; two ladies coming out of a Downtown theater; a mother with her babies; and so on.
Gazing at the portraits, Beckman expressed her pride: "I'm just very impressed with the students and the way they figured out how to do this so fast," she said. "They were shooting for three hours and they were able to capture a real flavor of Pittsburgh."
Be sure to come down and check out the students' portraits through June 10 as part of the Dollar Bank Three Rivers Arts Festival.
Congratulations to participating students: Aeva Miglioretti, Alexis Epondulan, Ana Reyes, Bobbie Jo Thornton, Ivan Flores, Jerea Horton, Maggie Lincoln, Mia Belgie, Sarah Schoemer, Shanna Bates, Solana Bradburry, Tony Murphy, and Tyler Temple. Big thanks to the teaching artists: Rici Brockinson and Germaine Watkins.