Gaelan Gilliland has pretty fetch memories of first seeing Mean Girls, and one particular line from the movie always stood out.
"It's, 'I'm not like a regular mom. I'm a cool mom,' and now I get to say it, which is pretty great!," said Fox Chapel native Gilliland, who plays the adult women in the national tour of Mean Girls at the Benedum Center October 29–November 3. Gilliland plays a wildly different trio, and you wouldn't know it's one woman playing them without the program telling you so. She portrays mother to high school queen bee Regina George, who's trying to be that cool mom and who was played by Amy Poehler in the 2002 movie; and she's Mrs. Heron, mother to Cady, the new girl who disrupts the high school coolness hierarchy; and finally, Mrs. Norbury, the teacher played by Tina Fey in the movie.
Gilliland has long been a fan of all three actresses whose roles she now plays. That includes Ana Gasteyer, who played Cady's mom in the film. Gilliland got to work with Gasteyer in her first Broadway musical, Wicked, and now, she's "super excited" to be working with Fey, who wrote the book of the Tony-nominated Mean Girls.
Behind the scenes, Gilliland has no problem treading the line as one of the few adults in the room, with her mostly 20-something cast mates. Being the youngest of five siblings helps. Her cast mates both help her feeling young and ask her for advice, she said.
"I am so flattered that they ask for it and when I give it, they listen, because I know when I was in my 20s, I was not listening to advice from people in my 40s," she said with a laugh. "They are so hard-working, I've learned quite a bit from them as well."
As two moms and a teacher in the show, Gilliland navigates three personalities: Mrs. Heron had homeschooled Cady in Kenya until the family's return to the United States from Africa, dropping her daughter into the previously uncharted and dangerous waters of public school. "I find that character has the aspect of being something close to a helicopter mom, and is someone who now says, 'Don't speak to me like that young lady!'"
Among the highlights for Gilliland is Mrs. Norbury's speech, after she learns what has been said about her in the Burn Book — created by The Plastics (the popular girls clique) to start rumors and gossip about their classmates at North Shore High School.
Mrs. Norbury gives a lesson in the harm school bullies do, something the teacher has been victimized by as well. What they learn is, "Calling somebody else fat won't make you any skinnier. Calling someone stupid doesn't make you any smarter." And revenge isn't quite so sweet when you hurt someone in the process.
Gilland's Mrs. Norbury gets the handoff in that scene from the school principal, the other adult onstage, someone from her Pittsburgh past — Lawrence E. Street, whom she has known since teen years as entertainers at Kennywood Park. "It's so nice to have him on the road with me, because we can hang out with people 15, 20 years our junior and still fit in, and also have the excuse of, 'No, I'm going to go home and go to bed.' "
Coming home for Gilliland means being pulled in many directions during her quick week of eight shows at the Benedum Center.
"My husband and I got married in Pittsburgh, and now he likes to come back, too; it's nostalgic for both of us," Gilliland said. "And it's always great to go home, but having only a week is already challenging, and we haven't even gotten there."
Pittsburgh is the fifth city on the Mean Girls tour, which is a very different experience than Broadway, she notes. "This group of people is your whole world. It's the same group of people that you eat, sleep and play with."
Among the draws is that this is a production with "all the bells and whistles of Broadway; the show looks incredible," GIliland said. Another is that her husband, Andy Miller, who works behind the scenes on theatrical productions, is on tour with her. Gilliland's previous stage role to Mean Girls was as Mayor of Bikini Bottom in The SpongeBob Musical on Broadway, which ended in September 2018. She lives in New York and wasn't particularly eager for her third national tour (including Seussical and The Addams Family), but along with getting to travel with her husband, taking the role meant working with Tony Award-winning director and choreographer Casy Nicholaw (Spamalot, The Book of Mormon).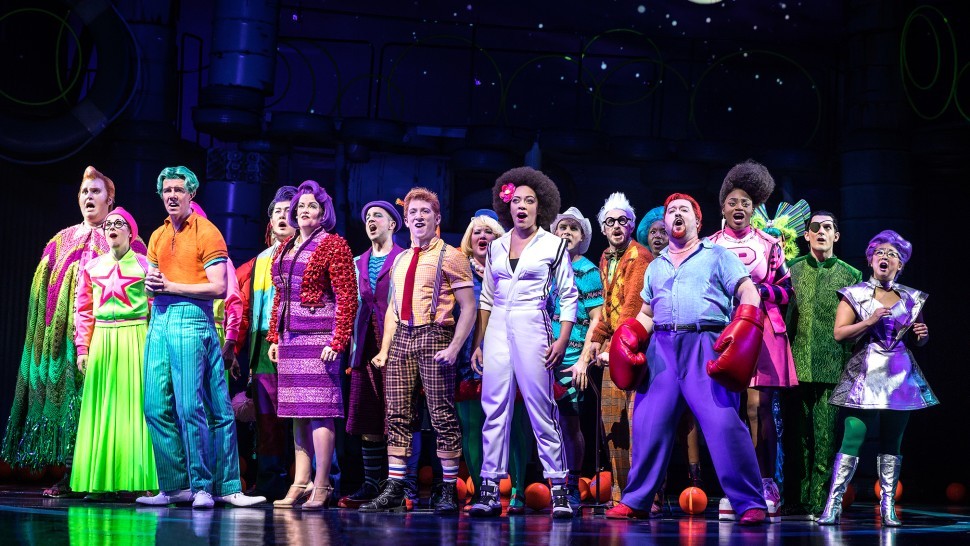 Gaelen Gilliland (purple stripes, beside Ethan Slater's SpongeBob SquarePants) was last on Broadway as the Mayor of Bikini Bottom in The SpongeBob Musical. Photo courtesy of Joan Marcus.
Gilliland has been in six Broadway shows since Wicked, circa 2003, and Mean Girls is her third tour, after Seussical and The Addams Family.
It began for her with the Pittsburgh people she met along the way: Craig Cannon, the retired Fox Chapel Area choral director, and working with Ken Gargaro, and at Pittsburgh Playhouse classes. It was Point Park alum Kathy Connolly, a Playhouse friend, who first found her way to Kennywood and inspired Gilliland to do the same.
Gilliland recalls a "great full circle moment" when she earned her Equity card in a Gargaro production of The Sound of Music.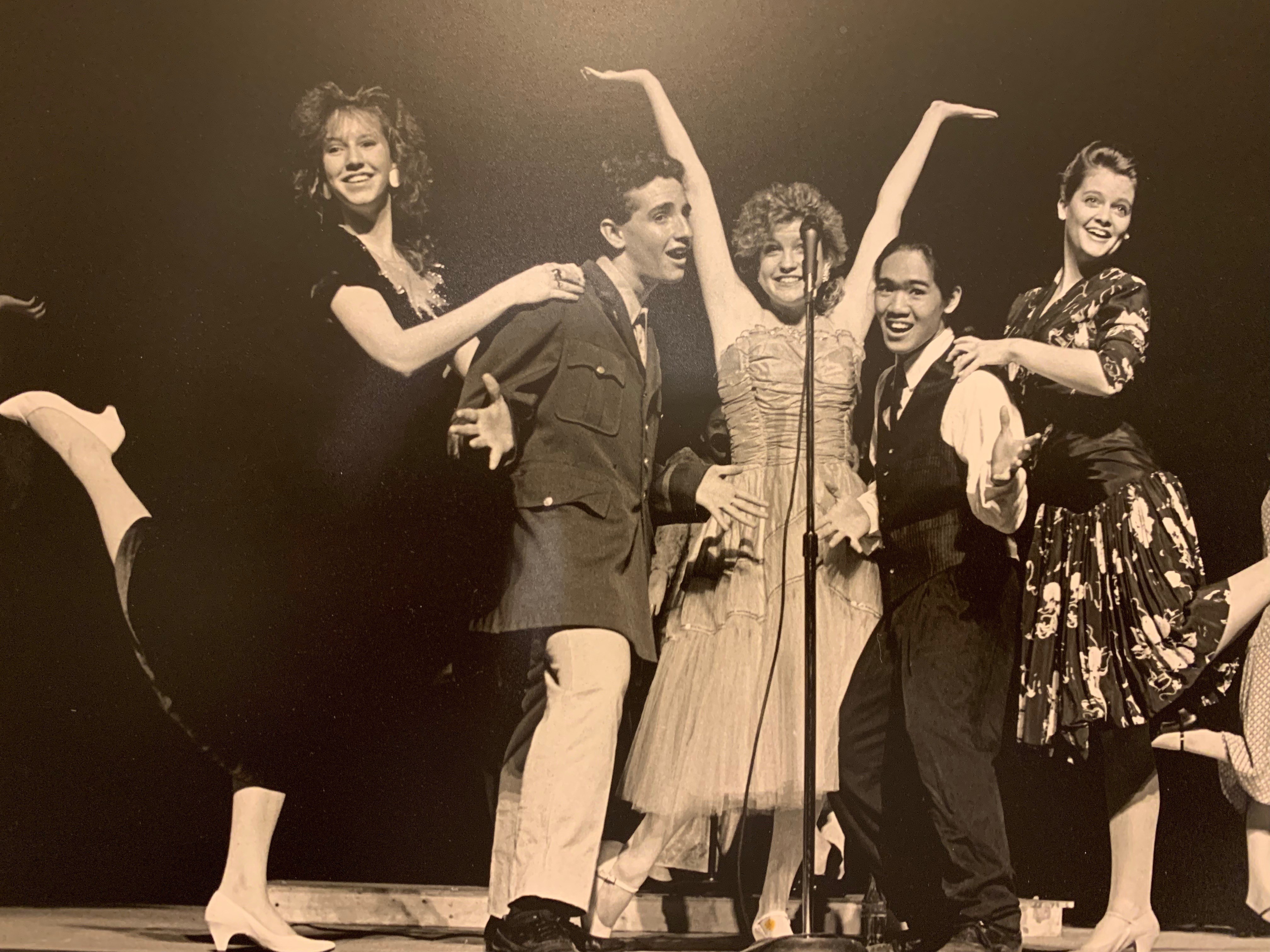 Gaelen Gilliland, far right, getting started on the road to Broadway with Ken Gargaro Productions. Photo courtesy of Ken Gargaro.
Gargaro, now at Robert Morris University, recalled, "In the late '90s, I went to New York to do an open call for my season, and she walks in the door unexpectedly and proceeds to sing 'The Story Goes On' from Baby with such power and sensitivity that I remember the moment to this day. In fact, I use the incident as an example to students of the vocal intensity needed to get a job in this business. It doesn't surprise me that her skill and work ethic continues to lead her to consistent professional work — a great example of a local talent making good on what she loves to do."
When she's not on Broadway or touring, Gilliland can still be seen on regional stages. This summer, post-SpongeBob in NYC, she starred in Next to Normal, at the Holmdel (N.J.) Theatre Company, Her director was the company's artistic director, Kathy Connolly — a Pittsburgh friend and Gargaro alum.
Allowing Gilliland to take some time off and be picky about projects was her work on Legally Blonde, a show with lyrics by Nell Benjamin, the lyricist for Mean Girls. She was involved in that Broadway show, one that had a successful tour and is a favorite of high schools, from the workshops to New York, and still gets some residual payment as a result.
Both Legally Blonde and Mean Girls come with similar girl-power messages that reinforce how much better it is for everyone when women support each other.
"But Mean Girls isn't just for women and girls," Gilliland says. "Tina Fey's comedy transcends sex and gender and class and any phase in your life. And it looks so spectacular — I think hopefully anyone who loved the movie or even if they don't know it at all, Mean Girls has everyone covered."
Mean Girls plays at the Benedum Center through November 3.
Sharon Eberson writes about theater, pop culture and all things Pittsburgh at www.post-gazette.com. Twitter: @SEberson_pg. Check out her story "Why are these girls so mean?"
Want more? Join our email list!
Want to hear more about what's going on in the Cultural District? Sign up for the Pittsburgh Cultural Trust's mailing list.