On the heels of Thanksgiving, the streets of Pittsburgh are officially decked for the holiday season. It's fitting that tickets for Andrew Lloyd Webber's The Phantom of the Opera are officially on sale (ahem...tickets made a great stocking stuffer for Phans), and that the spectacle itself will transform the Benedum February 20-March 3, bringing light to what always feels like an endless winter.
Similar to Pittsburgh after Light Up Night, The Phantom of the Opera promises to dazzle you with its aesthetically lush design, from set to costumes. Costume designer Maria Björnson received numerous awards for her inspired work on Phantom, including two Tony Awards for Best Costume and Set. Cameron Mackintosh's spectacular new production of Andrew Lloyd Webber's musical continues to incorporate her original costume designs, even including some of the original pieces, now 25 years old.
Björnson's designs bring to life not only the iconic style of the 1850s, but also stay true to the opulence of the Paris opera. With over 230 extravagant costumes and 1,200 detailed individual pieces, it's been said that a current creation of Phantom would never have ended up on stage due to costs. Now the style of the show is as iconic as the story itself. Read on to see how Björnson's original sketches translate to the stage.
The Phantom's Suit
The Phantom wears a silk tailsuit, which is normal evening attire for a sophisticated man of this time. From his dress to his dance-like movements, he is the most elegant thing on stage. The two-piece tailsuit is made of woven patterned silk.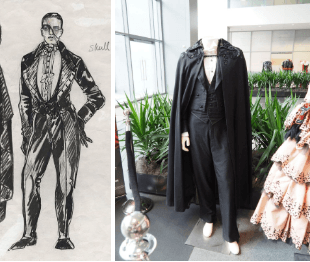 Carlotta Guidicelli - The Managers' Office
This dress is Carlotta's everyday office wear; she is an opera diva, after all. Carlotta's ensemble includes a metallic brocade bodice and skirt, with ruffles, braid and jet decor.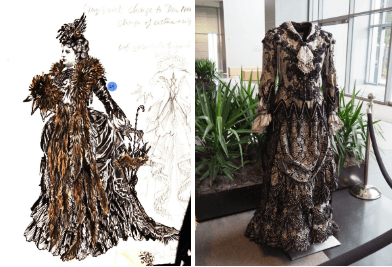 Ballet Chorus - "Hannibal" Slave Girl
Björnson had to create costumes for several distinct fake operas. One way she differentiated the costuming was by providing each a very specific color palette. "Hannibal" was red, green and gold, with little bits of purple. True to operatic fashion, this Ballet Chorus costume from the "Hannibal" opera scene in Act I presents a romanticized version of a slave girl. It's made of parti-color velvet with gold metallic trims.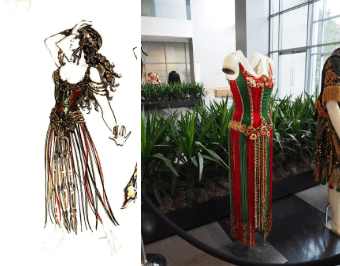 Ubaldo Piangi - "Hannibal" costume
The lead tenor of the Opera Populaire, Ubaldo Piangi, plays the role of Hannibal in the opera of the same name in Act I. His elaborate costume stays true to Björnson's dedicated palette, including a green brocade tunic with a multicolor skirt and lattice fringe, and painted cleastic armor with sculptural decor.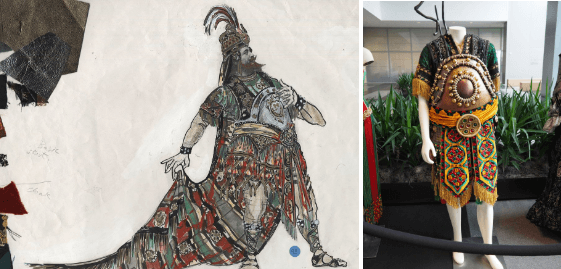 Footman - "Masquerade"
This is what the footmen still wear at the Paris Opera: a velvet tailcoat with metallic embroidery, ivory and gold brocade waistcoat and breeches. The ensemble is worn with white stockings and white wig.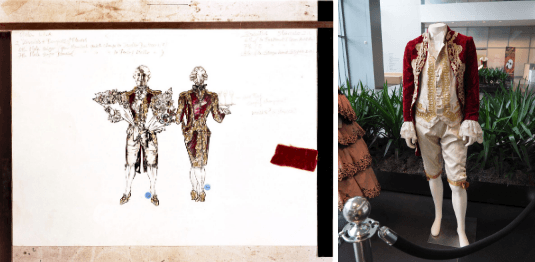 Christine Daae - "Don Juan Triumphant" Costume
Inspired by Spanish folklore style, this costume is worn by Christine in the opera of "Don Juan Triumphant" when she plays the character of Zerlina in Act II. Björnson created all the costumes of "Don Juan" in earthy tones. This piece is made of silk taffeta with contrast embroidery and a brocade stomacher.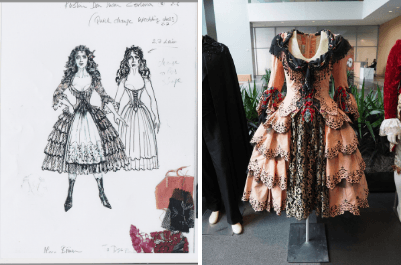 Sam Fleming, the US Costume Associate, joined the production in 1989 and has become the definitive voice in the room for all things costume-related—from building new costumes for new cast members to arranging repairs for the mountain of hand-sewn beading. In this video, she shares the details of the designs, fabrics, and more that create the onstage grandeur.
Don't miss the stunning costumes, as well the beloved story and music, only at the Benedum Center February 20-March 3!
Photos and video courtesy of the Phantom of the Opera touring production