The 2017 EQT Children's Theater Festival is finally here! May 18-21, join us in the downtown playground of Pittsburgh's Cultural District to watch, play, and explore.
We've spent a long time dreaming up this year's festival. We've lined our office walls with pictures of Mo Willems' bespectacled Elephant Gerald and tutu-clad Piggie. We've imagined cities made entirely of cardboard boxes. We've searched across the globe for all the best in theater for children and young people and in our own backyards for hands-on activities and cultural experiences for all ages. Consider this your insider guide to experiencing the festival the way it was designed to be experienced.
1. See a Featured Theater Performance! (Or two! Or three!)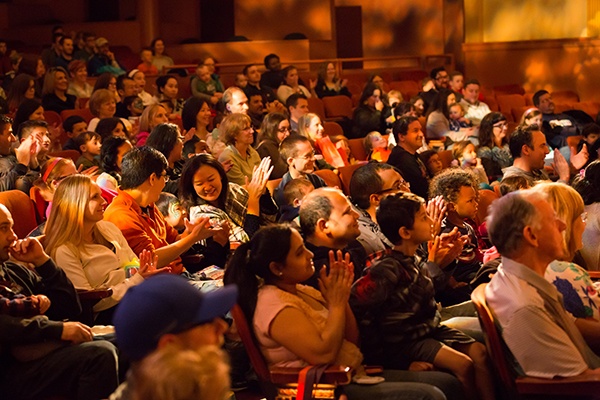 Only at the EQT Children's Theater Festival can you walk a few city blocks and experience:
After 31 years, the EQT Children's Theater Festival is well-known and well-loved, so tickets to many of these performances will sell out. The best strategy is to make sure seats are still available and purchase tickets for your family before arrival to the festival to ensure you see every show your kiddos have been talking about for months.
Insider Tip: The more shows you attend, the more you save per ticket! Visit our festival website or call the Box Office at 412-456-6666 to purchase your tickets today.
2. Find a Festival Guide!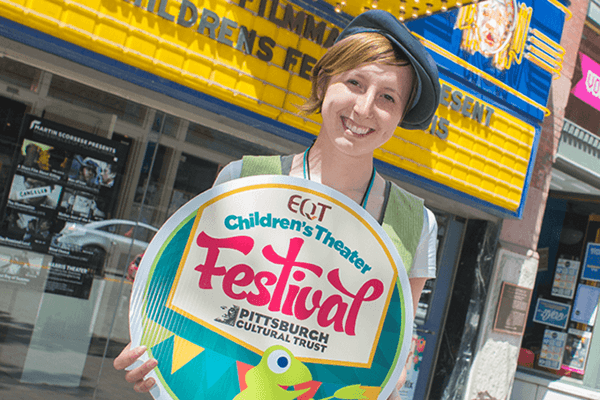 Our friendly Festival Guides in green vests are the perfect people to visit when you arrive at the festival. You'll find them roaming between theater venues or in bright yellow tents stationed throughout the festival grounds. They know all of the ins and outs of the festival, so flag down a Festival Guide for help planning your daily itinerary. They'll also have brochures for you with maps as well as full performance and activity schedules to make your festival planning as easy as possible.
Insider Tip: This year, our festival map is color-coded so you'll know what activities are closest to you no matter where you are in the festival grounds. You'll also find our Frog Stop Scavenger Hunt on the back of every brochure. Collect stickers at our festival Frog Stops around the Cultural District to win a sweet treat from Katie's Kandy!
3. Take a Lunch Break!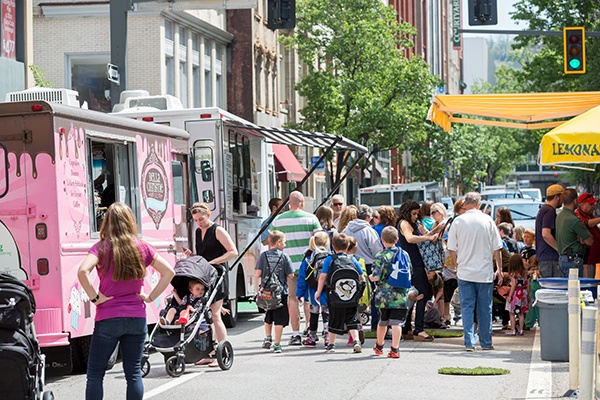 A day full of theater, play, and cultural exploration can lead to some hungry kids. Luckily, the Cultural District is full of family-friendly food options. Between our festival food trucks, which will be located on 7th Street right in the heart of the festival, and over 50 family-friendly restaurants in and around our festival grounds, you'll find something perfect for the whole family.
Insider Tip: Take your food truck lunch to a seat in nearby EQT Plaza to enjoy free performances while you eat, including the fumbling and hilarious juggler O'Ryan the O'Mazing!, balloon creations from The Balloonatic Fringe, and music performances from talented Pittsburgh artists, including Gab Bonesso from The Josh and Gab Show.
4. Explore Free Family-Friendly Experiences in the Cultural District!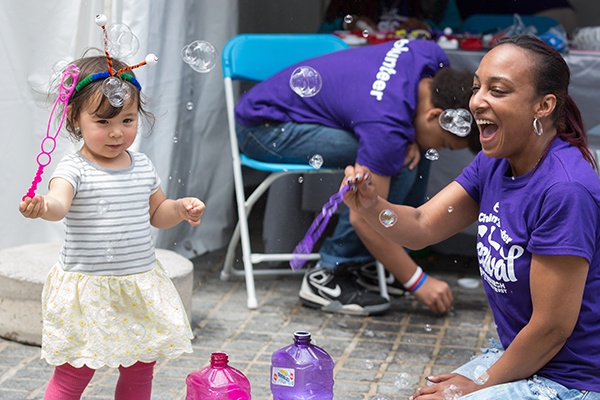 We've invited nearly 40 community partners to the festival, including Citiparks, Kidsburgh, Steel City LEGO Users Group, Children's Museum of Pittsburgh, The Andy Warhol Museum, Animal Friends, Carnegie Library of Pittsburgh, The Mattress Factory and many more. These community organizations will provide free hands-on activities throughout the festival grounds, so make sure you try to visit them all!
Insider Tip: Even if it rains during the festival, you'll find so many free experiences both indoors and outdoors for your family to enjoy. Visit world-class art exhibitions in free galleries throughout the Cultural District, visit The ToonSeum for free with your ticket stub from one of our featured performances, watch free animated shorts from the New York International Children's Film Festival at the Harris Theater, and don't miss Improv Games and the Penny Arcade at the Arcade Comedy Theater.
The only thing the festival is missing now is you! Our theater lobbies are hushed and expectant, and our colorful festival flags and banners wave throughout the Cultural District, beckoning you to join us. Welcome to the festival, friends! We can't wait to see you!
Author note: Kelsey Ford is a programming manager with the Pittsburgh Cultural Trust. She dreams up and coordinates many of the wonderful activities you'll enjoy at the Festival.