Before we get to the award-winning Jesus Christ Superstar arriving at the Benedum Center on New Year's Eve, a bit of history is in order. We're heading back 50 years, to the origin story that jump-started the new interpretation of the musical that's headed our way.
It was in September of 1970 that Andrew Lloyd Webber and Tim Rice released a concept album based on the last week in the life of Jesus Christ, leading up to the Crucifixion. The album was initially banned by the BBC as sacrilegious, but consumers begged to differ.
The initial recording drew from the rock 'n' roll world that Webber would continue to dabble in -- a rock opera was a perfect combo of his compositional passions. Murray Head (Chess; Hair) and Ian Gillan of Deep Purple were among the vocalists on the LP that topped the U.S. Billboard 200 in 1971 and charted No. 1 by year's end, ahead of Carole King's Tapestry.
Jesus Christ Superstar, the album, went on to sell 7 million copies worldwide by 1983, conquering the London and New York theater scene along the way.
The stage production was conceived and directed by original Hair director Tom O'Horgan (you may remember him from Mister Rogers' Neighborhood, when Fred Rogers visited his Manhattan loft to explore the director's vast collection of musical instruments).
The latest Jesus Christ Superstar coming to Pittsburgh was created by director Tim Sheader in his role as artistic director of the Regents Park Open Air Theatre in London. It later moved indoors and won the Olivier Award (London's Tony) as best musical revival.
Critic Andrew J. Friedenthal, writing in the Austin American-Statesman, pronounced this 50th anniversary tour, "one of the greatest pieces of live theater I've ever seen."
Now that we have the backdrop of history, the following is an interview with Sheader, who, with choreographer Drew McOnie and designer Tom Scutt, present a Jesus Christ Superstar that incorporates expressionistic dance and a delivers concert-like atmosphere that he calls "gig theater."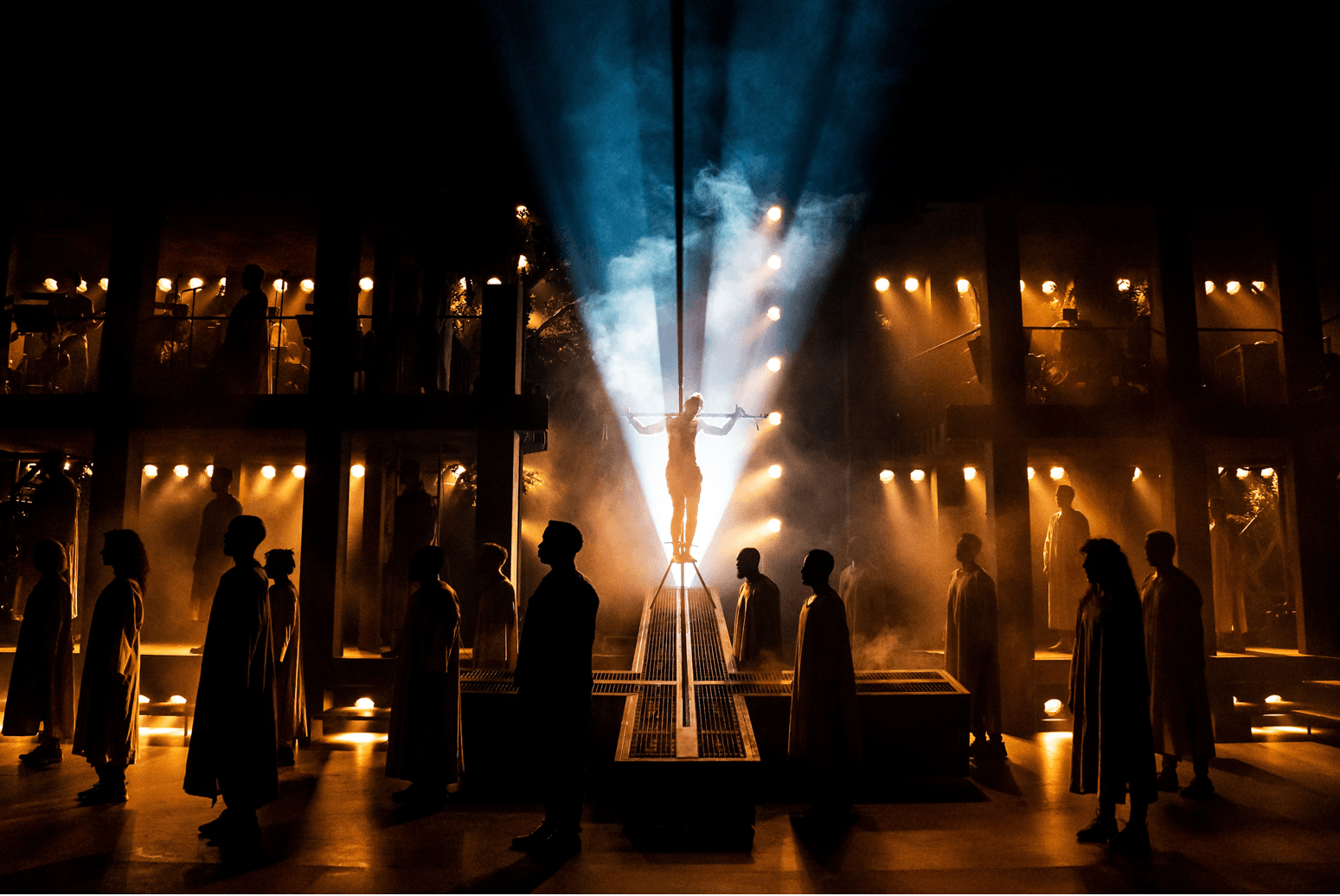 The Crucifixion scene from the North American Tour of "Jesus Christ Superstar." (Matthew Murphy)
Question: How challenging was it remaking a production designed to be outdoors for indoor venues?
Sheader: It is quite tricky, but also it's been quite joyful. Some things in all honesty are better, and some things are not. They're never going to get better than -- forget now that we're talking about the Crucifixion [in aesthetic terms] -- but the Crucifixion backlit by the moon, with the smoke and the haze kind of just carrying with the wind, is just extraordinary. So you're never going to beat that. But there are many things that are more focused inside:
The lighting can take effect from the beginning, there's the proscenium arch that frames everything a little bit more, and the story can be a little bit clearer. You're perhaps a little bit more intimate, even in these big theaters, with the performers … and it sounds better inside because you have more control.
Question: This is a musical either a lot of people know or have it in their consciousness because of the recent Emmy-winning version on NBC. What is it about this version that might be appealing to both a new and a familiar audience?
Sheader: It's not a million miles away from the NBC version. I will say that we made ours first. Our starting point was the album -- this piece was not written to be a musical-theater piece. It wasn't meant to be and isn't a musical like I might describe The Book of Mormon or West Side Story or Carousel or Dear Evan Hansen. It's none of those things. It's a theatrical experience. It was an album of musicians coming together and creating music to the songs that Andrew and Tim had written. And subliminally within the album is the Christian story of the Passion of Christ. …
My brief to the team was to present a theatrical staging of the album. And I love dance, so I suspect there's way more dance than within the vast majority of productions. I've chosen to share the story, express the feelings, through this really aerobic, kinetic, modern dance.
I guess that's what makes it particularly different than the NBC version. I thought that one was very successful, too, because it had a live audience there, so it genuinely felt like an event, didn't it? The audience was as much a part of it as the performers, and I feel that's the case in our show, as well.
Question: The starting point for Webber and Rice were the Gospels of Matthew, Mark, Luke and John. But they weren't bound by the Bible in writing a rock opera.
Sheader: And I didn't start by going, "Oh, let's try and tell the story more clearly than the album does," which I think is a choice, but that wasn't the choice that I made. My choice was to express my reaction, my feelings, my creative response to that album. and let people find the story within that, and that seems relatively successful.
I didn't want to present it in any Biblical way, nor is it anti-religious in any way. They're not in robes and sandals, and they don't comport to be characters. They're just people who happened to be called Jesus and Judas. I ask performers to bring authenticity. I try to work with people to not play characters, but to kind of be as truthful to their musical selves as they possibly can, and through that, make the choices that these mystical characters had to make, rather than someone pretending to be Jesus or pretending to be Judas.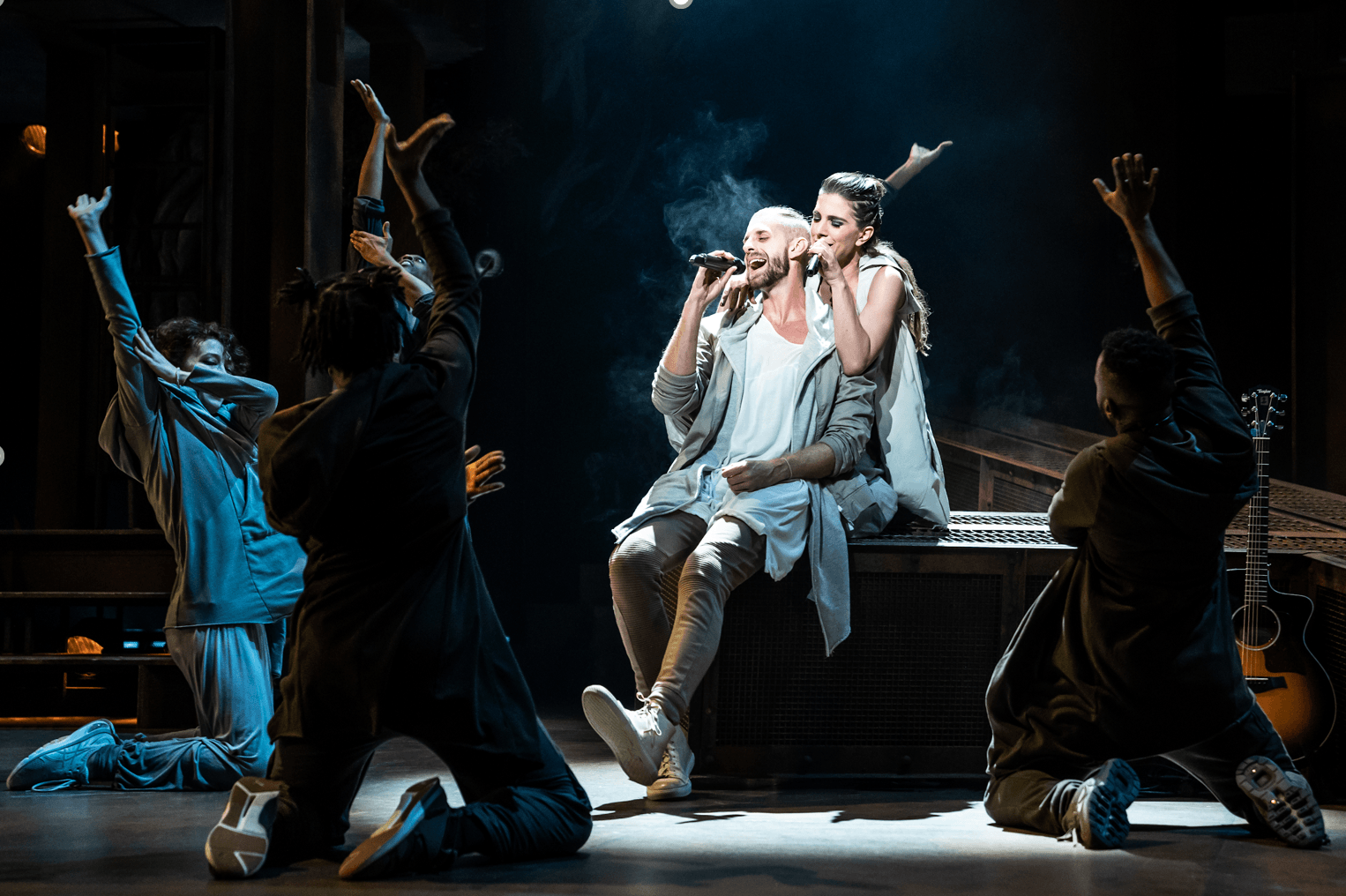 Aaron LaVigne, Jenna Rubaii and the company of the North American Tour of "Jesus Christ Superstar." (Matthew Murphy)
Question: How would you characterize this show in theatrical terms?
Sheader: I would kind of call it gig theater ... I would use the word concept, but I think people have negative connotations with that, often. They think that they're not getting the full version, and I guarantee you with this production you are getting a full version.
Question: Dance is so integral to this production. Was that always your approach?
Sheader: Good question. Not right from the beginning, no. I remember trying to get the rights to do this in my theater in Regent Park for a long time. And then we finally acquired it after a couple of years of trying. I share a desk with my business partner, he's executive director, and I was reading the libretto and I looked at him across the desk and said, "There's no script at all. I don't think I quite realized that. I'm not sure I want to do it." And he said, "It's a bit late now. We signed the contract and so you better find a way of doing it."
Other versions have seemed to want to pretend there was a script and seem to work. And I understand that need because they wanted to clarify things and help an audience understand it in a naturalistic, convenient way. And I definitely did not want to do that. Once I got over my shock, I was actually thrilled by this.
Question: How does the dance relate to the story that people know?
Sheader: I wanted the dance [ensemble] to be a major character in the play. They take on two parts: a mob that follows [Jesus] and kind of celebrates his celebrity, enjoys his celebrity, provokes him and pushes him to do extraordinary things 24 hours a day. And then, a kind of counter to that mob. … In celebrity culture, what it's often like is, when something doesn't quite deliver, then that mob might change into something else and might help to destroy somebody. So that was the overall note for what the choreography and who those people might be.
It's quite ritualistic, the choreography. Sometimes it feels like you're looking at a Renaissance painting. and other times it feels like a group of people who are having a religious experience and are expressing it through unified ritual and dance. … I think that dance is one of its strongest points.
Question: Audiences would seem to be open to the use of dance in this way, from early musical theater ballets to Hamilton …
Sheader: I'm just thrilled I saw Hamilton in New York first before London because I wanted to see it with an American cast. and I absolutely loved it. I guess that we have a similar feeling for how to use an ensemble because one of the strongest things about Hamilton for me is the use of the ensemble, the style of choreography and the way that the director allows the choreography to be center stage. And that's what I've done in this.
Question: Are there any surprises to watch for in your production?
Sheader: There's one particular character that we have created, the choreographer and I, who leads the ensemble. She's a young modern dancer with extraordinary talent. We developed that because she was so good, and it's a role that hasn't existed in other productions. I don't really like to talk about it. I just like people to watch it and maybe ask themselves or each other who she represented.
Question: Is there anything else you'd like people to know coming to this Jesus Christ Superstar in Pittsburgh?
Sheader: It's like a train --- once you get on it, it doesn't stop. It's 90 minutes of this kind of very frenetic … you know, I don't want to pin it down. I just want it to ignite the conversation. I'd ask people to come in with an open mind, an open heart, and rediscover the album that you love.
Read more theater coverage from Sharon Eberson at www.post-gazette.com/ae/theater-dance.
Want more? Join our email list!
Want to hear more about what's going on in the Cultural District? Sign up for the Pittsburgh Cultural Trust's mailing list.