If you were a dance lover living in Pittsburgh in 1986, you might remember Pittsburgh Ballet Theatre's premiere of Tabula Rasa at Heinz Hall. Choreographed by Ohad Naharin and set to music by Arvo Pärt, the contemporary ballet featured ten dancers dressed in street clothes performing a mesmerizing, fast-paced set of solos, duets, and quartets that delighted audiences and critics alike. (The latter so much so that Tabula Rasa was voted Best Dance Performance two years running by The Pittsburgh Press and In Pittsburgh.)
But if you weren't here in 1986, not to worry. Malpaso Dance Company will bring Tabula Rasa back home to Pittsburgh during their mixed repertoire program on February 22 at the Byham Theater as part of the Pittsburgh Dance Council series.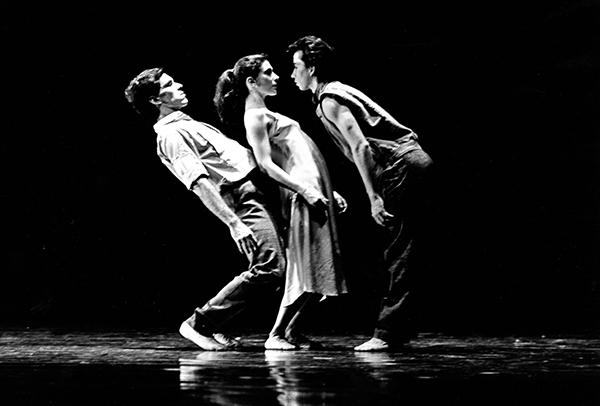 Tabula Rasa, performed by Pittsburgh Ballet Theatre. Carlton Paynter, Tamar Rachelle, Alexander Nagiba. Tabula Rasa (1986). Courtesy of the Pittsburgh Ballet Theatre; Photo Credit: Kenneth R. Stiles.
Randal Miller, Director of Dance Programming and Special Projects for the Pittsburgh Cultural Trust, went to see Malpaso Dance Company perform at The Joyce Theater in New York (Malpaso is an associate company of Joyce Theater Productions). When he opened his playbill, he was delighted to discover Tabula Rasa's connection to Pittsburgh Ballet Theatre and jumped on the opportunity to bring it back to Pittsburgh. The timing was right, too: both Pittsburgh Ballet Theatre and Pittsburgh Dance Council mark their fiftieth anniversary seasons this year.
It's a fitting nod, especially given choreographer Ohad Naharin's history with both Pittsburgh Dance Council and Pittsburgh Ballet Theatre. Naharin performed on the Pittsburgh Dance Council's "Mostly Modern" series in 1984. An emerging choreographer at the time, his program included Haru No Umi, a duet between Naharin and his wife, Mari Kajiwara (who was a lead soloist for Alvin Ailey American Dance Theater), as well as Pas de Pepsi, a social commentary where, you guessed it, plastic soda bottles play a leading role.
Former PBT artistic director Patricia Wilde was in the audience that evening, and while she had already been in talks with Naharin about commissioning a piece, she told The Pittsburgh Press that seeing him perform live helped seal the decision.
When Naharin made it back to Pittsburgh to stage Tabula Rasa, it was a noteworthy experience for those involved. Naharin's choreographic style was experimental and challenging, and gave the dancers an opportunity to grow in new ways. Jay Kirk, a professor of dance at Point Park University and former PBT company dancer, recalls the process as being almost "meditative."
"I do have fond memories of watching Mr. Naharin almost in a meditative trance creating vocabulary that blossomed into movement phrases," he wrote over email. "I felt like a novice working under Naharin's direction, as some movement was done in complete silence and I had to trust that I was creating my own pulse and rhythm in silence. Once I learned the choreography and became submissive to the transitions, it was a very kinetic and organic experience."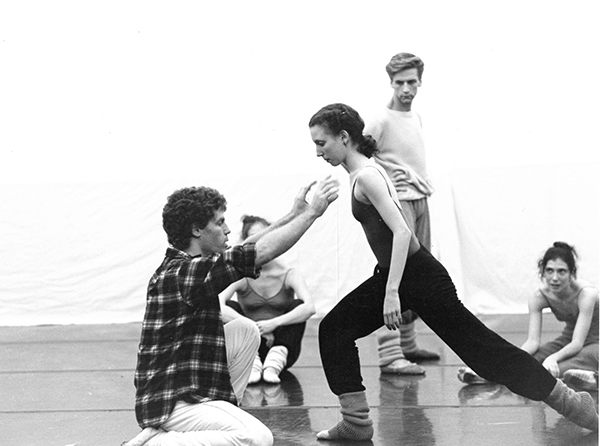 Rehearsals for Tabula Rasa. Ohad Naharin, seated, Holly Baroway, dancer (1986). Courtesy of the Pittsburgh Ballet Theatre; Photo Credit: Kenneth R. Stiles.
The meditative trance and approach to movement that Kirk describes is one that Naharin himself echoes in a recent promotional video for Malpaso Dance Company's rehearsals of Tabula Rasa. "Dancers need to be convinced that less is better, that they need to create a meditation experience for themselves that has nothing to do with being in front of [the] audience," he says in the video.
It makes sense, given the subject matter for Tabula Rasa. The phrase means "clean slate" in Latin, and refers to the state of a human being at birth, before being marked by circumstances and life experiences. That spiritual concept is the starting place for the choreography.
In a sense, Naharin also gave Tabula Rasa a clean slate when he decided to restage the work for Cuba's Malpaso Dance Company more than three decades after its premiere. In an interview with The Joyce Theater, Naharin states that the passage of time has given him a "different toolbox" to interpret the work, and that sharing new experiences and discoveries helps in the collaborative process with dancers.
As such, those who are familiar with Tabula Rasa might notice some choreographic differences in this version of the piece. But the raw emotion and energy are still at its heart.
Malpaso Dance Company's mixed repertoire program on February 22 will also include Face the Torrent by Sonya Tayeh and Ocaso by Osnel Delgado.
Want more? Join our email list!
Want to hear more about what's going on in the Cultural District? Sign up for the Pittsburgh Cultural Trust's mailing list.