The Pittsburgh International Festival of Firsts will electrify downtown for eight weeks this fall, from September 21 to November 11. Quantum Theatre Artistic Director Karla Boos served as Guest Curator for the festival, traveling the world and selecting works to bring to Pittsburgh. In this blog, she shares insight on some of the shows you can look forward to this fall.
Chatterton
September 14 – October 28
Trinity Cathedral
World Premiere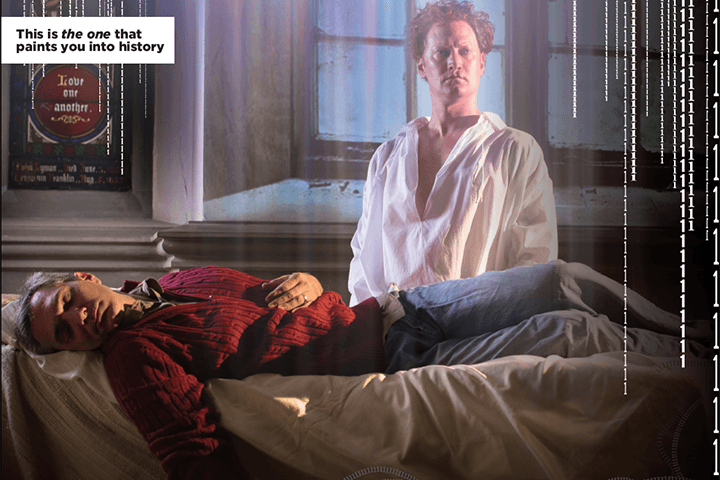 Photo by Jason Snyder
There was some international travel for me that preceded my "great era of international travel" for the Pittsburgh Cultural Trust and this festival. I hung out in London for three months in 2016, in the lovely Stoke Newington flat of a very erudite guy, books floor to ceiling. I read Peter Ackroyd's Chatterton, and then I went to Tate Britain and stared at the painting "The Death of Chatterton" many a time.
That was then, and it's amazing to me that two years later, we've created St Mary Redcliffe (a key location in the life of Thomas Chatterton) inside our own beautiful Trinity Cathedral Pittsburgh, an auxiliary jewel of the Cultural District.
We've had more fun than I can say in creating the show (Let's do the Punch & Judy bit in the Vestry! The 'muniments room' – rear balcony!). We've grown many new brain cells trying to make simultaneity work (e.g. scene A happens at the same time as scene B, with the audience divided, uniting for scene C).
And what's the show all about? It's about the human impulse, through the ages and may it live for all eternity, to make art that offers solace and sense. A fitting entry from my own hand and heart in the wonderful Pittsburgh International Festival of Firsts.
In The Tunnel
October 11-13
August Wilson Center
Country of Origin: Israel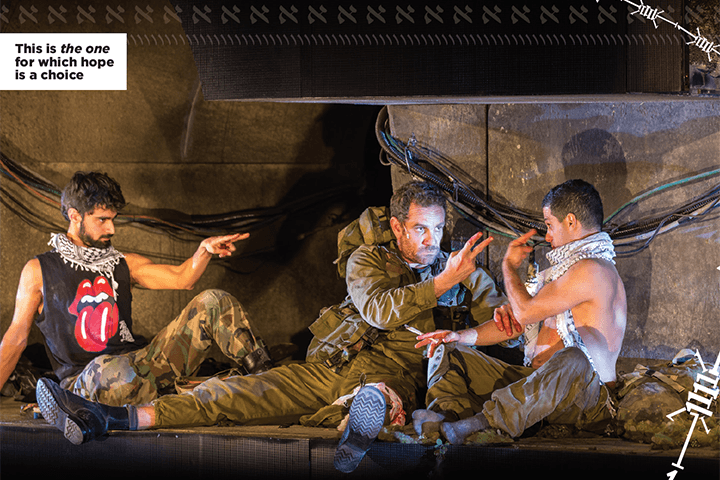 I got to have a conversation with the director of In the Tunnel, Irad Rubinstein, in the courtyard outside the Gesher [Theater in Tel Aviv, Israel]. It's no spoiler to say that the audience decides how the play ends. You walk into the lobby and there's a ballot box and a question, one instantly understood by any Israeli or Palestinian: "Is there light at the end of the tunnel?"
In Tel Aviv, no one needs to be told what tunnel we're talking about. You cast your ballot, and the play has a different ending depending on that audience's optimism or pessimism. Irad said more audiences are pessimistic. As I talked to him pre-show, I thought we were having a conversation about artistic form, and I guess I distanced myself from its subject.
Indeed my audience was pessimistic. My reaction – real, outsize sadness – made it clear that this was good theater. I was so invested by the end of the play, so wishing for the light.
I'm curious to see whether Pittsburgh audiences will be pessimists or optimists.
Tago: Korean Drum II - AtoBiz Ltd.
October 18
Byham Theater
Country of Origin: South Korea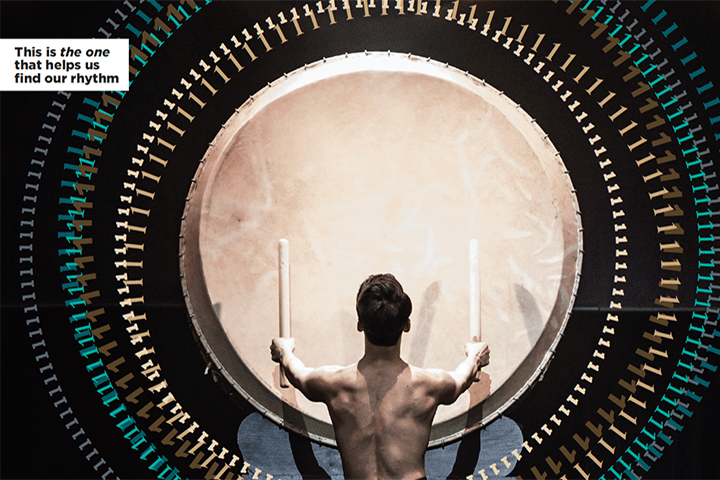 It was late in the my time at the Edinburgh Festival, there were literally thousands of things on, and I was smacking up against the realization that my quirky inclinations weren't the only metric I should be using to decide where to spend the next hour. So I signed up for something I thought might be purely accessible: Korean drumming. What I found WAS accessible but also innovation I couldn't have imagined, and pure joy.
I think Pittsburghers will enjoy this because there is so much wit, which leaps over the language barrier!
Karoo Moose
October 25-28
Trust Arts Education Center
Country of Origin: South Africa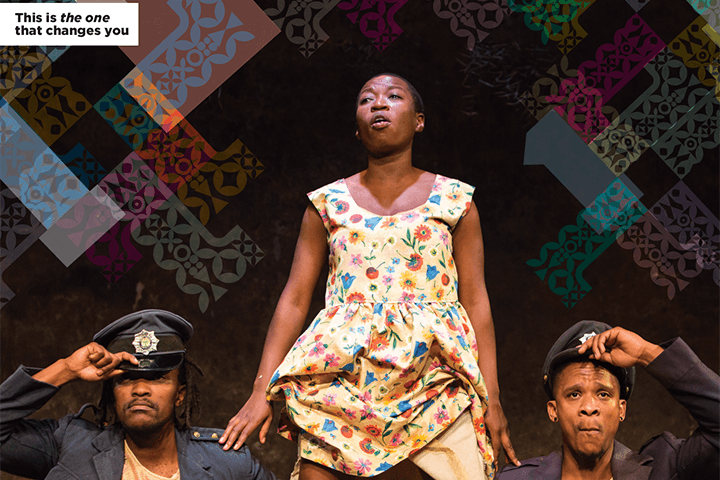 Many people I deeply respect steered me to Cape Town's Baxter Theatre where Artistic Director Lara Foot, in her job for a few years but with a lifelong commitment to the voices of South African theatre artists, was transforming an already important place. Both Joe Melillo and my friends at Improbable Theater in London sent me to her, and I had a chance to see Baxter's revolutionary rendering of Miss Julie in Edinburgh.
But I chose Karoo Moose to come to Pittsburgh, perhaps the work (directed by Foot early in her tenure at Baxter) that put the company firmly on the international map. It broke my heart with its deep familiarity with a kind of everyday cruelty. It didn't stop there – good triumphs over evil, gentleness prevails, and amazing performers put your heart back together, sending you out in the world to do some healing yourself.
Espæce
November 2-3
August Wilson Center
Design, scenography and direction Aurélien Bory
Country of Origin: France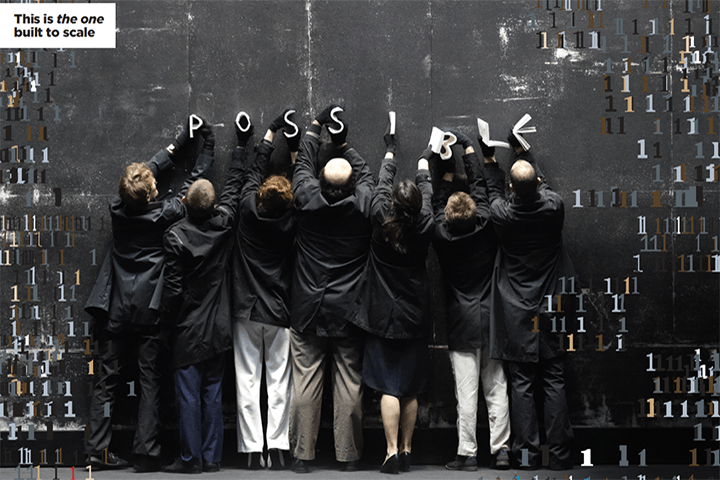 It might have been on my second-ever trip to France, in something like 2005 or 2006, when I first saw Aurelien Bory, his piece Sans Objet. In the fairly small Theatre de la Ville des Abbesses, the stage was covered with black plastic. Something stirred beneath it, rising, twisting, creating a sculpture out of the black plastic, rising to what seemed impossible proportions, becoming frightening, looming over the audience as it shed its plastic skin. It was the robotic arm of a car assembly line circa 1970. And thus proceeded a work of physical theatre poetic and vast in its metaphors, one requiring wizards for performers, with a sort of wizardry one could only imagine behind the scenes.
Out front, I met him afterwards and couldn't believe this unassuming guy was the creator, with a wryly funny woman named Florence at his side, his sort of manager.
I had the chutzpa to call Joe Melillo at the Brooklyn Academy of Music to see if BAM would like to collaborate on a tour of Bory's company. We'd present him first in Pittsburgh: the nascent robotics industry would surely be all over Sans Objet! Joe was polite. It actually was the beginning of a real relationship with that man. And in 2018, I'll get my wish to co-present Aurelien Bory's company with BAM's Next Wave Festival.
I went to see the still unassuming guy and his trusty Florence in Paris last December, and photographed the giant THING—a miraculous wall, this time, from every angle, imagining Joe Melillo would figure out how to get this wall to the US. But it was our Scott Shiller [Vice President of Artistic Planning, Pittsburgh Cultural Trust] who figured that out, and BAM will benefit from the Trust's savvy!
---
See me after the show. We'll clink champagne glasses over the seemingly impossible, accomplished. We'll hug, in pain over the direct hit of some of the work in addressing the terrors and trials of our times. There will be amazing creatures among us, there in the bar, and we'll try to speak to artists from every corner of the globe, across the language barrier... and find we can.
See the full festival lineup