We made it! Summer is finally here and there are so many ways to soak in the great(ish) weather in the 'Burgh with fun free and low cost events.
Does any city in the world love fireworks more than Pittsburgh? We doubt it! The big firework event starts at 9:35pm and will be fired from the confluence of the three rivers. The display will be choreographed to a patriotic soundtrack that can be heard in Point State Park, the North Shore Great Lawn, and on KDKA 1020 AM.
The summer crawl is always the hottest one to attend. With the warmth comes an exuberant vibe as people from all around the city converge in the Cultural District to walk through art galleries that stay open late and enjoy free special events.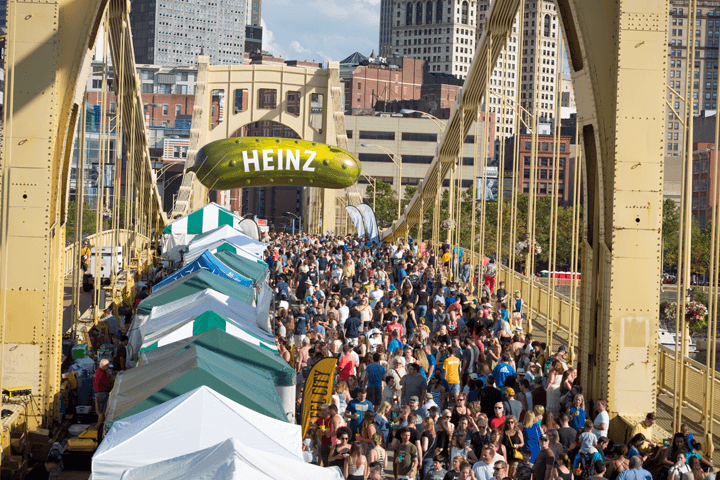 Thank you, Pittsburgh Downtown Partnership, for bringing us Picklesburgh! We love hanging out on the Clemente Bridge, eating pickles, and listening to live music. If you haven't been to a Picklesburgh yet, we highly recommend you make this a must-do event on your 2018 summer checklist.
Sometimes there's a good reason to leave downtown, and we think Open Streets is it. BikePGH will transform the East End of our city by closing the streets to cars and opening up the space for us to run, walk, bike, and skate.
The second annual celebration of piano in Pittsburgh all happens downtown this year! A Steinway & Sons grand piano will travel to each of the three locations for special live performances all day long.
ON GOING EVENTS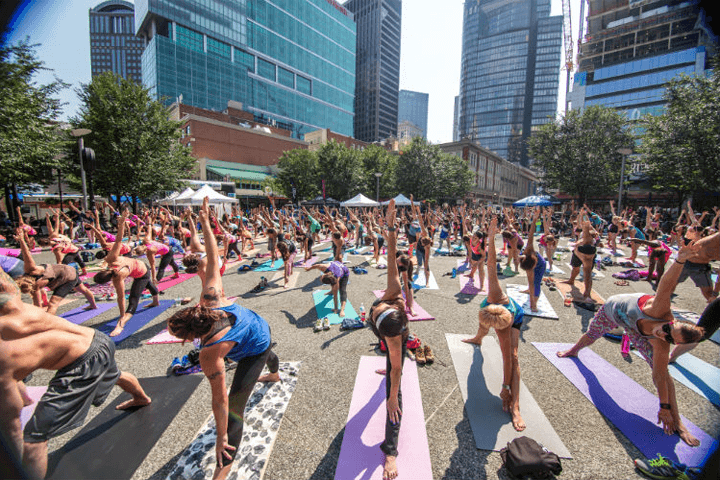 Join Pittsburgh's community of yogis for free yoga outside in our lovely Market Square. You have two options every week to find some zen.
Enjoy a variety of free rotating classes from the YMCA including Zumba, belly dance, Pilates, and more.
Fresh-cut flowers, live herb plants, fresh fruit and vegetables, organic milk and cheese, honey, yarn, breads, cakes, and fresh-pressed juices are all available for downtown shoppers, along with an assortment of prepared foods ready for lunch.
No experience necessary! Experienced improvisers, eager beginners, and brave first-timers are placed on teams together to create improvised comedic scenes based on audience suggestions. And it's only $3 to participate. Or, just come to watch and laugh.
Get your weekend moving as you learn new and traditional dances. Classes are free and don't require a partner.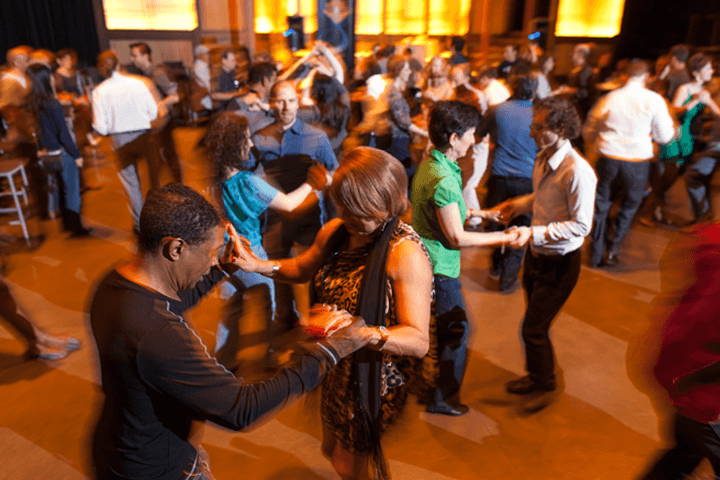 Keep dancing on Fridays at the Greer Cabaret Theater. Awesome DJs and an amazing community of salsa dancers combine for the hottest Friday event in Pittsburgh. No experience necessary. It's free for ticket holders of any Cultural District show; simply show your ticket stub and you're in! If you don't have a ticket stub, the cost is only $5.