Last month, local bakers found themselves wrist deep in pie crust dough when we served them a difficult challenge: to dream up their most creative, whimsical pie recipes—ones that expressed their hopes, dreams, frustrations, and fears.
While that may sound like an odd challenge, it's one that very much reflects the spirit of the musical Waitress, which plays at the Benedum Center this week. The show follows an expert pie baker, Jenna, who channels her pent-up feelings and desires by dreaming up recipes that describe her life experiences, like her "Betrayed By My Eggs Pie" (sausage, beer, and cheesy red dressing)" or her "I Wanna Play Doctor With My Gynecologist Pie" (vanilla custard, warm melted caramel, nuts, honey kissed whipped cream and banana).
To invent pies worthy of Jenna's recipe box, local bakers tinkered with their own creative naming conventions and daring flavor combinations. The results were delicious.
With great difficulty, the Pittsburgh Cultural Trust team narrowed down the submissions to three finalists and turned them over to our guest judges—Whole Foods Market's Jenny Rump and Pittsburgh Today Live's Heather Abraham and Ron Smiley—who tasted all three pies and chose a winner live on air.
But just because the contest is over doesn't mean the fun has to stop. Here, we take a closer look at the three finalists' recipes to find out what inspired them.
Winner: Mr. Depleted My Heart Raspberry Cream Pie, by Stacie Lefes
Featuring a dark chocolate cocoa crust, cream cheese mixture, and raspberry filling.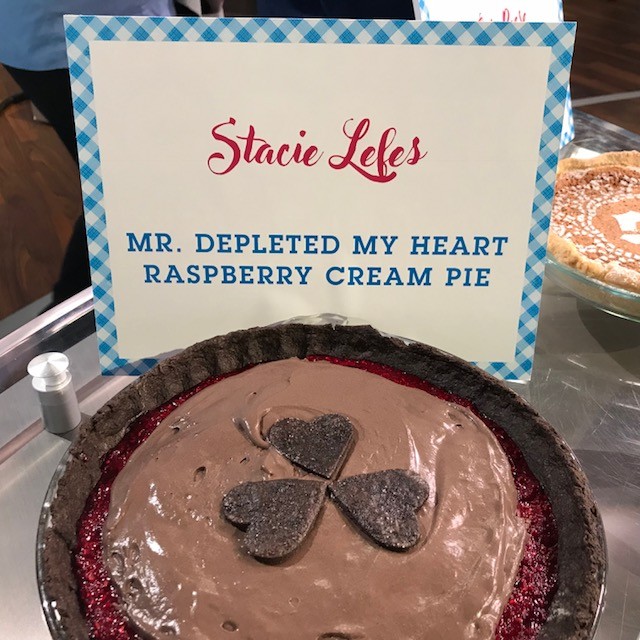 Stacie Lefes' winning recipe, "Mr. Depleted My Heart Raspberry Cream Pie," certainly feels like one that belongs in Jenna's emotionally turbulent collection. To Lefes, the recipe's key ingredients—raspberries and chocolate—are just the type of rich, flavorful textures needed to help mend a broken heart.
Lefes, of Center Township, Beaver County, developed the winning recipe especially for the Waitress Pie Contest. In fact, she only baked the pie twice before submitting it.
Call it good instincts developed from a lifetime of practice: Lefes fondly recalls baking with both of her grandmothers as a little girl and being encouraged to experiment, especially by her paternal grandmother.
While the recipe itself is new, Lefes says many of the individual components of her winning pie were borrowed from ones she's been baking for years. Her pie crust recipe is the same one she's been using since her seventh grade home economics class, with two exceptions: the addition of dark chocolate cocoa and sugar. Lefes also slightly modified her popular cream cheese filling from another recipe to better pair with the raspberries used in this pie.
As the contest winner, "Mr. Depleted My Heart Pie" will be featured as an insert in the official Waitress cookbook.
Finalist: Eat Your Feelings and Drown Your Sorrows Whiskey Pie, by Eric Reese
Featuring Yukon Gold potatoes, Wigle bourbon whiksey, and orange zest.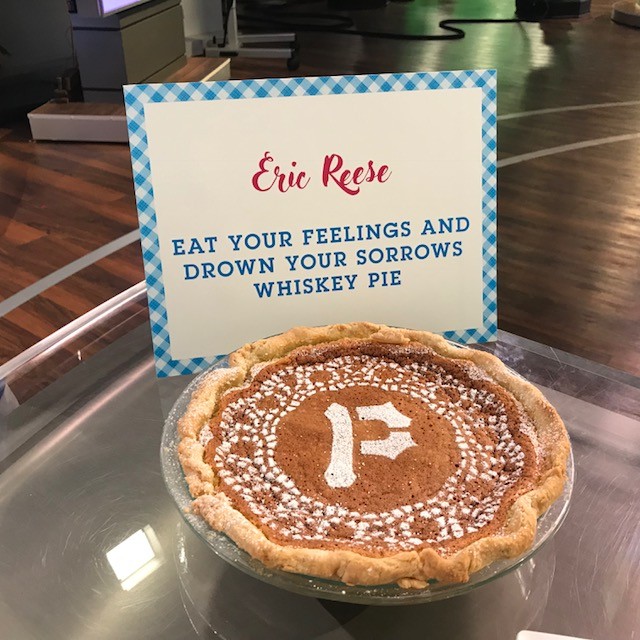 Eric Reese's "Eat Your Feelings And Drown Your Sorrows Whiskey Pie" contains an intriguing set of ingredients: Yukon Gold mashed potatoes, locally sourced Wigle bourbon whiskey, sugar, orange zest, and vanilla, almond, and orange extracts.
If that sounds unusual, perhaps it's because of the circumstances under which Reese, who lives in Shaler, created it. Reese started baking pies about a year and a half ago to bring to family dinners, and like most bakers, he started with the classics. However, Reese's pie making talents quickly lent themselves to a game between him and his brother in which his brother would choose secret ingredients for him to incorporate in his pies. Fans of the television show Chopped will be familiar with this premise.
One week, his brother challenged him to include whiskey, and that's how this one-of-a-kind pie was born.
"Eat Your Feelings and Drown Your Sorrows" has a custard base and cakey texture, and Reese says despite containing some savory ingredients, in the end, it's the sweeter flavors, like orange zest, that really stand out.
As for the name, Reese's pie plays to the old saying that when you're feeling blue, you'll either eat your feelings or drink your sorrows. Reese started feeling those blues in the baseball offseason, when the hot stove turned his heart cold. Fellow sympathizers can indulge in those MLB blues one forkful at a time by recreating Reese's recipe.
Finalist: When You Turned Left and Left, You Left a Pothole in My Heart Pie, by Catherine S. Vodrey
Featuring black cocoa, brown sugar, honey, and dark molasses.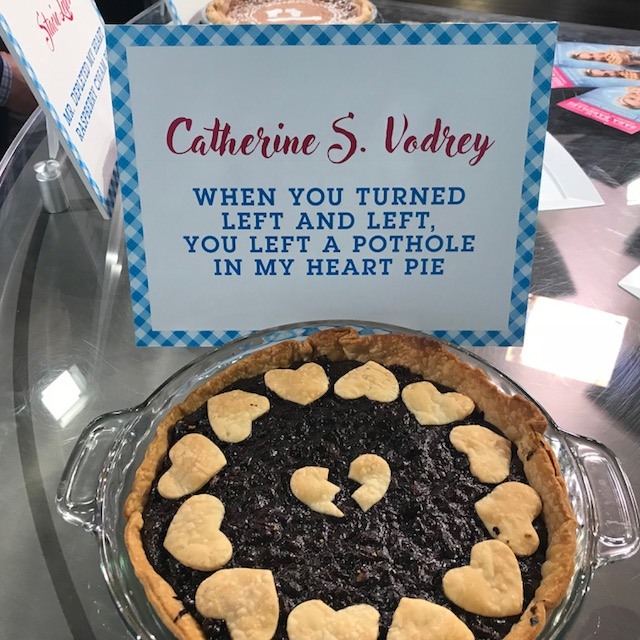 For Catherine Vodrey, something was missing when she sat down to Thanksgiving dinner each year: chocolate.
So the East Liverpool, Ohio, native decided to take matters into her own hands by developing a pecan pie recipe that incorporated black cocoa in it. Combined with dark molasses, honey, and brown sugar, the result was a chunky looking—and delicious—texture that quickly became a family favorite at the dinner table. She even started making two pies each year so that her husband could enjoy some leftovers at breakfast.
While the pie itself is one of Vodrey's old standbys, its creative name was bestowed in honor of our Waitress Pie Contest. The pie's chocolate filling reminded her of the asphalt mix used to fill potholes, something that Pittsburghers are all-too-familiar with encountering this time of year.
Craving more? So are we! Join us at Waitress at the Benedum Center now through March 11. As a special treat, we'll be selling pie jars that you can take into the theater and eat right at your seat while you enjoy the show.