Sasson Gabay had moved on to new stage and screen projects after the 2007 film The Band's Visit when he got a call about revisiting his role – in a stage musical.
His first thought was, "This is the greatest idea I ever heard." Then on second thought "I couldn't understand how this gentle, quiet film could be a musical on Broadway."
Still, the Israeli actor said he would do it, "gladly," but he became tied up with other commitments as songwriter David Yazbek and librettist Itamar Moses reimagined the tale of one sultry night, when members of an Egyptian police orchestra became stranded in a sleepy Israeli town.
Gabay was speaking by phone as the company of the touring The Band's Visit – with the actor as the leader of the band – was making its way toward Pittsburgh. The show that won 10 Tony Awards comes to the Benedum Center March 10-15.
To put those 10 wins in perspective, Hamilton won 11 Tonys, and The Producers holds the title at 12.
It's hard to imagine now, but it took eight years for lead producer Orin Wolf to shepherd the musical to Broadway, with stars Katrina Lenk and Tony Shaloub. Gabay speaks in glowing terms about the man who played the role of Tewfiq on Broadway.
In his rave review of the show, Ben Brantley called Shaloub "marvelous" as "a man who carries his dignity and private grief with the stiffness of someone transporting perilously fragile cargo."
Shaloub won the Tony Award for best actor in a musical, in the same role that, on film, earned Gabay the European Film Award and Jerusalem Film Festival honors as best actor.
The next time the creative team came calling, when Shaloub was stepping away from the Broadway show, Gabay was ready with a "Yes!"
Gabay spent a year onstage in New York and, after the show closed in April, he hit the road, seeing America with his son, Adam Gabay, who plays the role of Papi, a young Israeli trying to overcome his anxiety and tell his longtime crush how he feels.
Eight months into the tour, Sasson Gabay still is filled with wonder about how it all came about.
"From the start, this film changed my professional life," he said, adding, "I'm having the time of my life."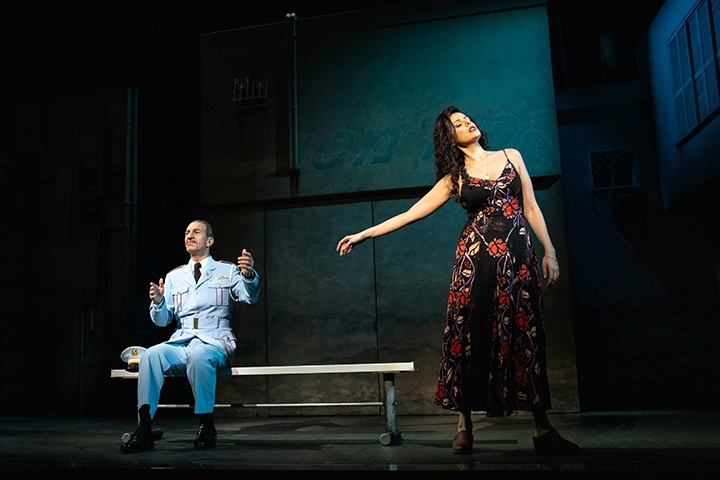 Sasson Gabay reprises his film role as the leader of the band, with Janet Dacal as Dina, in the national tour of The Band's Visit.
The role of a lifetime is a study in restraint, especially when you consider that The Band's Visit arrived on Broadway at the same time as SpongeBob the Musical and Mean Girls.
Those shows feature splashy dance numbers and pop music scores, while The Band's Visit won over critics and audiences with Yazbek's evocative Arabic and klezmer orchestrations.
The musical takes place in 1996, when the Alexandria Ceremonial Police Orchestra of Egypt boards a bus for a performance at a new cultural center in Petah Tikvah, Israel. Through a misunderstanding, the band members instead arrive in Bet Hatikva, a sleepy desert town where there's no bus for another 24 hours. The denizens of Bet Hatikva take them in, led by Dina (Janet Dacal), the owner of the town's cafe who once had dreams of being a dancer.
In a town where the everyday has become oppressive, even hopeless, the arrival of the band heralds new possibilities. Without mention of politics, the Egyptian and Israelis find quick connections in personal stories of life, love, loss, and, of course, music.
Asked if now is a particularly good time for a tale about people from different walks of life who find common ground, Gabay said, "It's always the right time."
"The musical, the movie, they are about overcoming differences," he continued. "It's about leaving politics and conflicts behind and connecting on a human level. And that's what happened to this group of Egyptian musicians in Israel … they make a connection with the help of art and the human soul."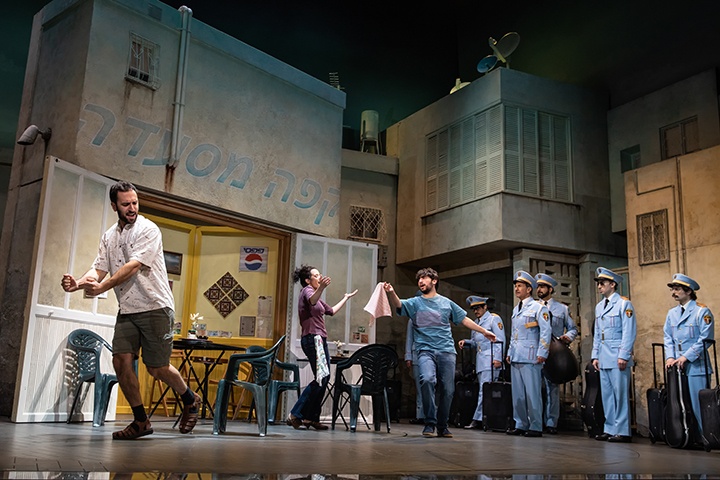 The national tour of The Band's Visit.
Dina, for instance, feels a connection to the band's leader because of their love of music. She shares warm childhood memories of days when she and her mother would listen to the radio and hear music from Egypt and Lebanon.
The hauntingly beautiful song "Omar Sharif" – the actor known for films such as "Lawrence of Arabia," "Doctor Zhivago" and "Funny Girl" – is about the voices and sounds coming from those distant places over the radio:
"Umm Kulthum and Omar Sharif
Came floating on the jasmine wind
From the west, from the south
Honey in my ears
Spice in my mouth
Dark and thrilling
Strange and sweet …"
The musical that shines a spotlight on how much we are alike, rather than our differences, is an oasis from the often-blaring headlines about Middle Eastern discord.
Gabay noted that Egypt and Israel have been at peace for more than 25 years, so "it's a wonderful opportunity to show this," as well as spotlighting how a shared love of art can transcend political polarization.
The actor, 72, was born in Baghdad to an Iraqi Jewish family before they emigrated to Israel when Gabay was a child. He is a well-established star of stage and screen in his country, winning the Ophir Award (Israeli Oscar) as best supporting actor in the Golden Globe-nominated Gett: The Trial of Viviane Amsalem. He also is a resident artist at the Beit Lessin Theater in Tel Aviv, and has been seen onstage in such works as Servant of Two Masters, Catch-22, and Who's Afraid of Virginia Woolf?, as well as Captain Hook in Peter Pan.
Like the musicians in The Band's Visit, he has been on an exotic adventure, although his has lasted nearly two years, and counting.
At a time when "nations tend to concentrate on themselves first," presenting The Band's Visit to cities such as Pittsburgh is "a privilege," said Gabay.
The show, at 90 minutes with no intermission, is meant to land quietly, but pack a polite punch.
"Our lives are all very demanding – we need to be brilliant and successful and updated and strong and powerful, etc. etc.," said the leader of the band. "This production lets you, as an audience, be yourself and take a big breath, open your heart, your soul, your ears and eyes, and listen to a human story."
Sharon Eberson is the Pittsburgh Post-Gazette theater critic. Follow her on the Post-Gazette website and on Twitter at @SEberson_pg. Read more about "The Band's Visit" and its Telephone Guy, Pittsburgh native Mike Cefalo over on the Post-Gazette site.
Want more? Join our email list!
Want to hear more about what's going on in the Cultural District? Sign up for the Pittsburgh Cultural Trust's mailing list.