Texture shines in painting exhibition at SPACE
For fundamentally 2D works, the paintings in The Long Run, curated by Brandon Boan at SPACE, speak to the complexities of surface and texture. A sculptor himself, as well as printmaker, Boan's eye for these elements shows us seven contemporary artists whose paintings drip, shine, fuzz and bend in brilliant color.
When exhibiting a sculpture, lighting can dramatically influence how a work is seen. Tucked away in the back gallery, lighting plays just as an important role in Devan Shimoyama's paintings. Rounding the corner, viewers are greeted with a glimmer in the dark from Power as one enters the space. The room is darker than the main gallery and spotlights strike self portraits of the artist as if they were on a stage. Chiseled limbs twist and turn with allegorical serpents, storms, moon and sun in Hot Legs and Constellation. Mixed media elements are also exaggerated with the aid of unidirectional light and show off the twinkle in sequins, glitter and beads. Shimoyama's paintings serve as a shrine to the self and remind us to love inward and outwardly, despite our own personal storms or those raging on around us.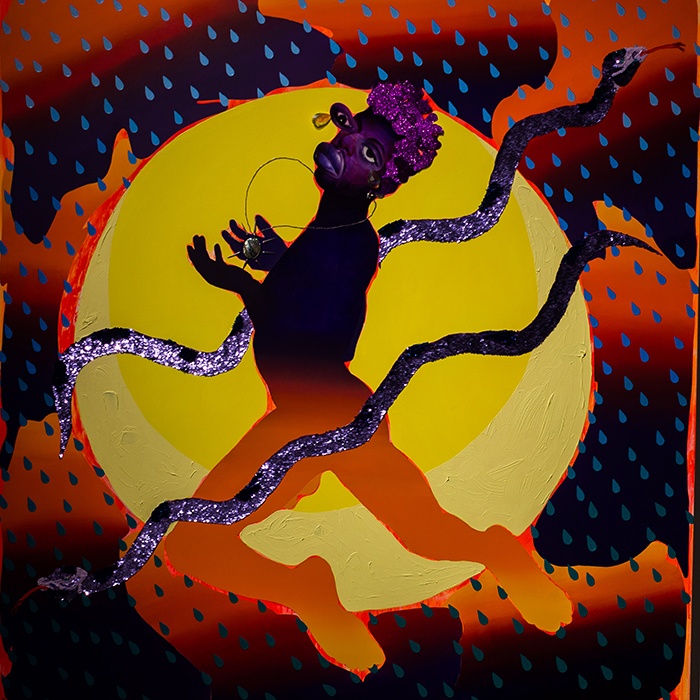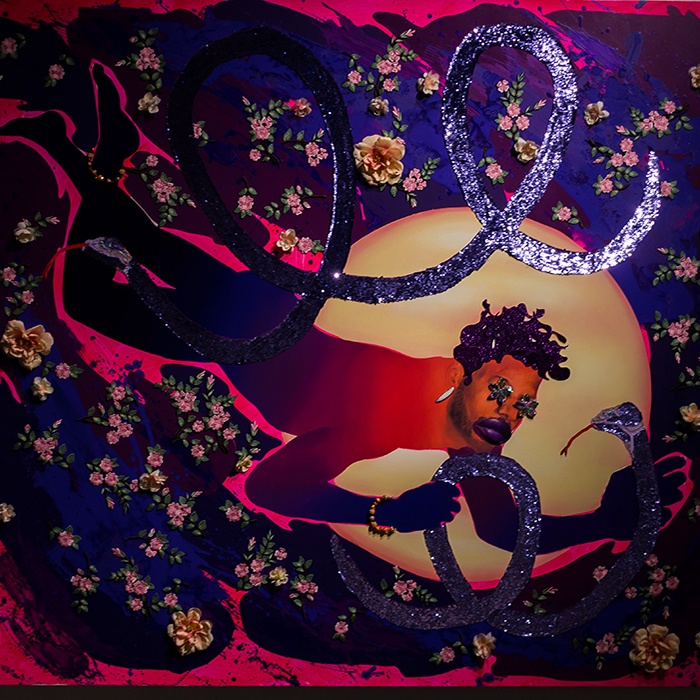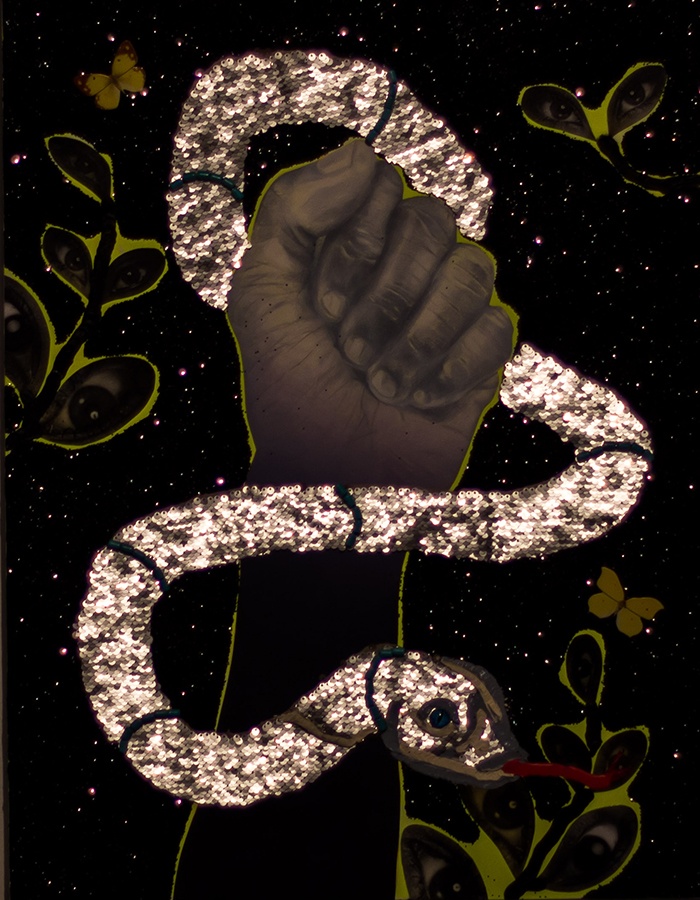 Devan Shimoyama's Hot Legs (top left), Constellation (top right), and Power (bottom)
Toward the front of the gallery, Paul Mullins's figures sweat, snarl and smoke in dizzying collage as Surya Gied's paintings blob and pool. Both artist abstract collected imagery in their work, Mullins's personal, Gied's outsourced. Mullins revisits his own rural American upbringing and then fragments it, mixing bulging guts, cigarettes and beer cans with '70s Aviators and childhood pets. The glossiness of Mullins's acrylic and colored pencil simulate an eerily realistic, fleshy sheen. Gied, who is from Berlin, Germany, draws inspiration from the European refugee crisis. At first chaotic, families begin to appear huddled together against sickly hues that drip and puddle. Both artists use of texture is intentional and representative of the very real people depicted, no matter how much history tries to ignore and erase them. While both artists' work appear on opposite sides of the color spectrum — Mullins, warm and bodily, Gied, cold and wet — the two share this nostalgic melancholy.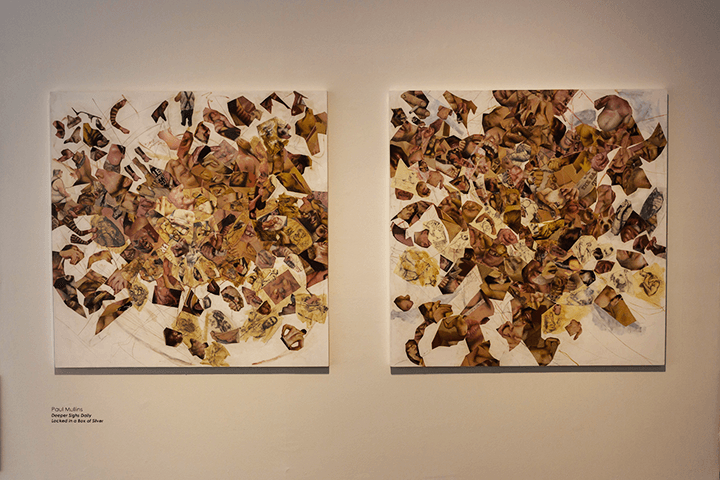 Paul Mullins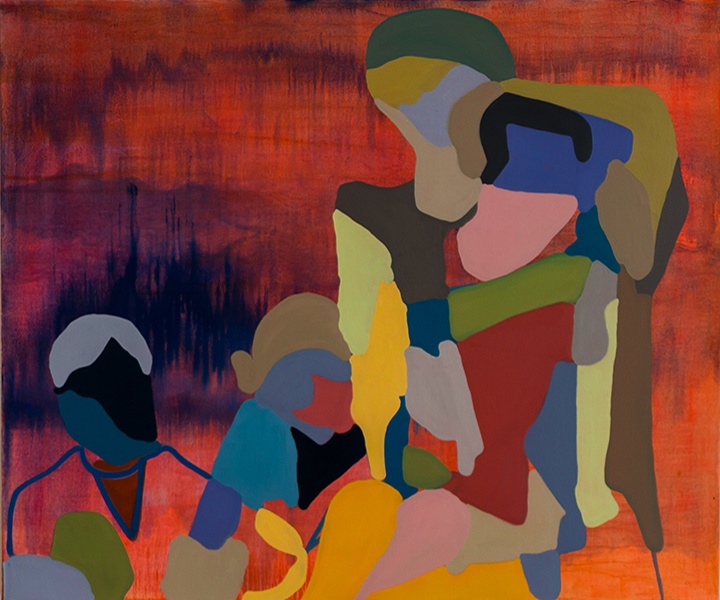 Surya Gied
And then, Emilie Stark-Menneg cheers us up. Inspired by people she loves and looks up to, her paintings are a celebration of her muses. In Venus, Stark-Menneg pays homage to the legendary tennis player but also Botticelli's, both being "mythical and magical." Much of the whimsy and fun in Stark-Menneg's work is rooted in her strokes and mediums. Unafraid to paint boldly or untraditionally, Stark-Menneg applies layers of airbrushed paint and squirts out the medium as if it were cake icing. Menneg shares that "recently, I've been thinking about ways to depict radiant or shared energy between multiple figures and places. The soft and shimmery quality of the airbrush lends itself to this exploration of dissolving edges." That sentiment can be felt in Harbors, which is a depiction of Stark-Menneg and her friend, the poet Lyrae Van Clief-Stefanon.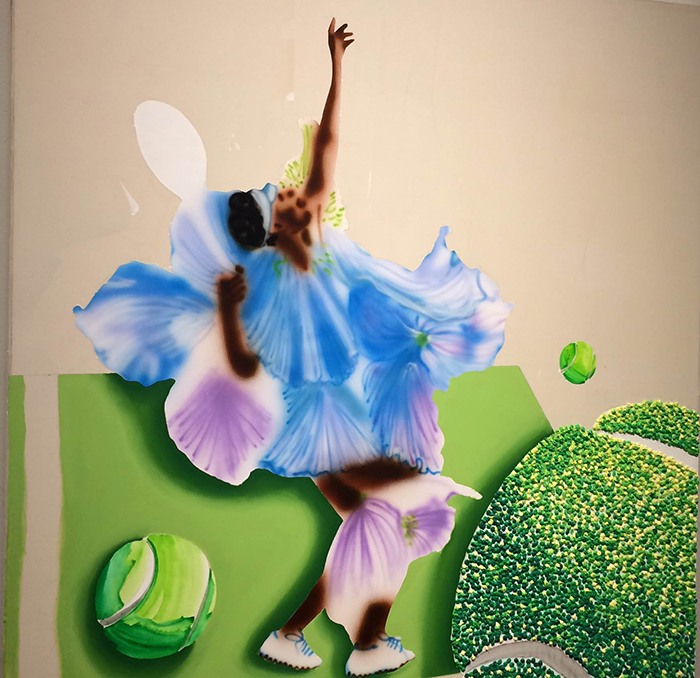 Emilie Stark-Menneg's Venus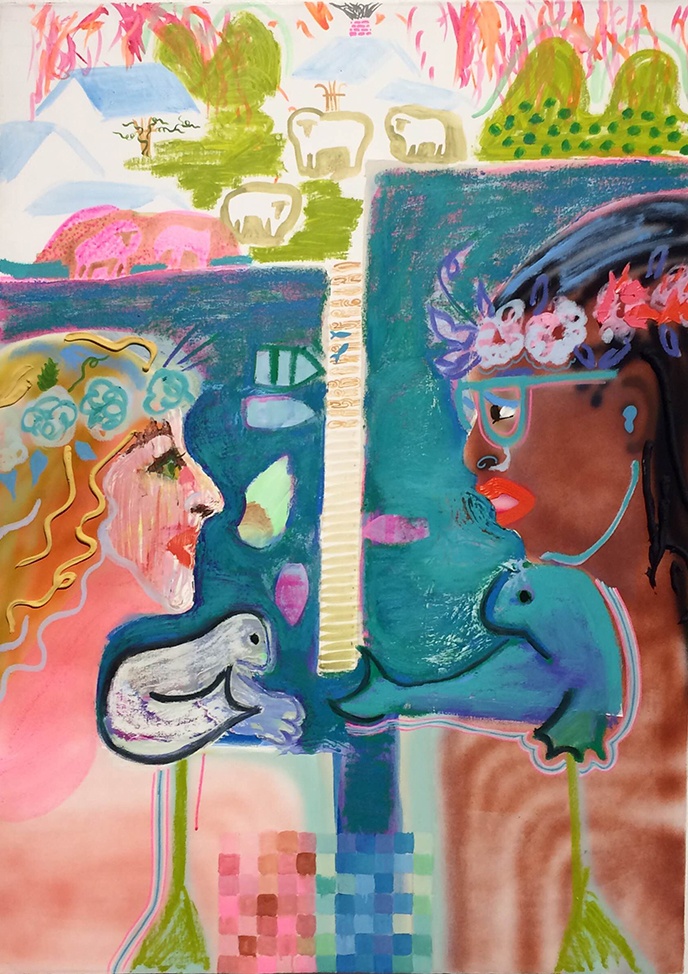 Emilie Stark-Menneg's Harbors
Thad Kellstadt and Jenson Leonard (Cory In The Abyss) both appear to be playing with ideas of structure, literally and figuratively. Kellstadt's 3D paintings have a kinetic energy to them as his shapes bend and stacks upon each other. One moment, a painting looks like a shelf of toys, the next, a futuristic city landscape. Familiar and foreign, his shapes are created from scraps of wood from other artists and knick knacks he finds in thrift stores. Leonard also collects. He sources images found online to make intricately referential works rely on the viewer's knowledge of the images he uses. Originally meant for the internet but here printed on canvas, Leonard's memes critique the politics of pop-culture and art itself. We can feel their physicality as they gently curl off the wall or when Wifi appears twice, just because it can.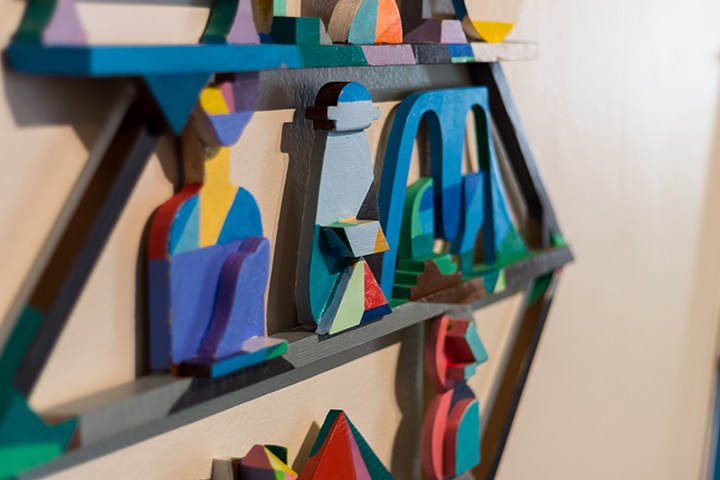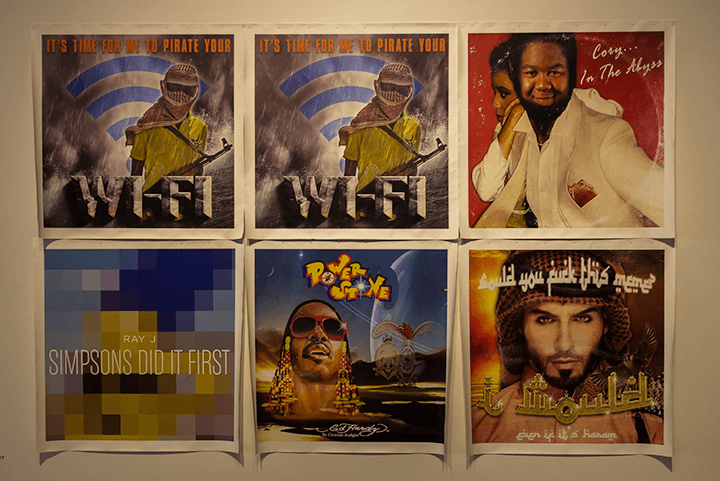 Thad Kellstadt (left) and Jenson Leonard (right)
Lastly, it is impossible to ignore Jason LaCroix's large, hypnotic paintings that pulsate with pattern and strange color combinations. LaCroix's circles continue to change shape, at first a window into another field, then a series of bouncing balls, or a reptile's scales? Perhaps LaCroix isn't trying to represent anything all, but rather push the viewers to move. Get up close, move far away, read them from left to right or up and down. With a shape and only a few colors of paint, LaCroix gently compels his viewers to get up and dance a little too to better understand his shifting surfaces.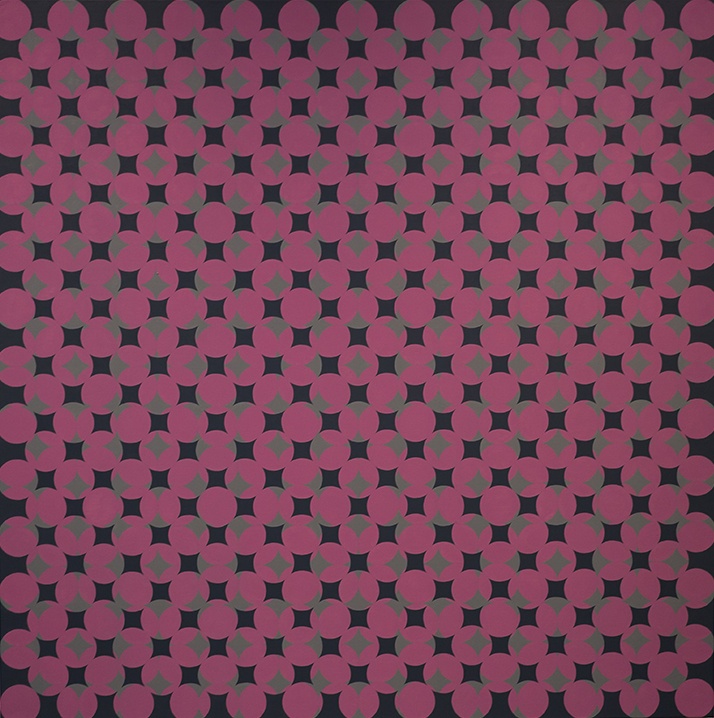 Jason LaCroix
The Long Run is on view at SPACE Gallery (812 Liberty Avenue) until January 28, 2018. Gallery hours: Wednesday and Thursday: 11am-6pm; Friday and Saturday: 11am-8pm; Sunday: 11am-5pm.
Photos by Fred Blauth and Seth Culp-Ressler.