As 2017 comes to a close, we reflect on the past year's accomplishments and look forward to a year of new opportunities. The Trust Arts Education Department has had an amazing year of teaching, creating, and learning – in Pittsburgh and beyond.
I wrote two previous blog posts this year about the Visual Arts & Culture Study Seminar to Israel, in partnership with Classrooms Without Borders. For 10 days in July 2017, members of the Arts Education Department traveled throughout Israel. Since our return, we have found many opportunities to share this experience with the community. In the past several weeks, nearly 200 students from Pittsburgh Public Schools participated in Israeli arts workshops in the Trust Arts Education Center. Three of the Trust's teaching artists reunited with four visual arts teachers from Pittsburgh Public Schools, all of which attended the Israel Study Seminar. The teaching artists guided their students through workshops about Israeli arts and culture from their individual perspectives.
Photographer Randall Coleman shared photos from the trip and taught about a photographer's approach in capturing each image. Visual Artist Saihou Njie gave students an opportunity to create colorful 3D collages inspired by installation art at the Israel Museum in Jerusalem. And dancer Joanna Abel guided students through a dance workshop using popular Middle Eastern music.
At the end of these full-day workshops, the Trust Teaching Artists replicated a workshop led by a group of Israeli artists during the seminar. Students designed fabric squares with messages of hope and peace, using sharpies and colorful bleeding tissue paper. These squares will be collected and sent to Israel to be placed alongside the thousands of other squares in a collaborative peace quilt.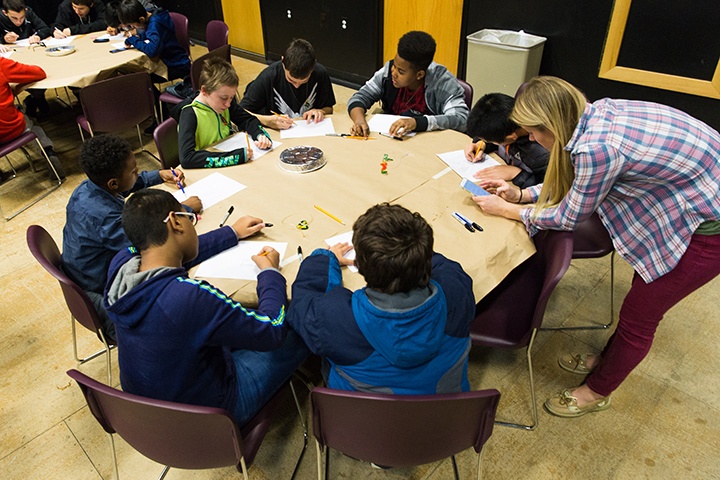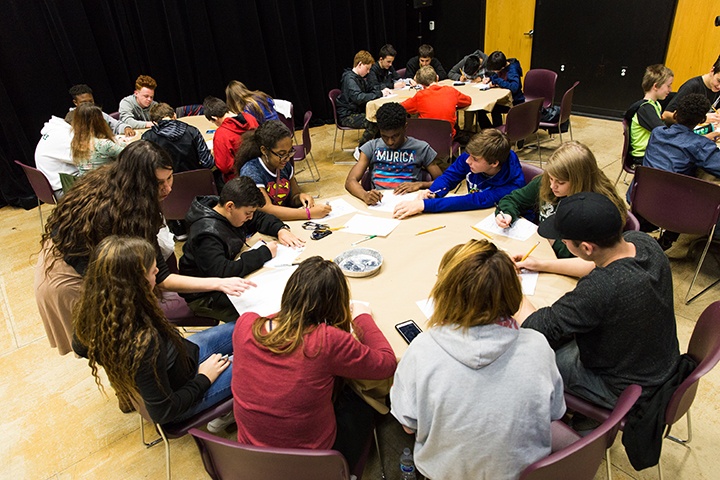 It has been a wonderful year of education at the Pittsburgh Cultural Trust, and we have one final opportunity to share our experiences with the entire community!
This New Year's Eve, come to the Trust Arts Education Center during Highmark First Night Pittsburgh and see for yourself what we've been up to! In a photo exhibit, "What Brings Us Together," we will showcase how human beings utilize common resources and skills to relate with and learn from each other. In a series of photos curated by photographer Randall Coleman, you will get a unique look at a year of exciting programming, connecting with people from around the world.
Whether teaching in a classroom, exploring an outdoor festival, or traveling in another country, there are many resources we utilize to teach and create. And by the end the night, you can create your own fabric square to add a message of hope and peace to send over to our friends in Israel.