Part of the fun of a party is getting dressed for it – especially when it's a chance to try on trends of yesteryear!
At the Pittsburgh Cultural Trust's first PGH Rewind bash (Sat., Aug. 26, 2017), partygoers are invited to step into a sartorial time machine and sport fashions from the '70s, '80s, and '90s. In keeping with the throwback theme, the three floors of the Trust Arts Education Center (805-807 Liberty Avenue in downtown Pittsburgh) will be decked out with music, dancing, and celebrity guests such as Cher and Tina Turner (courtesy of local drag artists).
If you don't have a pair of bell-bottoms or a leisure suit on hand, don't sweat it! The Pittsburgh Cultural Trust caught up with Pittsburgh Post-Gazette style editor Sara Bauknecht, who's shared some tips on where to find the perfect vintage party outfit in Pittsburgh.
For a truly unique period piece, check out … Eons Fashion Antique (5850 Ellsworth Ave., Shadyside; 412-361-3368). Owner Richard Parsakian carries 100 years of men's and women's clothing and accessories. Plus, he's an expert on the stories behind them and how to wear them. While you're in the neighborhood, stop by Hey Betty! Vintage Clothing & Collectibles (5890 Ellsworth Ave., Shadyside; 412-363-0999). Whether you're in the market for a '60s cocktail party dress or an old-time men's suit, chances are you'll find something special here (and so have celebrity clients, including Chloe Sevigny and Helen Mirren). Another option is Three Rivers Vintage (1716 E. Carson St., South Side; 412-431-2140), which specializes in men's and women's selections from the 1870s through the 1970s. In additions to clothes, there's no shortage here of umbrellas, hats, estate jewelry, ties, boots, handbags, and sunglasses.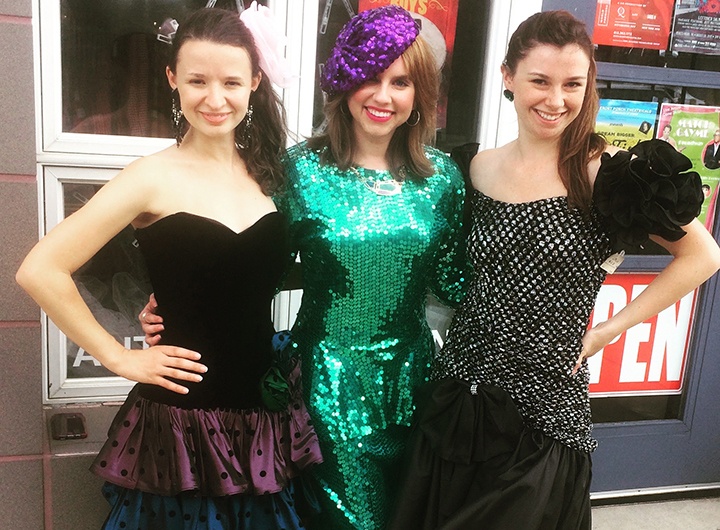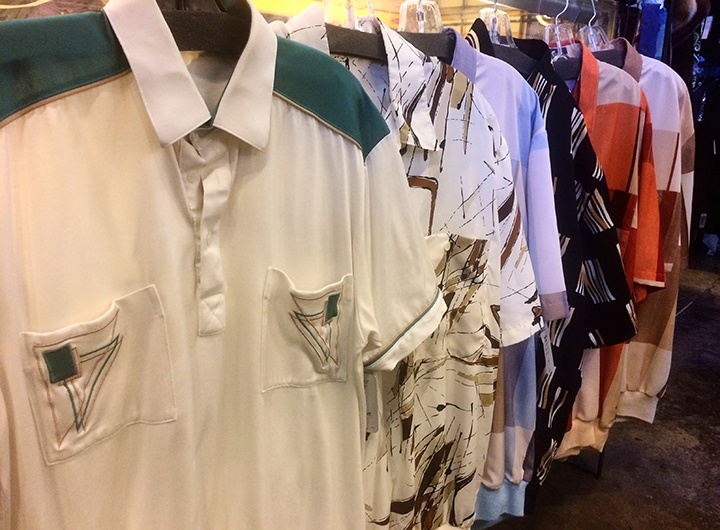 At Eons, we found fluffy and sequined '80s style dresses for the ladies, and printed collared shirts for the men.
To channel your inner flower child or for something Boho-chic … visit Juju (6739 Reynolds St., Point Breeze; 814-460-1538). Racks here are usually filled with flowing frocks in vibrant prints, suede and leather separates, flared bottoms, and the occasional slinky sequined dress. Owner Leslie McAllister curates pieces from estate sales, her travels, and her own private vintage collection. (Be sure to carve out time to peruse Juju's displays of crystals, candles, jewelry, and other mystical mementos!)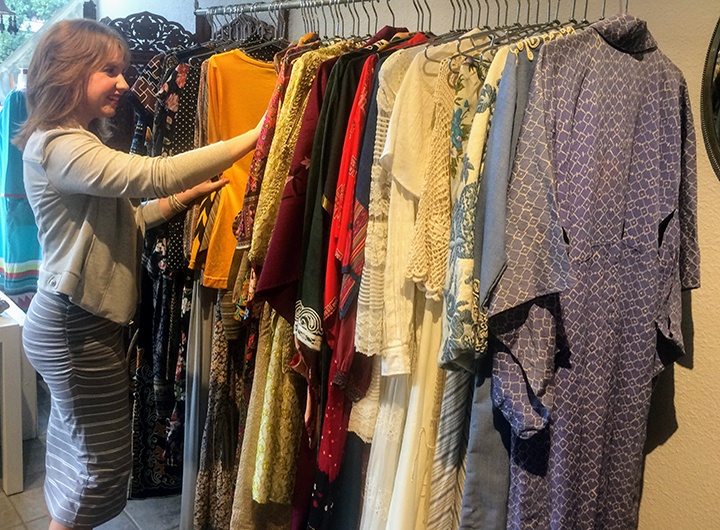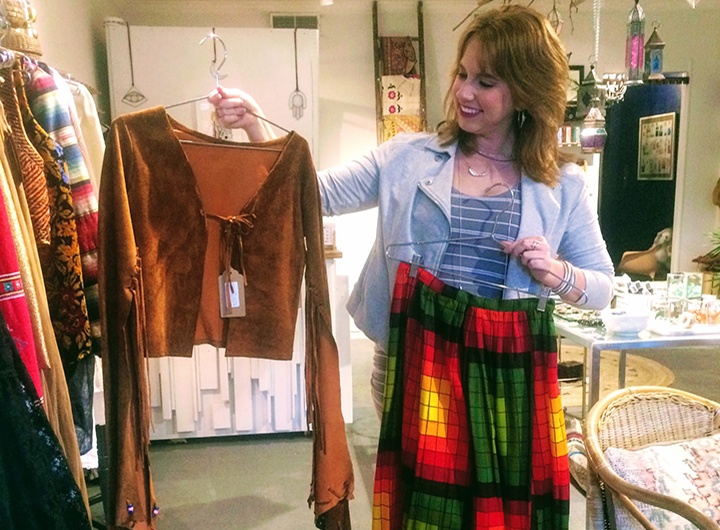 Browsing the racks of flowing frocks at Juju, we discovered this far out '70s fringe bolero and square patterned skirt.
Got a soft spot for '80s and '90s trends? head to Highway Robbery Vintage (1411 E. Carson St., South Side; 412-251-0818). Owner Kate Colussy stocks men's and women's apparel and accessories from the 1950s through the early '90s, but I particularly love some of the shop's finds from those latter decades. Fingers crossed you'll score one of its fun metallic jackets and jumpsuits, denim overalls, bodysuits, grungy ripped jeans or a cool graphic rocker T-shirt.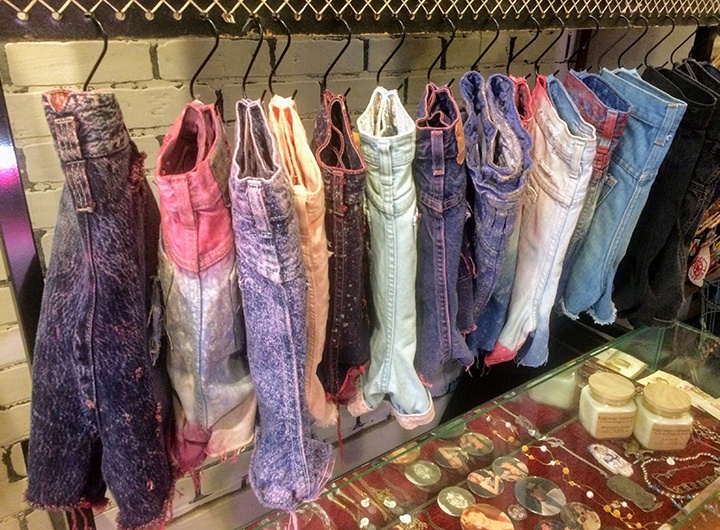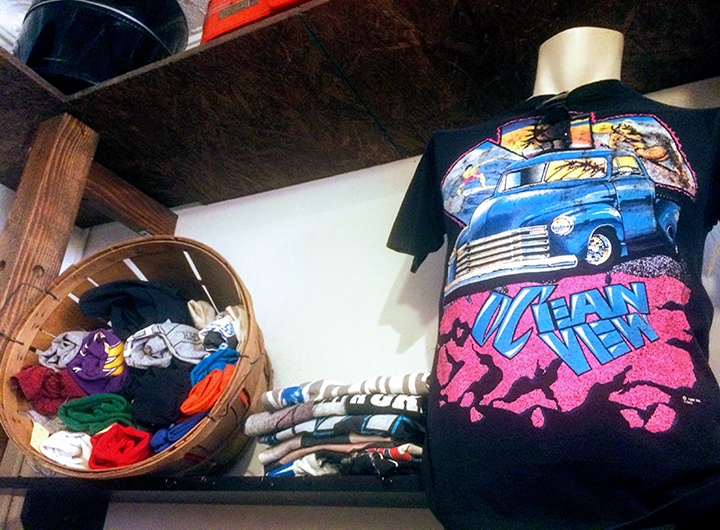 For the '90s child, check out Highway Robbery Vintage's classic denim rack and graphic tees.
Feeling a bit daring? Try some vintage underthings: Calligramme (5417 Butler St., Lawrenceville; 412-628-1312) is a treasure trove of slips, robes, swimwear, corsets, bras, and other undergarments from decades past. In the mix, you'll likely discover some other rare retro gems, such as a Farrah Fawcett disco bodysuit or a Vera Maxwell Mod dress and vest set. (Browse some of the inventory online.)
While you're shopping, don't forget … to look for pieces that you might want to wear even after the party. Don't try to build a costume. Instead, look for things that are nods to the past but can be refreshed for the present with the proper styling. Also, think about fit! The sizes in vintage clothing tend to run differently than they do for contemporary collections, so take the time to try outfits on. Lastly, snap some selfies or bring a friend along to take photos while you consider your options. At the party, you'll probably be posing for lots of pictures, so make sure what you pick translates well on camera.
For more style tips, check out Sara's fashion coverage in the Pittsburgh Post-Gazette and follow her on Twitter and Instagram (@SaraB_PG). She also spotlights the city's style and social scene in the weekly Web lifestyle show "Setting the SEEN", which she hosts and produces with SEEN editor Natalie Bencivenga.

Cover photo of Juju's clothing rack courtsey Janelle Bendycki.