While the weather may not be able to decide what season it is, there is one event that signals the arrival of winter: the Winter Gallery Crawl in the Cultural District on Friday, January 24. This Crawl will be filled with a variety of photography installations, interactive art, performances, and opening receptions to new works. You can also find works of art from local vendors, and enjoy the permanent installations the Cultural District has to offer.
If you're willing to brave the cold (or whatever weather we may have on the 24th), we've put together a suggested schedule to follow to make sure you catch the must-see stops. As you travel from place to place, keep your eyes open for other awesome events happening throughout the Cultural District — you may just find a hidden gem.
5:30 p.m.: Voids, etc at 707 Gallery
Start your night off with a photography exhibition by Centa Schumacher, which looks at order, chaos, and what subdues them. Per Schumacher's website, she uses a lens assembled from vintage camera elements, which allows her to play with light and perspective in her work. The result is something she describes as "a portal between natural phenomena and the unseen world." What better way to kickstart an art-filled evening than with some thought-provoking work?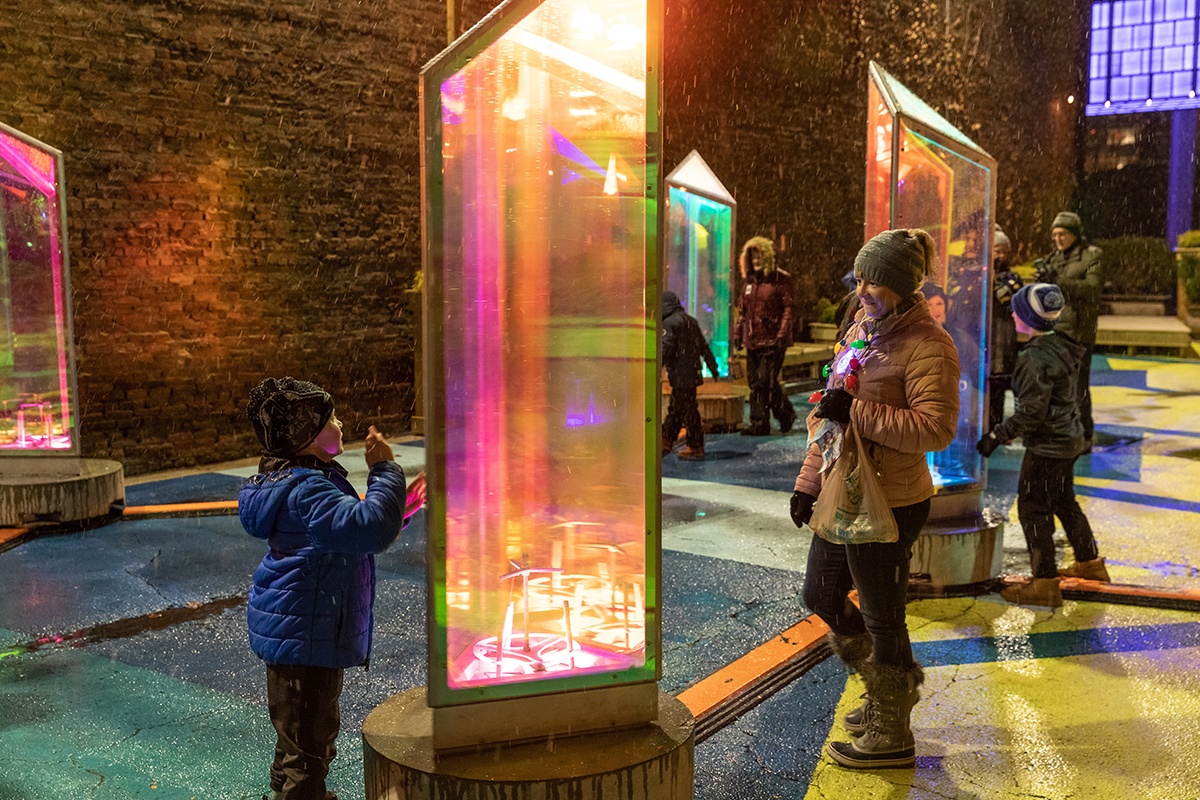 6:00 p.m.: Prismatica at Trust Oasis
While you're walking through the Cultural District, you definitely have to stop by Prismatica, which is described as a modern ice palace. Created by RAW Design in collaboration with ATOMIC3, this installation features 25 rotating prisms that stand more than 2 meters tall. Covered with a dichroic film that reflects the colors of the rainbow, the prisms also have a projector that makes the light dance even after nightfall.
When visitors rotate the prisms, they even play bell music. Walk around and see the city in color, and get a new view by engaging with the prisms. Who doesn't love interactive art?
6:30 p.m.: Misplaced Fortunes at 937 Liberty
This installation from Ross Mantle combines photography and texts to create a treasure hunt through three centuries of history, legends, and lies. Mantle turns American history into a sort of puzzle, connecting pieces between General Braddock's lost colonial paychest, America's interest in progress, and Manifest Destiny. After viewing the installation, visitors will be left questioning how the promise of treasure, and the desire to seek it, continues to define us.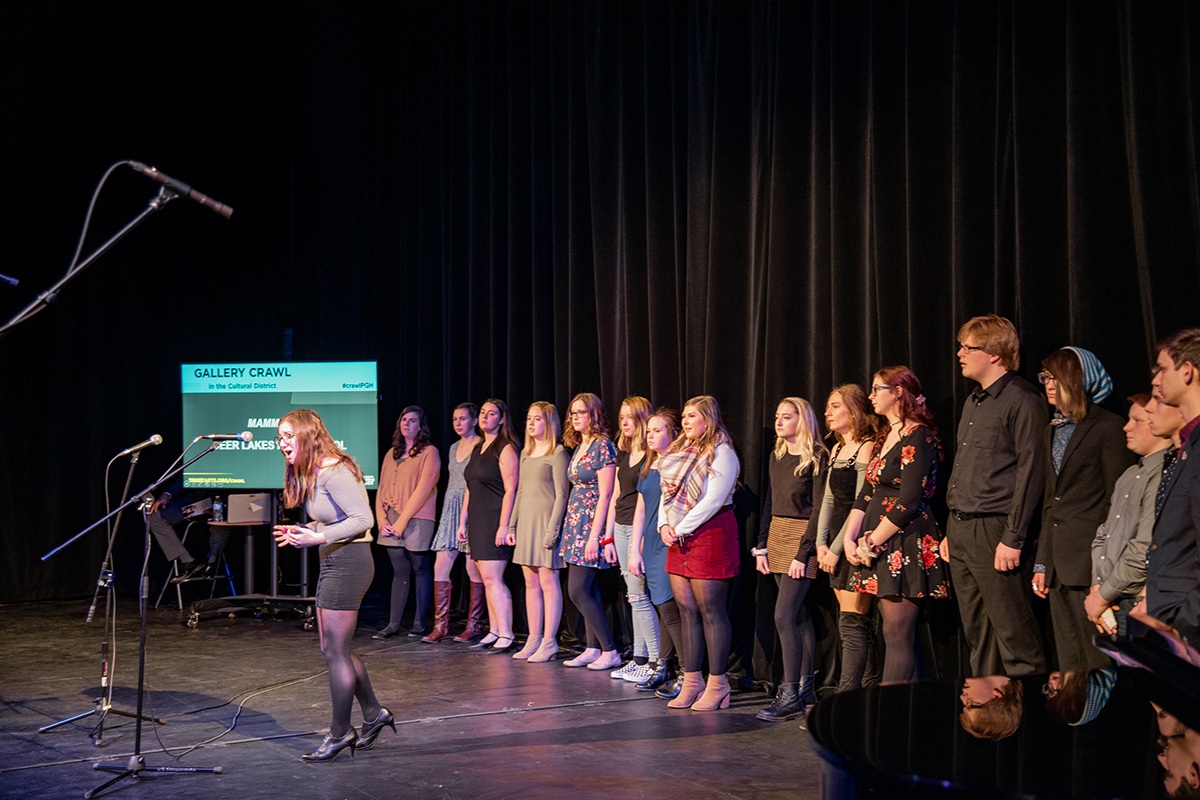 7:00 p.m.: High School Musical Showcase at Trust Arts Education Center
There's nothing better than seeing the next generation of artists perform together, and that's exactly what the High School Musical Showcase allows audiences to do. Students from high schools across Allegheny County will come together to perform excerpts from their upcoming musical productions, offering a preview of what's to come in their respective musicals this spring.
7:45 p.m.: Dreams of Hope at Trust Arts Education Center
After seeing work from local high schools, head to the 4th floor of the Trust Arts Education Center to see performances from other talented young people — Dreams of Hope, an LGBTQIA+ youth ensemble. They'll be performing pieces of new work in song, performance, and other creative platforms.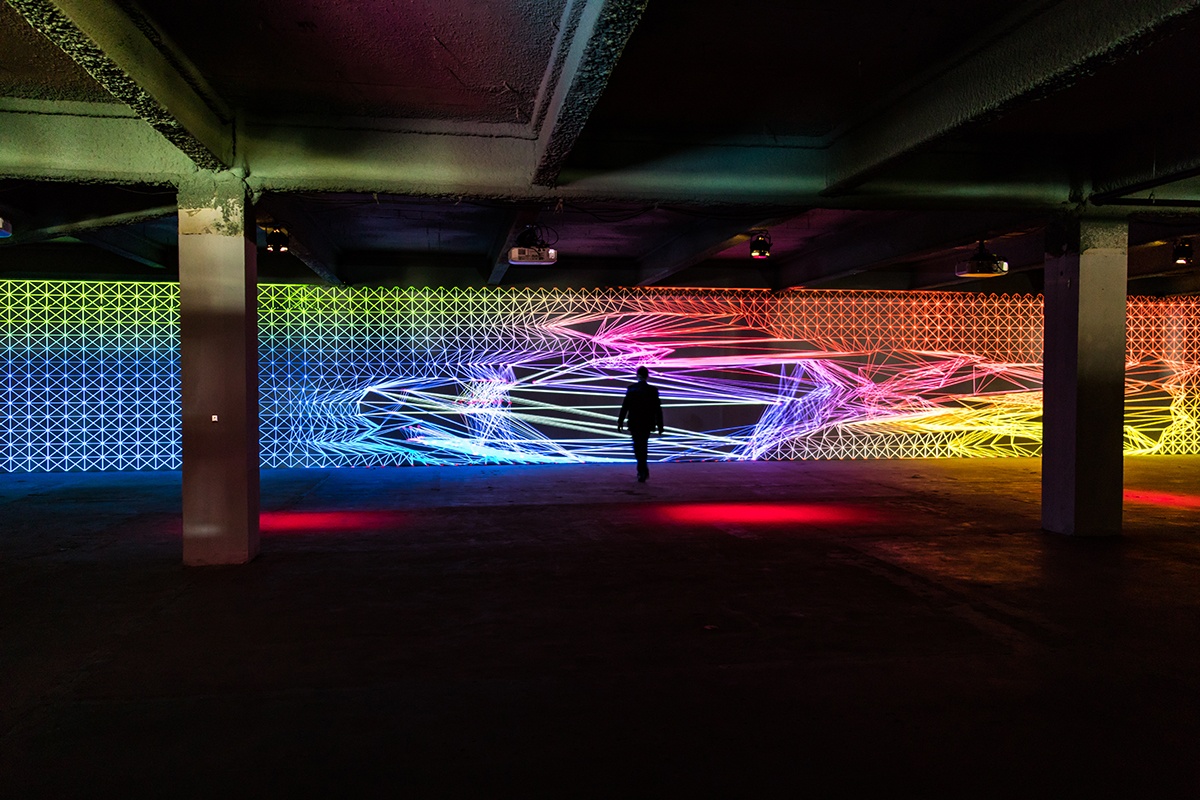 8:30 p.m.: Power Pixels 2020 at Wood Street Galleries
In two separate interactive virtual reality installations, Miguel Chevalier uses projections to create a truly immersive experience. Oscillations 2020 is a 3D graphic visualization of Michel Redolfi. Using generative software, waveform patterns are produced in real time as a response to the frequencies and amplitudes of the music. The patterns appear in an infinite number of variations, from steep to flat and from black to white. In having music and image respond to each other, the result is a sort of synesthesia that is sure to offer a unique experience.
In his second installation, Complex Meshes 2020, the viewer is immersed in a universe of networks. A number of different meshes — or 3D polygons — overlap, transform, and evolve in real time. A huge virtual light curtain is created, which twists and resizes to create a variety of complex shapes. When the viewer moves in the space, the networks are disrupted, making this a truly interactive installation, which combines light, movement, and energy in a unique form of kinetic art.
9:00 p.m.: Night Market at 925 Liberty Avenue
Wind the night down with a visit to the Winter Night Market in the lobby of 925 Liberty Avenue to find a souvenir to take home. Presented by the Pittsburgh Downtown Partnership, the Night Market will allow you to browse through work from local independent vendors, including jewelry, photography, accessories, home decorations, and more.
9:30 p.m.: Silent Disco with DJs Arie Cole, Buscrates, and more at Trust Arts Education Center
Still not tired? Don't worry, the official Crawl After Dark Silent Disco is here to let you dance the night away. With multiple DJs all spinning at one time, grab a friend, choose what groove gets you moving, and, well, get moving!
Still looking for more? Check out the full list of events.
Want more? Join our email list!
Want to hear more about what's going on in the Cultural District? Sign up for the Pittsburgh Cultural Trust's mailing list.