The Winter Gallery Crawl is this Friday, January 25th, and after weeks of snow, rain and temperatures in the teens, the forecast is looking bright! (Ok, it'll still be chilly, but we're excited to see the sun.) We've put together a suggested route for Friday that will get keep you indoors and entertained.
5:30 p.m.: DTC Organ Trio at Backstage Bar
A great place to rally the troops, kick off the Crawl at the Backstage Bar. Recap the work week over drinks or share some tapas to fuel up for your evening in the Cultural District. Live music sets the tone for an art-filled evening.
Drummer David Throckmorton will be jamming from 5-7:30 p.m. The Washington, PA, native has toured the world and recorded with jazz trumpet legend Maynard Ferguson's band. This Friday, Throckmorton will be playing as one-third of the DTC Organ Trio alongside Cliff Barnes on the organ and Dan Wilson on the guitar.
6:45 p.m.: Art on the Walls: Owning at Greater Pittsburgh Arts Council
Head down Penn Ave for the opening reception of the newest installment of target="_blank">Art on the Walls. This exhibition program uses office space to illuminate and sell the visual art of diverse local and regional artists. This Crawl features the works of artists LeFawn Barefoot, Victoria R. Hirsh, and Mikael Owunna, whose otherworldly and celestial works examine the ideas of identity, culture and experience.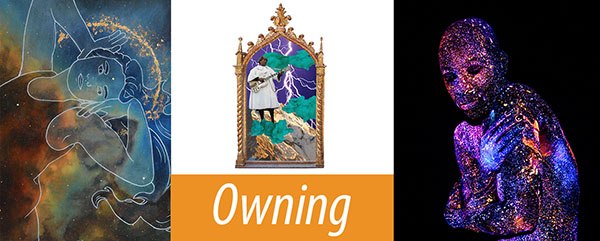 Trust Arts Education Center
See four floors of art without having to venture outside! We recommend starting at the fourth floor with Radiant Hall Studios and working your way down to the High School Music Showcase in the Peirce Studio.
7:15 p.m.: Radiant Hall Studios
Dedicated to creating and preserving studio environments for working artists, Radiant Hall provides affordable space while encouraging professional development through collective marketing, city-wide programming, and shared resources. The non-profit currently serves 70 artists. On the fourth floor of the Education Center, this special exhibit brings together works from their studios in Homewood, Lawrenceville, and the North Side.
7:30 p.m.: Glow Gallery
Add a little light to the dark days of winter at the Glow Gallery! The Gallery features innovative black light art pieces and a mesmerizing star orb chandelier. Don't forget to make your mark on Gallery Crawl by tagging the glowing graffiti wall.
7:45 p.m.: Local Artist Market Pop Up
The Local Artist Market Pop Up is your chance to take a piece of the Crawl home with you. Trust Arts Education Teaching Artists and other local artists showcase a variety of work for purchase, ranging from wearables to paintings. If you don't pick up a piece, you're still sure to leave feeling inspired!
8:00 p.m.: High School Musical Showcase
The Steel City has been home to quite a few Broadway legends and Tony-Award winning performers, and the High School Musical Showcase is your chance to preview the next generation of performers! Talented students from high schools throughout Allegheny County perform excepts from their upcoming high school musical productions. Make sure to snag some autographs before their names are up in lights!
9:00 p.m.: Refik Anadol at Wood Street Galleries
New exhibitions at Wood Street Wood Street Galleries are a highlight of every Crawl and this winter is no exception! This Friday marks the opening of Refik Anadol's worldwide traveling installation, Infinity Room. Born in Istanbul, Turkey, Anadol is a lecturer and visiting researcher in UCLA's Department of Design Media Arts. His work invites viewers to visualize alternative realities by presenting the possibility of re-defining the functionalities of both interior and exterior architectural formations.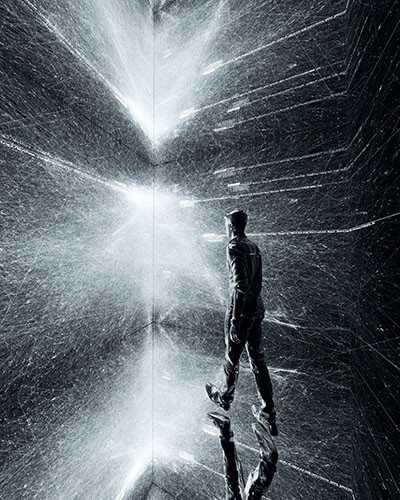 10:00 p.m.: Silent Disco @ SPACE
Ten p.m. marks the official end time of the Crawl, but the Silent Disco is just getting started. Dance to the beat of DJ Big Phill, DJ Femi, and DJ HollyHood, or change it up with the flick of switch. DanceFilm, a survey of contemporary dance and the current exhibit at SPACE, is the perfect backdrop for this party. Draw inspiration from the artists or tap into your own groove.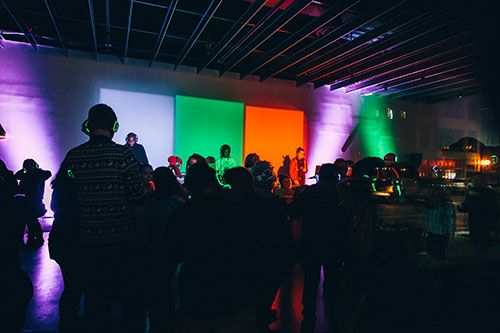 Head to for a full list of events, and share your Crawl with #CrawlPGH. You can follow our Crawl experience on Instagram.