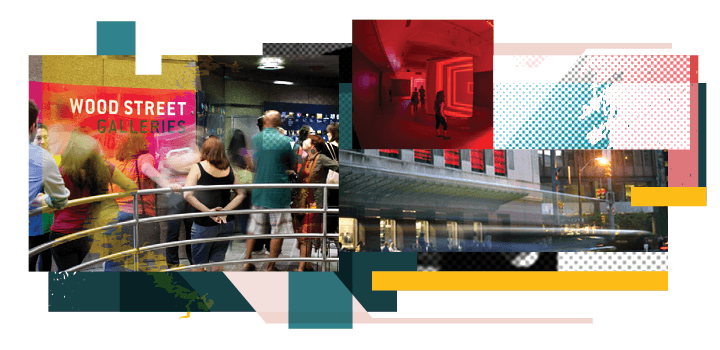 Wood Street Galleries
Wood Street Galleries features contemporary art exhibitions focused on technology and its developments through film, video, robotics, and new media installation. Spanning two floors above Pittsburgh Regional Transit's Wood Street T-station, the galleries often showcase interactive and immersive art by international artists.
Upcoming Exhibition
Previous Exhibitions
Wood Street Galleries has presented hundreds of local, national, and international artists over the course of nearly three decades. Find more about previous exhibitions in the gallery archive.
VIEW ARCHIVE ➤

Gallery Hours
Wednesday - Sunday: 11 am - 6 pm | closed 12-12:30 pm
Get Involved
Are you interested in exhibiting at a Cultural District gallery, renting one of our spaces, volunteering with us, or have a question? Get in touch at the link below.
Support the Arts
You can support the art you love by purchasing work from Cultural Trust galleries, and by directly supporting the Pittsburgh Cultural Trust. Learn more at the link below.
Directions and Parking
Wood Street Galleries is located at 601 Wood Street, Pittsburgh, PA 15222. The entrance to the galleries can be found at the corner of Wood Street and Sixth Avenue. Please note that the gallery entrance is a separate door from those leading into the transit station. Upon entering, take the elevator to the second or third floor to explore the galleries. Click here to learn more about visiting visual arts attractions in the Cultural District.
With ParkPGH, a project of The Pittsburgh Cultural Trust, you can find real-time parking information for garages in Downtown Pittsburgh. Click here for garage parking close to Wood Street Galleries.

A project of The Pittsburgh Cultural Trust