It's hard to stay comfortable when you're trudging through the snow, rain and wind during the seemingly endless winter. Lucky for Pittsburghers, there are some great places to warm up during these frigid days. Whether you're looking to cuddle up with a loved one on date night, break the ice with a new friend or hole up for some people watching, we've picked out the best places to cozy up in the Cultural District. Did we mention all of these places pair well with an evening show or afternoon gallery visit?
Casual Comfy
Go-tos if you can't make it another block and need to duck in somewhere quick to let your fingers thaw. With good food, good drinks and good company, a couple minutes might just turn into a couple hours.
Backstage Bar
Centrally located at the heart of the Cultural District, the Backstage Bar at Theater Square is the perfect (warm, indoor) rendezvous point before heading out on the town. In addition to wine and beer, the bar offers Cabaret and Broadway-inspired drink menus to set the mood for a night at the theater. Chances are good that you'll stumble upon live music (JazzLive Tuesdays, Fridays and Saturdays) that'll have you tapping your toes...as soon as feeling returns to your extremities.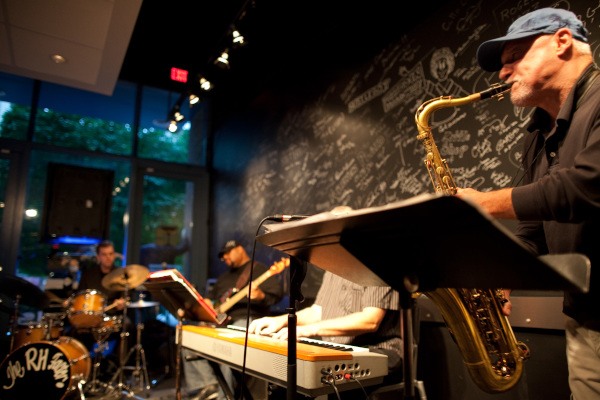 The Warren Bar & Burrow
This unpretentious, neighborhood bar makes an excellent detour for drinks. Created by cocktail consultant and connoisseur, Spencer Warren, the menu features flavor profiles in place of ingredients, intended to inspire the adventurous side of patrons. Sidle up to the bar for Fred's Old Fashioned (strong/warming/spiced) or slide into a booth for a Toki Highball ("perfect for a winter's day"). We'd say the Warren is welcoming/homey/intimate.
Rock 'n' Joe Coffee Bar
The upstairs of this rock 'n' roll themed shop is ideal for hunkering down and warming up with seasonal drinks and coffee classics on a winter afternoon. Dark wood tables and an electric fireplace provide a quiet, relaxed atmosphere to while away an hour connecting with friends, reading or working.
Snug Sit-Down
Unlike casual comfy, we recommend planning to cozy up here a little longer. Take advantage of the full menus, multiple courses and welcoming ambiance while you rest.
Meat & Potatoes
Pittsburgh's first gastropub has the atmosphere of a dark speakeasy; equally comfortable for large groups filled with laughter as it is for an intimate evening out. The menu features approachable yet decadent comfort food from Chef/Owner Richard DeShantz paired with a selection of libations honoring Prohibition and the Repeal. Open for daily for dinner and weekend brunch, Meat & Potatoes has become a quintessential place to warm your belly and toast the long winter. Reservations are recommended.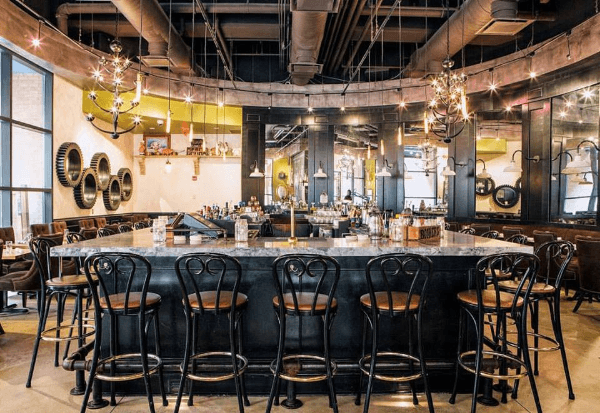 Image courtesy of Richard DeShantz Restaurant Group
Sienna Mercato - Mezzo
The rooftop Il Tetto is the big draw at Sienna Mercato in the warmer months, but the second level, Mezzo, is the sweet spot during the winter. This farm-inspired space features exposed brick and lighting, inviting you to gather around the long dining tables that make Mezzo an ideal setting for groups. The floor-to-ceiling windows, which provide a nice breeze during summer months, now remind you how cold you could be if you weren't tucked inside about to tuck in to a delicious meal. Mezzo showcases Italian fare - house made charcuterie, cheese plates, wood-fired pizzas and pasta, and a selection of wines - all of which will leave you feeling full and warm.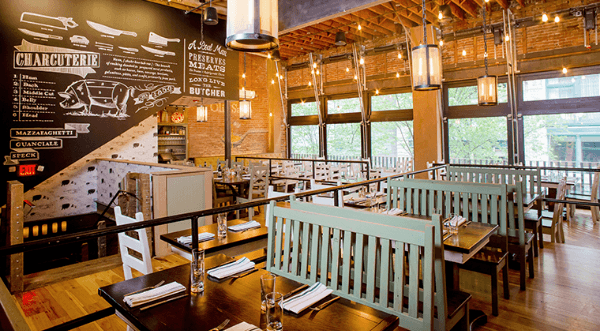 Image Courtesy of Sienna Mercato
Proper Brick Oven and Tap Room
A Cultural District favorite, we can't say cozy without also mentioning Proper. Flames flicker in the brick oven, seen from the bar, and a collage of wooden panels taken from wine crates decorates the wall. Relax into the comfortable, upholstered banquette seating and order a fresh-from-the-oven pizza and seasonal dessert to share.
If you don't mind braving the elements (and the cross streets that feel like wind tunnels) for a longer walk, there are plenty of options within the Golden Triangle. You might try warming up at Yuzu Ramen with a delicious bowl of authentic Japanese Ramen, the "Build-Your-Own Old Fashioned" at the Wigle Whiskey Tasting Room at the Omni William Penn, or farm-to-table eats at the Commoner.