PNC Broadway in Pittsburgh 2023-2024 Season Subscriber Resources
Thank you for being a season ticket holder, and welcome to the beginning of an exciting new season. We are thrilled to have you as a part of our PNC Broadway in Pittsburgh family.
On this page you will find information about your benefits, special periods of access and exchanges, dining discounts, special events for season ticket holders and more.
Exchanges Swap-A-Show Priority Access Season Ticket Benefits Season Ticket FAQ Dining Discounts
Additionally, your TrustArts.org account is your mission control. Simply LOGIN to your qualified Broadway subscription account and click on your name at the top of the page. Through your online account you have access to your contact Profile, Purchase History, online subscription ticket Exchanges, and any available account benefits though the My Benefits portal.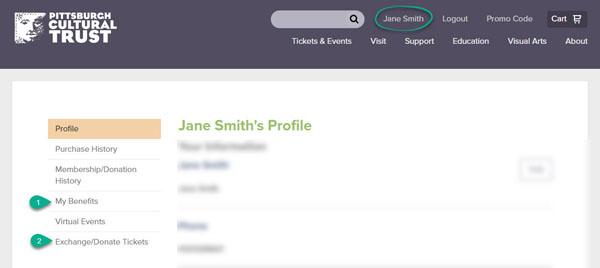 Exchanges
This season's ticket exchange window opens on July 7, 2023*. You may continue to make exchanges for all season shows until 72 hours before your scheduled performance time. We may not have availability for all requests. Please make exchanges as early as possible. To exchange, LOGIN to your account and click Exchange/Donate Tickets or call Guest Services at 412-456-1390 for assistance.
Swap-A-Show
This season's swap-a-show window opens on July 7, 2023*. You may swap your tickets out of one 2023-2024 show into another series show or season special. This is a once-per-season swapping opportunity, and the earlier you make the change the more likely you are to swap into comparable seating. All swaps must be completed by Friday, September 15, 2023. To set up a swap, call Guest Services at 412-456-1390. Swaps are not able to be processed online.
Priority Access to Season Specials and Additional Show Tickets
Season ticket holders can buy additional seats at the best prices before the general public for both season shows and for special presentations.
Starting July 7, 2023*, Season ticket holders have priority access to order additional tickets to the 2023-2024 series shows.
To purchase, simply LOGIN to your account and click My Benefits on the left side of the page. Purchases can also be made by calling Guest Services at 412-456-1390.
*Exchange, Swap-a-Show, and Priority Access start dates subject to change.
2023-2024 Season Shows and Specials
2022-2023 Season Shows and Specials