Theater Square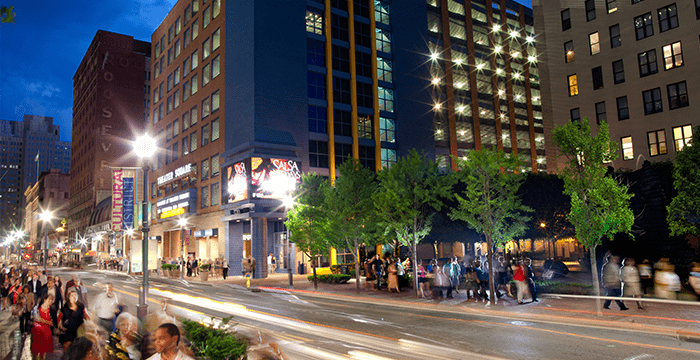 Theater Square, designed by Michael Graves in collaboration with WTW Architects of Pittsburgh, is widely considered the heart of the Cultural District, animating the intersection of Seventh Street and Penn Avenue. Theater Square is home to a centralized box office, a 790-space parking garage, the Greer Cabaret Theater, the Backstage Bar and Meat and Potatoes restaurant.
Directions
The address is 655 Penn Avenue, Pittsburgh, PA 15222.
Select the directions link in the map below for step by step directions from any location.
Parking
Nearby garage parking to the Benedum Center.




A project of The Pittsburgh Cultural Trust
Box Office at Theater Square
A one-stop shop for Cultural District tickets and information, the Box Office at Theater Square provides patrons one place to purchase tickets to all District performances, regardless of venue or presenting organization. More >>>
Greer Cabaret Theater
The intimate, 265-seat Greer Cabaret Theater is the spot for a great night out. The Pittsburgh CLO presents long-running productions in this flexible theater while The Pittsburgh Cultural Trust programs popular entertainment from Wine Flights and Beer Schools to salsa dancing and improv comedy around the CLO schedule. More >>>
Backstage Bar
The Greer Cabaret Theater and adjacent Backstage Bar also features Late Night Cabaret entertainment, live music, great food and specialty drinks. More >>>
The Parking Garage at Theater Square
The Trust now provides guaranteed parking at the Theater Square Parking Garage to Cultural District visitors! When you see a performance, visit a gallery or dine in one of the District's fine restaurants, you may purchase a voucher for guaranteed parking in the garage by calling the Box Office at Theater Square at 412-456-6666 or ordering parking online with your ticket order. Visit ParkPGH for real-time parking information and additional parking options in the Cultural District.
Theater Square Facts
Designed by Michael Graves and Pittsburgh-based WTW Architects, the facility cost approximately $33 million. Mascaro Construction Company served as the general contractor of Theater Square. For the Greer Cabaret Theater, L.D. Astorino Firm served as the architect, and Oxford Development provided project management. Rycon Construction served as the general contractor for the restaurant space.
The completion of Theater Square and the Greer Cabaret Theater was made possible by the generosity of the Commonwealth of Pennsylvania, Allegheny Regional Asset District, City of Pittsburgh, Urban Redevelopment Authority of Pittsburgh, Eden Hall Foundation, Howard Heinz Endowment, Pittsburgh CLO, and donors of the Campaign for a Dynamic Downtown.
Theater Square has nine floors and measures 330,000 square feet.
Opened April 2003, the Garage at Theater Square provides the District with 790 convenient parking spaces. ALCO Parking Corporation manages the 24-hour facility.
Since September 2003, arts patrons have been able to purchase tickets to any performance in the Cultural District at The Box Office at Theater Square.
The intimate, 253-seat Greer Cabaret Theater is programmed year-round by the Pittsburgh CLO and The Pittsburgh Cultural Trust.